Bowler, Peter J.
Most widely held works about Peter J Bowler
Most widely held works by Peter J Bowler
Monkey trials and gorilla sermons : evolution and Christianity from Darwin to intelligent design
by
Peter J Bowler
( )
20 editions published between
2007
and 2009 in
English
and held by 2,589 WorldCat member libraries worldwide
From the beginning, Darwin's dangerous idea has been a snake in the garden, denounced from pulpits then and now as incompatible with the central tenets of Christian faith. Recovered here is the less well-known but equally long history of thoughtful engagement and compromise on the part of liberal theologians. Peter J. Bowler doesn't minimize the hostility of many of the faithful toward evolution, but he reveals the existence of a long tradition within the churches that sought to reconcile Christian beliefs with evolution by finding reflections of the divine in scientific explanations for the origin of life. By tracing the historical forerunners of these rival Christian responses, Bowler provides an alternative to accounts that stress only the escalating confrontation. --From publisher's description
Evolution, the history of an idea
by
Peter J Bowler
( Book )
51 editions published between
1983
and 2009 in
English
and held by 2,388 WorldCat member libraries worldwide
This edition of Evolution: The History of an Idea is augmented by the most recent contributions to the history and study of evolutionary theory. It includes an updated bibliography that offers an unparalleled guide to further reading. As in the original edition, Bowler's evenhanded approach not only clarifies the history of his controversial subject but also adds significantly to our understanding of contemporary debates over it. The idea of evolution continued to evolve. - Back cover
Reconciling science and religion : the debate in early-twentieth-century Britain
by
Peter J Bowler
( )
21 editions published between
2001
and 2014 in
English
and held by 1,766 WorldCat member libraries worldwide
Although much has been written about the vigorous debates over science and religion in the Victorian era, little attention has been paid to their continuing importance in early twentieth-century Britain. Reconciling Science and Religion provides a comprehensive survey of the interplay between British science and religion from the late nineteenth century to World War II. Peter J. Bowler argues that unlike the United States, where a strong fundamentalist opposition to evolutionism developed in the 1920s (most famously expressed in the Scopes "monkey trial" of 1925), in Britain there was a concerted effort to reconcile science and religion. Intellectually conservative scientists championed the reconciliation and were supported by liberal theologians in the Free Churches and the Church of England, especially the Anglican "Modernists." Popular writers such as Julian Huxley and George Bernard Shaw sought to create a non-Christian religion similar in some respects to the Modernist position. Younger scientists and secularists--including Rationalists such as H.G. Wells and the Marxists--tended to oppose these efforts, as did conservative Christians, who saw the liberal position as a betrayal of the true spirit of their religion. With the increased social tensions of the 1930s, as the churches moved toward a neo-orthodoxy unfriendly to natural theology and biologists adopted the "Modern Synthesis" of genetics and evolutionary theory, the proposed reconciliation fell apart. Because the tensions between science and religion--and efforts at reconciling the two--are still very much with us today, Bowler's book will be important for everyone interested in these issues
The Norton history of the environmental sciences
by
Peter J Bowler
( Book )
36 editions published between
1992
and 2013 in 6 languages and held by 1,480 WorldCat member libraries worldwide
Chronicles humanity's quest to understand its own origins, synthesizing discoveries in geography, geology, and evolutionary biology
Science for all : the popularization of science in early twentieth-century Britain
by
Peter J Bowler
( )
12 editions published in
2009
in
English
and held by 1,394 WorldCat member libraries worldwide
Peter Bowler shows how a nation that benefitted from sound secondary education in the early 20th century, but had not yet been able to widely access the tertiary level, provided a groundswell of interest with which scientists of the time were happy to engage
The Mendelian revolution : the emergence of hereditarian concepts in modern science and society
by
Peter J Bowler
( Book )
25 editions published between
1989
and 2015 in
English
and held by 1,277 WorldCat member libraries worldwide
Aristotle taught that a human embryo grows from a spiritual essence provided by the father. In the eighteenth century, some thinkers imagined preformed miniatures - the entire human race, one inside the other like Russian dolls, placed by God within the womb of Eve. Even when Gregor Mendel's now-famous experiments with peas revealed the existence of what Mendel called "dominent" and "recessive" traits, other researchers ignored the findings. The history of genetics, argues Peter J. Bowler, is often a history of scientists' religious, political, and social preconceptions. In The Mendelian Revolution Bowler shows how our thinking about heredity and reproduction has changed over centuries. He describes how modern notions of heredity developed, explains what Gregor Mendel's work really meant, and challenges the myth of Mendelism's "rediscovery" in the twentieth century. From the example of genetics, he reveals the flaws in the traditional view of scientific progress as an objective search for empirical truth. And he reveals how understanding Mendelism and heredity can help us understand the increasingly complex role of genetics in the modern world. -- from dust jacket
Charles Darwin : the man and his influence
by
Peter J Bowler
( Book )
45 editions published between
1990
and 2011 in 4 languages and held by 1,239 WorldCat member libraries worldwide
Publisher's description: Darwin's enormous influence on science and culture, begun during his lifetime, is still very evident today. The Origin of Species excited much debate and controversy, challenging the foundations of Christianity, yet underpinning the Victorian concept of progress, and today still evokes powerful and contradictory responses. Yet he was not first to publish evolutionary ideas and his theory of natural selection was not accepted by many of his contemporaries. Peter Bowler's study of Darwin's life and influence combines biography and cultural history. He shows how Darwin's contemporaries were unable to appreciate precisely those aspects of his thinking that are considered scientifically important today. Darwin was a product of his time, but he also transcended it, by creating an idea capable of being exploited by twentieth-century scientists and intellectuals who had very different values from his own
Theories of human evolution : a century of debate, 1844-1944
by
Peter J Bowler
( Book )
26 editions published between
1986
and 1989 in
English
and held by 1,031 WorldCat member libraries worldwide
The question of human origin has always been disputed by evolution theorists. This book provides a comprehensive survey of the debates over human evolution from the time of Darwin to the 1940s. Part 1 discusses the early controversies, noting that they focused on philosophical issues rather than causes or details of the evolutionary process. A framework for the debate is outlined, considering evolution theory with race, culture and the progress of humankind. Part 2 describes various theories including the Neanderthal-Phase theory, the Presapiens theory, the Tarsioid theory, and Polytypic theories. Part 3 of the book deals with interpretations of the causes of human evolution. Arguments are presented which relate to the factors of brain expansion, upright posture and environment in the evolutionary process. Trends in human evolution are discussed, including convergence, Lamarckism, nonadaptive trends, and orthogenesis. The book ends with a review of arguments concerning Broom's (1933) question: The coming of man--was it accident or design? An extensive listing of references is provided in a bibliography and note section. (Tw)
The non-Darwinian revolution : reinterpreting a historical myth
by
Peter J Bowler
( Book )
22 editions published between
1988
and 1992 in
English
and
Japanese
and held by 871 WorldCat member libraries worldwide
Timely and cogent in its aims and arguments, it should prompt debate and discussion leading to fresh critical and historiographical insights concerning all those topics that historians of science, of society, and of culture associate with 'Darwinism' and 'evolutionism.'
more
fewer
Audience Level
0

1
Kids
General
Special
Audience level: 0.28 (from 0.03 for Science fo ... to 0.87 for Darwin on ...)
Related Identities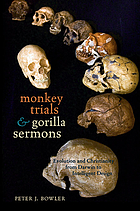 Covers
Alternative Names
Bowler, Peter 1944-

Bowler, Peter J.

Bowler, Peter John 1944-

J. Bowler, Peter, 1944-

Peter Bowler

Peter J. Bowler historiador irlandés

보울러, 피터 J

ボウラー, P. J.

ボウラー, ピーター・J

Languages