Haus, Hermann A.
Most widely held works about Hermann A Haus
Most widely held works by Hermann A Haus
Electrodynamics of moving media
by
Paul Penfield
( Book )
13 editions published between
1967
and 1968 in
English
and held by 456 WorldCat member libraries worldwide
Contents: Nonrelativistic continuum mechanics and thermodynamics; Electromagnetism and simple polarizable fluid; Nonrelativistic principle of virtual power; Relativistic principle of virtual power; Hamilton's principle; Comparison of several formulations of electrodynamics of moving media; Electrodynamics literature
Waves and fields in optoelectronics
by
Hermann A Haus
( Book )
15 editions published between
1984
and 2004 in
English
and
Russian
and held by 420 WorldCat member libraries worldwide
Maxwell's equations of isotropic media and some important identities. Reflection of plane waves from interfaces. Mirrors and interferometers. Fresnel diffraction in paraxial limit. Hermit-Gaussian beams and their transformations. Optical fibers and guiding layers. Coupling of modes - resonators and couplers. Distributed feedback structures. Acousto-optic modulators. Some nonlinear systems. Wave propagation in anisotropic media. Electro-optic modulators. Nonlinear optics. Optical detection
Noise in electron devices
by
Louis D Smullin
( Book )
20 editions published between
1959
and 2010 in 3 languages and held by 289 WorldCat member libraries worldwide
A symposium on noise, stressing mathematical theory and basic physical phenomena, and covering such topics as cathode noise phenomena, signal amplification in microwave tubes, solid-state noise, and methods of designing low-noise tubes
Circuit theory of linear noisy networks
by
Hermann A Haus
( Book )
17 editions published in
1959
in
English
and held by 287 WorldCat member libraries worldwide
Excerpt from the Preface The principal motivation for this work arose from the obvious desirability of finding a single quantity, a tag so to speak, to describe the noise performance of a two-terminal-pair amplifier. The possibility of the existence of such a quantity and even the general functional form which it might be expected to take were suggested by previous work of one of the authors on microwave tubes and their noise performance. This work showed that noise parameters of the electron beam set an ultimate limit to the entire noise performance of the amplifier that employed the beam. In the microwave tube case, however, the findings were based heavily upon the physical nature of the electron beam, and it was not immediately clear that a general theory of noise performance for any linear amplifier could be made without referring again to some detailed physical mechanism. In order to detach the study of noise performance from specific physical mechanisms, one had to have recourse to general circuit theory of active networks. Such a theory had grown up around the problems associated with transistor amplifiers, and important parts of it were available to us through the association of one of us with Professor S. J. Mason. This combination of circumstances led to the collaboration of the authors.Two major guiding principles, or clues, could be drawn from the experience on microwave tubes. One such clue was the general form of the probable appropriate noise parameter. The other was the recognition that matrix algebra and a proper eigenvalue formulation would be required in order to achieve a general theory without becoming hopelessly involved in algebraic detail.Essentially by trial and error, guided by some power-gain theorems in active circuit theory, we first found a few invariants of noisy networks. Afterward, while we were trying to decide around which quantities we should build a matrix-eigenvalue formulation leading to these same invariants, we were aided by the fact that Mr. D. L. Bobroff recognized a connection between the invariants which we had found and the problem of the available power of a multiterminal-pair network.Armed with this additional idea, we consulted extensively with Professor L. N. Howard of MIT's Department of Mathematics, in search of the appropriate matrix-eigenvalue problem. As a result of his suggestions, we were able to reach substantially the final form of the desired formulation.Once the proper eigenvalue approach was found, additional results and interpretations followed rapidly. In particular, the idea that the eigenvalue formulation should be associated with a canonical form of the noisy network was suggested in a conversation with Proessor Shannon.One of the principal results of the work is that it furnishes a single number, or tag, which may be said to characterize the amplifier noise performance on the basis of the signal-to-noise-ratio criterion. The novel features of this tag are two in number: First, it clears up questions of the noise performance of low-gain amplifiers or of the effect upon noise performance of degenerative feedback; second, it provides for the first time a systematic treatment of the noise performance of negative-resistance amplifiers. The latter results were not expected in the original motivation for the study but grew from insistent demands upon the internal consistency of the theory. It is interesting that the negative-resistance case will probably turn out to be one of the most important practical results of our work.Another result worth mentioning here, however, is the canonical form of linear noisy networks. This form summarizes in a clear, almost visual, manner the connection between the internal noise of a network at any particular frequency and its (resistive, positive, or negative) part
Electromagnetic fields and energy
by
Hermann A Haus
( Book )
14 editions published between
1988
and 1989 in
English
and held by 256 WorldCat member libraries worldwide
Electromagnetic noise and quantum optical measurements
by
Hermann A Haus
( Book )
14 editions published between
2000
and 2011 in
English
and held by 211 WorldCat member libraries worldwide
"The first three chapters provide the background necessary to understand the basic concepts. Then shot noise and thermal noise are discussed, followed by linear noisy multiparts, the quantum theory of waveguides and resonators, an analysis of phase-insensitive systems, detection, photon probability distributions, solitons, phase sensitive amplification, squeezing, the quantum theory of solitons and squeezing, and quantum non-demolition measurements. Appendices give additional information." "The book is intended for graduate students and scientists in physics and engineering. Numerous problems and selected solutions will help readers to deepen their knowledge."--Jacket
Passive components for dense optical integration
by
Christina Manolatou
( Book )
5 editions published in
2002
in
English
and held by 103 WorldCat member libraries worldwide
Passive Components for Dense Optical Integration presents a theoretical and numerical investigation of high index-contrast (HIC) passive components that can serve as building blocks at the end-points and nodes of WDM communications systems. The main characteristic of these structures is their miniature size and their low radiation loss due to the strong light confinement in high index-contrast systems. Thus large scale, high density optical integration may be possible with the associated advantages of increased functionality, compactness and cost. Passive Components for Dense Optical Integration presents novel devices for filtering, optical interconnections and coupling to fibers. The latter part of the book explores coupling structures that are only a few wavelengths long yet can provide efficient coupling. Also discussed are possible future directions for this technology. Passive Components for Dense Optical Integration will be of interest to researchers and development engineers in integrated optics and fiber optics. It also provides an excellent supplement to a graduate course in optics
more
fewer
Audience Level
0

1
Kids
General
Special
Audience level: 0.61 (from 0.56 for Electrodyn ... to 1.00 for Fluctuatio ...)
Associated Subjects
Amplifiers, Vacuum-tube
Amplifiers (Electronics)
Bloom, Arnold Lapin,
Dicke, Robert H.--(Robert Henry)
Electrical engineering
Electricity
Electrodynamics
Electromagnetic fields
Electromagnetic noise
Electromagnetic noise--Measurement
Electromagnetic theory
Electromagnetic waves
Electron beams
Electronic apparatus and appliances
Electronic circuits
Electronic circuits--Noise
Electrooptical devices
Electrooptics
Electrostatics
Fleury, Paul A
Fluids
Haus, Hermann A
Hertzberg, Abraham
Integrated optics
Interference (Light)
L'Esperance, Francis A.,
Laser industry
Lasers
Lasers--Research
Locke, Edward V
Magnetostatics
Noise
Optoelectronic devices
Optoelectronics
Pankove, Jacques I.,
Passive components
Photonics
Physics
Polanyi, J. C.,
Quantum electronics
Quantum optics
Quantum optics--Measurement
Random noise theory
Rentzepis, Peter M.,
Siegman, A. E
Smith, William V.--(William Vick),
Spencer, Donald Jay
Sugano, Satoru,
Townes, Charles H
Weber, J.--(Joseph),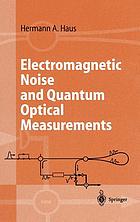 Alternative Names
Chaus, Chermann 1925-2003

Haus, G.

Haus, G. A.

Haus, H.

Haus, H. A.

Haus, H. A. 1925-2003

Haus, H. A. (Hermann A.)

Haus, H. A. (Hermann A.), 1925-2003

Haus, Herman A.

Hermann A. Haus American physicist

Hermann A. Haus Amerikaans natuurkundige (1925-2003)

Hermann A. Haus amerikansk fysikar

Hermann A. Haus amerikansk fysiker

Hermann A. Haus físico estadounidense

Hermann A. Haus fisico statunitense

Hermann A. Haus US-amerikanischer Physiker

Languages
Covers