Thompson, Dennis F. (Dennis Frank) 1940-
Most widely held works by Dennis F Thompson
Democracy and disagreement
by
Amy Gutmann
( Book )
31 editions published between
1996
and 2007 in 3 languages and held by 1,084 WorldCat member libraries worldwide
Gutmann and Thompson show how a deliberative democracy can address some of our most difficult controversies - from abortion and affirmative action to health care and welfare - and can allow diverse groups separated by class, race, religion, and gender to reason together. Their work goes beyond that of most political theorists and social scientists by exploring both the principles for reasonable argument and their application to actual cases. Not only do the authors suggest how deliberative democracy can work, they also show why improving our collective capacity for moral argument is better than referring all disagreements to procedural politics or judicial institutions. Democracy and Disagreement presents a compelling approach to how we might resolve some of our most trying moral disagreements and live with those that will inevitably persist, on terms that all of us can respect
John Stuart Mill and representative government
by
Dennis F Thompson
( Book )
20 editions published between
1976
and 2016 in
English
and
Undetermined
and held by 821 WorldCat member libraries worldwide
Although Mill regarded Considerations on Representative Government as a mature statement of his theory of democracy, critics have tended to treat it less seriously than most of his other major works. Dennis Thompson argues that this neglect has led to inadequate interpretations of Mill's thought on democracy. Drawing where appropriate on other writings by Mill, the author restores a balanced view by studying the structure of the theory expounded in Representative Government. Representative Government is shown to be more coherent and systematic than has generally been assumed. In the first t
Political ethics and public office
by
Dennis F Thompson
( Book )
21 editions published between
1987
and 1999 in
English
and
Spanish
and held by 816 WorldCat member libraries worldwide
The spirit of compromise : why governing demands it and campaigning undermines it
by
Amy Gutmann
( Book )
15 editions published between
2012
and 2014 in
English
and held by 753 WorldCat member libraries worldwide
If politics is the art of the possible, then compromise is the artistry of democracy. Unless one partisan ideology holds sway over all branches of government, compromise is necessary to govern for the benefit of all citizens. A rejection of compromise biases politics in favor of the status quo, even when the rejection risks crisis. Why then is compromise so difficult in American politics today? In this book, the authors connect the rejection of compromise to the domination of campaigning over governing, the permanent campaign, in American democracy today. They show that campaigning for political office calls for a mindset that blocks compromise, standing tenaciously on principle to mobilize voters and mistrusting opponents in order to defeat them. Good government calls for an opposite cluster of attitudes and arguments, the compromising mindset, that inclines politicians to adjust their principles and to respect their opponents. It is a mindset that helps politicians appreciate and take advantage of opportunities for desirable compromise. The authors propose changes in our political institutions, processes, and mindsets that would encourage a better balance between campaigning and governing
Truth v. justice : the morality of truth commissions
by
Robert I Rotberg
( Book )
17 editions published between
2000
and 2009 in
English
and held by 703 WorldCat member libraries worldwide
"The truth commission is an increasingly common fixture of newly democratic states with repressive or strife-ridden pasts. From South Africa to Haiti, truth commissions are at work with varying degrees of support and success. To many, they are the best -- or only -- way to achieve a full accounting of crimes committed against fellow citizens and to prevent future conflict. Others question whether a restorative justice that sets the guilty free, that cleanses society by words alone, can deter future abuses and allow victims and their families to heal. Here, leading philosophers, lawyers, social scientists, and activists representing several perspectives look at the process of truth commissioning in general and in post-apartheid South Africa. They ask whether the truth commission, as a method of seeking justice after conflict, is fair, moral, and effective in bringing about reconciliation. The authors weigh the virtues and failings of truth commissions, especially the South African Truth and Reconciliation Commission, in their attempt to provide restorative rather than retributive justice. They examine, among other issues, the use of reparations as social policy and the granting of amnesty in exchange for testimony. Most of the contributors praise South Africa's decision to trade due process for the kinds of truth that permit closure. But they are skeptical that such revelations produce reconciliation, particularly in societies that remain divided after a compromise peace with no single victor, as in El Salvador. Ultimately, though, they find the truth commission to be a worthy if imperfect instrument for societies seeking to say "never again" with confidence. At a time when truth commissions have been proposed for Bosnia, Kosovo, Cyprus, East Timor, Cambodia, Nigeria, Palestine, and elsewhere, the authors' conclusion that restorative justice provides positive gains could not be more important."--Back cover
Just elections : creating a fair electoral process in the United States
by
Dennis F Thompson
( Book )
5 editions published between
2002
and 2004 in
English
and held by 676 WorldCat member libraries worldwide
"The 2000 election showed that the mechanics of voting, such as ballot design, can make a critical difference in the accuracy and fairness of our elections. But as Dennis F. Thompson shows, even more fundamental issues must be addressed to insure that our electoral system is just." "Thompson argues that three central democratic principles - equal respect, free choice, and popular sovereignty - underlie our electoral institutions and should inform any assessment of the justice of elections. Although we may all endorse these principles in theory, Thompson shows that in practice we disagree about their meaning and application. He shows how they create conflicts among basic values across a broad spectrum of electoral controversies, from disagreements about term limits and primaries to disputes about recounts and presidential electors." "Accessible and wide ranging, Just Elections masterfully weaves together the philosophical, legal, and political aspects of the electoral process. Anyone who wants to understand the deeper issues at stake in American elections and the consequences that follow them will need to read it."--Jacket
Redeeming American political thought
by
Judith N Shklar
( Book )
8 editions published in
1998
in
English
and held by 672 WorldCat member libraries worldwide
A collection of thirteen essays on American political thought
Why deliberative democracy?
by
Amy Gutmann
( Book )
18 editions published between
2004
and 2010 in
English
and
Chinese
and held by 582 WorldCat member libraries worldwide
The most widely debated conception of democracy in recent years is deliberative democracy--the idea that citizens or their representatives owe each other mutually acceptable reasons for the laws they enact. Two prominent voices in the ongoing discussion a
more
fewer
Audience Level
0

1
Kids
General
Special
Audience level: 0.38 (from 0.22 for John Stuar ... to 0.98 for Hypocrisy ...)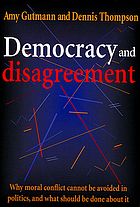 Alternative Names
Dennis Frank Thompson American political scientist

Dennis Frank Thompson Amerikaans politicoloog

Thompson, Dennis

Thompson, Dennis 1940-

Thompson, Dennis F.

Thompson, Dennis Frank

Thompson, Dennis Frank 1940-

Thompson, Dennis Frank Professor für politische Philosophie, USA 1940-

Thompson, Dennis Professor für politische Philosophie, USA 1940-

デニス・トンプソン 1940年生まれのアメリカ合衆国の政治学者

Languages
Covers