Romanes, George John 1848-1894
Most widely held works about George John Romanes
more
fewer
Most widely held works by George John Romanes
Animal intelligence
by
George John Romanes
( Book )
112 editions published between
1878
and 2011 in 3 languages and held by 1,347 WorldCat member libraries worldwide
"My object in the work as a whole is twofold. First, I have thought i desirable that there should be something resembling a text-book of the facts of Comparative Psychology, to which men of science, and also metaphysicians, may turn whenever they may have occasion to acquaint themselves with the particular level of intelligence to which this or that species of animal attains. Hitherto the endeavor of assigning these levels has been almost exclusively in the hands of popular writers; and as these have, for the most part, merely strung together, with discrimination more or less inadequate, innumerable anecdotes of the display of animal intelligence, their books axe valueless as works of reference. So much, indeed, is this the case, that Comparative Psychology has been virtually excluded from the hierarchy of the sciences. If we except the methodical researches of a few distinguished naturalists, it would appear that the phenomena of mind in animals, having constituted so much and so long the theme of unscientific authors, are now considered well nigh unworthy of serious treatment by scientific methods. But it is surely needless to point out that the phenomena which constitute the subject-matter of Comparative Psychology, even if we regard them merely as facts in Nature, have at least as great a claim to accurate classification as those phenomena of structure which constitute the subject-matter of Comparative Anatomy. Leaving aside, therefore, the reflection that within the last twenty years the facts of animal intelligence have suddenly acquired a new and profound importance, from the proved probability of their genetic continuity with those of human intelligence, it would remain true that their systematic arrangement is a worthy object of scientific endeavor. This, then, has been my first object, which, otherwise stated, amounts merely to passing the animal kingdom in review in order to give a trustworthy account of the grade of psychological development which is presented by each group. Such is the scope of the present treatise"--Preface. (PsycINFO Database Record (c) 2010 APA, all rights reserved)
Darwin and after Darwin : an exposition of the Darwinian theory and a discussion of post-Darwinian questions
by
George John Romanes
( Book )
125 editions published between
1892
and 2011 in
English
and
Undetermined
and held by 1,251 WorldCat member libraries worldwide
"Of the six chapters which constitute this concluding volume of G. J. Romanes' Darwin, and after Darwin, three, the first two and the last, were in type at the time of his death. I have not considered myself at liberty to make any alterations of moment in these chapters. For the selection and arrangement of all that is contained in the other three chapters I am wholly responsible"--Preface. (PsycINFO Database Record (c) 2010 APA, all rights reserved)
Thoughts on religion
by
George John Romanes
( Book )
86 editions published between
1895
and 2018 in
English
and
Undetermined
and held by 985 WorldCat member libraries worldwide
"How is the young mind to be enlightened upon the principles of piety and religion; and how is the young heart to be duly impressed with those principles? The former is effected by the usual modes of inculcating truth. The authorized canons of moral law are to be analyzed and presented in a manner to gain the assent of the understanding. The process should be simple and lucid, but complete and forcible, so that no one escape legitimate inferences from well-established propositions. For instance: the child is taught to look upon himself, not as the production of his own will and might, but as the work of some foreign agency. Hence, in an important sense, he belongs not to himself, but to the Being who created him. To this Being he must, of course, be under an irreversible allegiance. Nor does he find himself existing in the world alone. He is in the midst of multitudes, on whom he is, in a measure, dependent for the supply of his wants. To them, also, by the same process of reasoning, he is owing a species of allegiance. These are truths which even the young child may be enabled to comprehend. But the more difficult task is to impress duly the young heart with the belief of these truths. Something, without doubt, may be done, as in the other case, by abstract syllogisms; yet that gush of virtuous affection, which gives amiability to the human character, requires an additional instrument. They may give motion to the mental organization; but in their action are as unsympathetic as any material mechanism with which we are acquainted. In giving activity to social impulses, some new and peculiar energy is to be exerted. The heart must be made to feel, as well as to know what is truth; must be made to expand and contract from its own vitality, as well as receive impressions from external agencies. It is believed that symbolic language is the most efficient in developing the latent moral and social attributes of the soul. This language steals, as it were, unperceived upon the sensibilities of the young disciple of moral truth. He finds himself completely enclosed amid its soft filaments as a first result; and the more he meditates on the truth presented to his mind, the more does he become enraptured with the picture. The compiler of this volume has long considered the writings of Dr. Percival, as richly abounding in the description of symbolic language most happily adapted to this desirable end. In making the selection from his posthumous works, in order to complete the volume, it was necessary to select from more miscellaneous sources several articles of a kindred character." (PsycINFO Database Record (c) 2010 APA, all rights reserved)
Mental evolution in man : origin of human faculty
by
George John Romanes
( Book )
58 editions published between
1888
and 2011 in
English
and
Undetermined
and held by 716 WorldCat member libraries worldwide
"In now carrying my study of mental evolution into the province of human psychology, it is desirable that I should say a few words to indicate the scope and intention of this the major portion of my work. For it is evident that "Mental Evolution in Man" is a subject comprehending so enormous a field that, unless some lines of limitation are drawn within which its discussion is to be confined, no one writer could presume to deal with it. The lines, then, which I have laid down for my own guidance are these. My object is to seek for the principles and causes of mental evolution in man, first as regards the origin of human faculty, and next as regards the several main branches into which faculties distinctively human afterwards ramified and developed. In order as far as possible to gain this object, it has appeared to me desirable to take large or general views, both of the main trunk itself, and also of its sundry branches. Therefore I have throughout avoided the temptation of following any of the branches into their smaller ramifications, or of going into the details of progressive development. These, I have felt, are matters to be dealt with by others who are severally better qualified for the task, whether their special studies have reference to language, archaeology, technicology, science, literature, art, politics, morals, or religion. But, in so far as I shall subsequently have to deal with these subjects, I will do so with the purpose of arriving at general principles bearing upon mental evolution, rather than with that of collecting facts or opinions for the sake of their intrinsic interest from a purely historical point of view"--Preface. (PsycINFO Database Record (c) 2011 APA, all rights reserved)
Mental evolution in animals. With a posthumous essay on instinct
by
George John Romanes
( )
34 editions published between
1883
and 2011 in
English
and
Undetermined
and held by 687 WorldCat member libraries worldwide
This late 19th-century historical work is a study of evolution in animals that is built upon from Darwin's original theories. It also includes an essay by Darwin himself
An examination of Weismannism
by
George John Romanes
( Book )
51 editions published between
1893
and 2018 in
English
and
Undetermined
and held by 627 WorldCat member libraries worldwide
"This book considers what the author thinks one ought to understand as distinctively "Weismannism" in the theory of heredity and the continuity of germ-plasm. In this examination, the author restricts his attention to the elaborate system of theories that August Weismann has reader upon his fundamental postulate of the noninheritance of acquired characters"--Preface. (PsycINFO Database Record (c) 2010 APA, all rights reserved)
Mind and motion and monism
by
George John Romanes
( Book )
45 editions published between
1895
and 2018 in
English
and
Undetermined
and held by 507 WorldCat member libraries worldwide
"Of the contents of this little volume the section on Mind and Motion which forms, in accordance with a suggestion of the author's, a general introduction, was delivered at Cambridge as the Rede Lecture in 1885, and was printed in the Contemporary Review for June in that year. The chapter on The World as an Eject was published, almost as it now stands, in the Contemporary Review for July, 1886. A paper on The Fallacy of Materialism, of which Mr. Romanes incorporated the more important parts in the Essay on Monism, was contributed to the Nineteenth Century for December, 1882. The rest was left in MS. and was probably written in 1889 or 1890"--Preface. (PsycINFO Database Record (c) 2010 APA, all rights reserved)
Jelly-fish, star-fish, and sea urchins : being a research on primitive nervous systems.
by
George John Romanes
( Book )
37 editions published between
1885
and 2011 in
English
and held by 499 WorldCat member libraries worldwide
"Among the most beautiful, as well as the most common, of the marine animals which are to be met with upon our coasts are the jelly-fish and the starfish. Scarcely any one is so devoid of the instincts either of the artist or of the naturalist as not to have watched these animals with blended emotions of the aesthetic and the scientific--feeling the beauty while wondering at the organization. How many of us who live for most of the year in the fog and dust of large towns enjoy with the greater zest our summer's holiday at the seaside? And in the memories of most of us is there not associated with the picture of breaking waves and sea-birds floating indifferently in the blue sky or on the water still more blue, the thoughts of many a ramble among the weedy rocks and living pools, where for the time being we all become naturalists, and where those who least know what they are likely to find in their search are most likely to approach the keen happiness of childhood? If so, the image of the red sea-stars bespangling a mile of shining sand, or decorating the darkness of a thousand grottoes, must be joined with the image, no less vivid, of those crystal globes pulsating with life and gleaming with all the colours of the rainbow, which are perhaps the most strange, and certainly in my estimation the most delicately lovely creatures in the world"--Introduction. (PsycINFO Database Record (c) 2010 APA, all rights reserved)
A candid examination of theism
by
George John Romanes
( )
38 editions published between
1878
and 2018 in
English
and held by 496 WorldCat member libraries worldwide
"The following essay was written several years ago; but I have hitherto refrained from publishing it, lest, after having done so, I should find that more mature thought had modified the conclusions which the essay sets forth. Judging, however, that it is now more than ever improbable that I shall myself be able to detect any errors in my reasoning, I feel that it is time to present the latter to the contemplation of other minds. It is desirable further to observe, that the only reason why I publish this edition anonymously is because I feel very strongly that, in matters of the kind with which the present essay deals, opinions and arguments should be allowed to produce the exact degree of influence to which as opinions and arguments they are entitled: they should be permitted to stand upon their own intrinsic merits alone, and quite beyond the shadow of that unfair prejudication which cannot but arise so soon as their author's authority, or absence of authority, becomes known. I have endeavoured in the following analysis to fix the precise standing of the evidence in favour of the theory of Theism, when the latter is viewed in all the flood of light which the progress of modern science--physical and speculative--has shed upon it"--Preface. (PsycINFO Database Record (c) 2008 APA, all rights reserved)
The life and letters of George John Romanes
by
George John Romanes
( )
21 editions published between
1896
and 2018 in
English
and
Undetermined
and held by 258 WorldCat member libraries worldwide
"In writing my husband's life I have tried, so far as it was possible, to let him, especially in matters scientific, speak for himself. The letters relating to his work will, I hope, interest any one who cares for biological science"--Preface. (PsycINFO Database Record (c) 2010 APA, all rights reserved)
more
fewer
Audience Level
0

1
Kids
General
Special
Audience level: 0.48 (from 0.06 for The origin ... to 0.86 for George Joh ...)
Related Identities
Associated Subjects
Ability
Animal behavior
Animal intelligence
Animal psychology
Biologists
Canada
Church of England
Cognitive neuroscience
Darwin, Charles,
Death
Empiricism
Eugenics
Evolution
Evolution (Biology)
Evolution (Biology)--Religious aspects--Christianity
Friendship
Genetic psychology
Gosse, Philip Henry,
Great Britain
Heredity
Human ecology
Human evolution
Hypnotism
Idealism
Influence (Literary, artistic, etc.)
Instinct
Intellect
Jellyfishes
Monism
Naturalists
Natural selection
Nervous system
Pattison, Mark,
Philosophy, Modern
Pragmatism
Prayer
Prayer--Christianity
Psychology
Psychology, Comparative
Religion
Religion and science
Rendle Short, A.--(Arthur),
Rendle-Short, John
Romanes, George John,
Science
Scientists
Sea urchins
Starfishes
Theism
Weismann, August,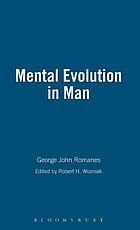 Covers
Alternative Names
George John Romanes

George John Romanes biologo e fisiologo britannico

George John Romanes naturaliste et psychologue britannique

George Romanes britischer Evolutionsbiologe

George Romanes Brits psycholoog (1848-1894)

Metaphysicus 1848-1894

Phsyicus 1848-1894

Physicus

Physicus 1848-1894

Romanes, G.

Romanes, G.-J.

Romanes, G.J. 1848-1894

Romanes, G. John.

Romanes, George.

Romanes, George 1848-1894

Romanes, George J.

Romanes, George J. 1848-1894

Romanes, George J. (George John), 1848-1894

Romanes, George-John 1848-1894

Romanes, Georges J.

Romanes, Jiří J. 1848-1894

Romanes, John 1848-1894

Романес Г. Д

Романес Г. Д. 1848-1894

Романес Д

Романес Д. 1848-1894

Романэс Д

Романэс Д. 1848-1894

Романэс, Д. (Джордж), 1848-1894

Романэс, Джордж Джон

Романэсъ, Д 1848-1894

Роменс, Джордж-Джон

جورج رومانز

ジョージ・ロマネス

ローマネス

Languages