Van Loan, Charles F.
Most widely held works by Charles F Van Loan
Matrix computations
by
Gene H Golub
( Book )
103 editions published between
1983
and 2013 in 5 languages and held by 2,495 WorldCat member libraries worldwide
"Thoroughly revised, updated, and expanded by more than one third, this new edition of Golub and Van Loan's landmark book in scientific computing provides the vital mathematical background and algorithmic skills required for the production of numerical software. New chapters on high performance computing use matrix multiplication to show how to organize a calculation for vector processors as well as for computers with shared or distributed memories. A.so new are discussions of parallel vector methods for linear equations, least squares, and eigenvalue problems."--Back cover
Handbook for matrix computations
by
Thomas F Coleman
( Book )
16 editions published between
1988
and 1991 in 3 languages and held by 472 WorldCat member libraries worldwide
"This handbook can be used as a reference by those actively engaged in scientific computation. It can also serve as a practical companion text in a numerical methods course that involves a significant amount of linear algebraic computation. The book has four chapters, each being fairly independent of the others."--Preface
Computational frameworks for the fast fourier transform
by
Charles F Van Loan
( Book )
22 editions published in
1992
in
English
and held by 403 WorldCat member libraries worldwide
The most comprehensive treatment of FFTs to date. Van Loan captures the interplay between mathematics and the design of effective numerical algorithms--a critical connection as more advanced machines become available. A stylized Matlab notation, which is familiar to those engaged in high-performance computing, is used. The Fast Fourier Transform (FFT) family of algorithms has revolutionized many areas of scientific computation. The FFT is one of the most widely used algorithms in science and engineering, with applications in almost every discipline. This volume is essential for professionals interested in linear algebra as well as those working with numerical methods. The FFT is also a great vehicle for teaching key aspects of scientific computing
Insight through computing : a MATLAB introduction to computational science and engineering
by
Charles F Van Loan
( Book )
13 editions published in
2010
in
English
and held by 188 WorldCat member libraries worldwide
This introduction to computer-based problem-solving using the MATLAB environment is highly recommended for students wishing to learn the concepts and develop the programming skills that are fundamental to computational science and engineering (CSE). Through a 'teaching by examples' approach, the authors pose strategically chosen problems to help first-time programmers learn these necessary concepts and skills. Each section formulates a problem and then introduces those new MATLAB language features that are necessary to solve it. This approach puts problem-solving and algorithmic thinking first and syntactical details second. Each solution is followed by a 'talking point' that concerns some related, larger issue associated with CSE. Collectively, the worked examples, talking points, and 300+ homework problems build intuition for the process of discretization and an appreciation for dimension, inexactitude, visualization, randomness, and complexity. This sets the stage for further coursework in CSE areas
If Copernicus had a computer
by
Charles F Van Loan
( Visual )
3 editions published in
1996
in
English
and held by 15 WorldCat member libraries worldwide
In a lecture presented at the 1995 SIAM Annual Meeting, October 23-26, 1995, in Charlotte, N.C., Van Loan wonders if Copernicus would have been as bold a scientist if he had access to 1995 computers
A symplectic method for approximating all the eigenvalues of a Hamiltonian matrix
by
Charles F Van Loan
( Book )
7 editions published between
1982
and 1984 in
English
and held by 9 WorldCat member libraries worldwide
A fast method for computing all the eigenvalues of a Hamiltonian matrix M is given. The method relies on orthogonal symplectic similarity transformations which preserve structure and have desirable numerical properties. The algorithm is about four times faster than the standard Q-R algorithm. The computed eigenvalues are shown to be the exact eigenvalues of a matrix M+E where $\Vert E \Vert$ depends on the square root of the machine precision. The accuracy of a computed eigenvalue depends on its condition and its magnitude, larger eigenvalues typically being more accurate
A Hessenberg-Schur method for the problem AX + XB=C
by
Gene H Golub
( Book )
6 editions published between
1978
and 1979 in
English
and
Undetermined
and held by 7 WorldCat member libraries worldwide
One of the most effective methods for solving the matrix equation AX + XB = C is the Bartels-Stewart algorithm. Key to this technique is the orthogonal reduction of A and B to triangular form using the QR algorithm for eigenvalues. A new method is proposed which differs from the Bartels-Stewart algorithm in that A is only reduced to Hessenberg form. The resulting algorithm is between 30 and 70 percent faster depending upon the dimensions of the matrices A and B. The stability of the new method is demonstrated through a roundoff error analysis and supported by numerical tests. Fianlly, it is shown how the techniques described can be applied and generalized to other matrix equation problems
more
fewer
Audience Level
0

1
Kids
General
Special
Audience level: 0.60 (from 0.41 for Introducti ... to 0.88 for Computer s ...)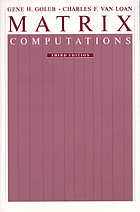 Alternative Names
Charles F. Van Loan Amerikaans wiskundige

Charles Van Loan US-amerikanischer Mathematiker und Informatiker

Loan Charles F. Van

Loan, Charles van

Van Loan, C.

Van Loan, C. F.

Van Loan, Charles.

Van Loan, Charles F.

Van Loan, Charles Francis

VanLoan, C.

VanLoan, C. F.

VanLoan, Charles

VanLoan, Charles F.

Languages
Covers