Dickson, Bruce J.
Most widely held works about Bruce J Dickson
Papers

by

Bruce J Dickson

( Book )

Papers

by

Bruce J Dickson

( )
Most widely held works by Bruce J Dickson
Red capitalists in China : the party, private entrepreneurs, and prospects for political change
by
Bruce J Dickson
( Book )
19 editions published between
2002
and 2009 in
English
and held by 568 WorldCat member libraries worldwide
"This book focuses on two related issues: whether the Chinese Communist Party (CCP) is willing and able to adapt to the economic environment its reforms are bringing about and whether China's "red capitalists," private entrepreneurs who also belong to the communist party, are likely to be agents of political change." "Comparisons with other countries, primarily in East Asia and Eastern Europe, historical comparisons with pre-1949 China, primary materials on contemporary China, and most importantly original survey data are used to help clarify the relationship between entrepreneurs and the CCP, the often intense debate over whether entrepreneurs should be allowed into the CCP, and the political implications of the growing numbers of red capitalists in China."--BOOK JACKET
Wealth into power : the Communist Party's embrace of China's private sector
by
Bruce J Dickson
( Book )
9 editions published in
2008
in
English
and held by 449 WorldCat member libraries worldwide
In Wealth and Power in Contemporary China, Bruce Dickson challenges the notion that economic development is leading to political change in China, or that China's private entrepreneurs are helping to promote democratization. Instead, they have become partners with the ruling Chinese Communist Party to promote economic growth while maintaining the political status quo. Dickson's research illuminates the Communist Party's strategy for incorporating China's capitalists into the political system and how the shared interests, personal ties, and common views of the party and the private sector are creating a form of "crony communism." Rather than being potential agents of change, China's entrepreneurs may prove to be a key source of support for the party's agenda. Based on years of research and original survey data, this book will be of interest to all those interested in China's political future and in the relationship between economic wealth and political power
Allies of the state : China's private entrepreneurs and democratic change
by
Jie Chen
( Book )
8 editions published in
2010
in
English
and
Undetermined
and held by 424 WorldCat member libraries worldwide
""Allies of the State is a finely tuned laser of a book. With a rigorous yet elegant research design deployed with great dexterity, the argument unfolds in tantalizing layers, as Chen and Dickson get us closer than ever to understanding the political attitudes and behavior of China's private entrepreneurs."Scott Kennedy, author of The Business of Lobbying in China" ""In a nuanced analysis, Chen and Dickson study the role of private businessmen in China in supporting democratic change. They show that private entrepreneurs, with close ties to the state and the communist party, largely support the Chinese communist political system, but the support is not unconditional. The authors' survey of private entrepreneurs is original in covering five important provinces and unique in capturing the regional differences that affect the business-government relationship. This significant contribution tells us a great deal about the attitudes of private businessmen in China toward democratizing changes and the government system."Dwight H. Perkins, Harvard University" "Jie Chen And Bruce Dickson draw on extensive fieldwork as they explore the extent to which China's private sector supports democracy, surveying more than 2,000 entrepreneurs in five coastal provinces with over 70 percent of China's private enterprises." "The authors examine who the private entrepreneurs are, how the party-state shapes this group, and what their relationship to the state is. China's entrepreneurs are closely tied to the state through political and financial relationships, and these ties shape their views toward democracy. While most entrepreneurs favor multi-candidate elections under the current one-party system, they do not support a system characterized by multiparty competition and political liberties, including the right to demonstrate. The key to regime support lies in the capitalists' political beliefs and their assessment of the government's policy performance. China's capitalists tend to be conservative and status-quo oriented, not likely to serve as agents of democratization." "This is a valuable contribution not only to the debates over the prospects for democracy in China but also to understanding the process of democratization around the globe."--BOOK JACKET
Remaking the Chinese state : strategies, society, and security
by
Jianmin Zhao
( Book )
13 editions published in
2001
in
English
and
Undetermined
and held by 273 WorldCat member libraries worldwide
This work explores the strategies of reform in China and their implications for its domestic and foreign policies. It challenges the misconceptions that China is eagerly embracing capitalism, or that no political reforms are taking place
A research guide to central party and government meetings in China, 1949-1986
by
Kenneth Lieberthal
( Book )
9 editions published in
1989
in
English
and held by 272 WorldCat member libraries worldwide
"This volume, like its predecessor in 1976, provides information on all top-level meetings convened by Chinese officials since 1949 for which there is concrete documentary evidence. In so doing, it seeks to provide a vehicle for capturing a part of China's elite decision making, for tracking the appearance of various issues on the agenda of the leaders, for documenting major decisions taken, and for gaining increased bibliographic control over a scattered and unsystematic literature." --from the Introduction
The dictator's dilemma : the Chinese Communist Party's strategy for survival
by
Bruce J Dickson
( Book )
7 editions published in
2016
in
English
and held by 213 WorldCat member libraries worldwide
" Many observers predicted the collapse of the Chinese Communist Party following the Tiananmen Square crackdown in 1989, and again following the serial collapse of communist regimes behind the Iron Curtain. Their prediction, however, never proved true. Despite minor setbacks, China has experienced explosive economic growth and relative political stability ever since 1989. In The Dictator's Dilemma, eminent China scholar Bruce Dickson provides a comprehensive explanation for regime's continued survival and prosperity. Dickson contends that the popular media narrative of the party's impending implosion ignores some basic facts. The regime's policies may generate resentment and protest, but the CCP still enjoys a surprisingly high level of popular support. Nor is the party is not cut off from the people it governs. It consults with a wide range of specialists, stakeholders, and members of the general public in a selective yet extensive manner. Further, it tolerates and even encourages a growing and diverse civil society, even while restricting access to it. Today, the majority of Chinese people see the regime as increasingly democratic even though it does not allow political competition and its leaders are not accountable to the electorate. In short, while the Chinese people may prefer change, they prefer that it occurs within the existing political framework. In reaching this conclusion, Dickson draws upon original public opinion surveys, interviews, and published materials to explain why there is so much popular support for the regime. This basic stability is a familiar story to China specialists, but not to those whose knowledge of contemporary China is limited to the popular media. The Dictator's Dilemma, an engaging synthesis of how the CCP rules and its future prospects, will enlighten both audiences, and will be essential for anyone interested in understanding China's increasing importance in world politics. "--
more
fewer
Audience Level
0

1
Kids
General
Special
Audience level: 0.45 (from 0.08 for Red capita ... to 0.82 for [Bruce Dic ...)
Related Identities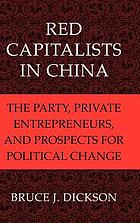 Alternative Names
Dickson, Bruce 1958-

Dickson, Bruce J.

Languages
Covers