Hausman, Jerry A.
Most widely held works by Jerry A Hausman
Social experimentation
by
Jerry A Hausman
( Book )
19 editions published between
1985
and 2007 in
English
and
Undetermined
and held by 514 WorldCat member libraries worldwide
Since 1970 the United States government has spent over half a billion dollars on social experiments intended to assess the effect of potential tax policies, health insurance plans, housing subsidies, and other programs. Was it worth it? Was anything learned from these experiments that could not have been learned by other, and cheaper, means? Could the experiments have been better designed or analyzed? These are some of the questions addressed by the contributors to this volume, the result of a conference on social experimentation sponsored in 1981 by the National Bureau of Economic Research. T
Contingent valuation : a critical assessment
by
Jerry A Hausman
( Book )
26 editions published between
1993
and 2010 in
English
and
Undetermined
and held by 352 WorldCat member libraries worldwide
Contingent Valuation (CV) is a survey method that attempts to estimate individual values for economic goods by asking people hypothetical questions about their willingness to pay for such goods. This title includes papers that present a critical assessment of contingent valuation (CV). It also includes research of specialists in psychology
Taxation by telecommunications regulation : the economics of the e-rate
by
Jerry A Hausman
( Book )
23 editions published between
1997
and 1998 in
English
and held by 217 WorldCat member libraries worldwide
Telecommunications regulation in the U.S. is replete with a system of subsidies and taxes. Because of budgetary spending limits, Congress is unable to increase general taxes to pay for social programs and thus funds these programs from taxes on specific sectors of the economy. In this paper I consider the Congressional legislation which established a program so that all public schools and libraries in the U.S. will receive subsidized service to the Internet. The cost of the program is estimated to be $2.25 billion per year. Congress passed legislation that directed all users of interstate telephone service to pay for the program. Using analytical methods from public finance, I calculate the efficiency cost to the economy of the higher taxation of interstate telephone services to fund the Internet access discounts. I estimate the cost to the economy of raising the $2.25 billion per year to be at least $2.36 billion (in addition to the $2.25 billion of tax revenue), or the efficiency loss to the economy for every $1 raised to pay for the Internet access discounts is an additional $1.05 to $1.25 beyond the money raised for the Internet discounts. This cost to the economy is extremely high compared to other taxes used by the Federal government to raise revenues. I discuss an alternative method by which the FCC could have raised the revenue for the Internet discounts which would have a near zero cost to the economy
Efficiency effects on the U.S. economy from wireless taxation
by
Jerry A Hausman
( Book )
14 editions published in
1999
in
English
and held by 75 WorldCat member libraries worldwide
This paper measures for the first time the economic efficiency effects of the taxation of wireless services, which are taxed by federal, state, and local governments at relatively high rates in the range of 14%-25%. The paper concludes such taxes are a much greater drain on the economy than their direct costs. The taxes identified in this paper cost the economy $2.56 billion more than the $4.79 billion they raise in tax revenues. These taxes are raised from wireless consumers and thereby suppress demand for service, imposing an efficiency loss on the economy of $0.53 for every $1 currently raised in taxes. Prospective taxes will impose an efficiency loss of $0.72-$1.14 per additional dollar of tax revenue raised
Valuation of new goods under perfect and imperfect competition
by
Jerry A Hausman
( Book )
17 editions published between
1994
and 1995 in
English
and held by 73 WorldCat member libraries worldwide
The Consumer Price Index (CPI) attempts to answer the question of how much more (or less) income does a consumer require to be as well off in period 1 as in period 0 given changes in prices, changes in the quality of goods, and the introduction of new goods (or the disappearance of existing goods). In this paper I explain the theory of cost-of-living indices and demonstrate how new goods should be included using the classical theory of Hicks and Rothbarth. The correct price to use for the good in the pre-intro- duction period is a virtual' price which sets demand to zero. Estimation of this virtual price requires estimation of a demand function which in turn provides the expenditure function which allows exact calucation of the cost of living index. The data requirements and need to specify and estimate a demand function for a new brand among many existing brands requires extensive data and some new econometric methods which may have proven obstacles to the inclusion of new goods in the CPI up to this point. As an example I use the introduction of a new cereal brand by General Mills in 1989-Apple Cinnamon Cheerios. I find the virtual price is about 2 times the actual price of Apple Cinnamon Cheerios and that increase in consumer surplus is substantial. Based on some simplifying approximations, I find that CPI may be overstated for cereal by about 25% because of its neglect of the effect of new brands. When I take imperfect competition into account I find that the increase in consumer welfare is only 85% as high with perfect competition so CPI for cereal would still be 20% too high
Essays in honor of Jerry Hausman
by
Badi H Baltagi
( Book )
10 editions published in
2012
in
English
and held by 70 WorldCat member libraries worldwide
"This volume of Advances in Econometrics contains articles that examine key topics in the modeling and estimation of dynamic stochastic general equilibrium (DSGE) models. Because DSGE models combine micro- and macroeconomic theory with formal econometric modeling and inference, over the past decade they have become an established framework for analyzing a variety of issues in empirical macroeconomics. The research articles make contributions in several key areas in DSGE modeling and estimation. In particular, papers cover the modeling and role of expectations, the study of optimal monetary policy in two-country models, and the problem of non-invertibility. Other interesting areas of inquiry include the analysis of parameter identification in new open economy macroeconomic models and the modeling of trend inflation shocks. The second part of the volume is devoted to articles that offer innovations in econometric methodology. These papers advance new techniques for addressing major inferential problems and include discussion and applications of Laplace-type, frequency domain, empirical likelihood and method of moments estimators."--Publisher's website
Cellular telephone, new products and the CPI
by
Jerry A Hausman
( Book )
13 editions published in
1997
in
English
and held by 63 WorldCat member libraries worldwide
Abstract: Cellular telephone is an example of a new product that has significantly affected how Americans live. Since their introduction in 1983, cellular telephone adoption has grown at 25-35% per year such that at year end 1996 about 42 million cellular telephones are in use in the U.S. However, cellular telephone has not been included in the construction of the CPI, and the CPI will not include cellular telephone until 1998 or 1999. This neglect of new goods leads to an upward bias in the CPI. The analysis of the paper demonstrates that the gains in consumer welfare from a new product such as cellular telephone can be substantial. The paper also gives an approximation result which the BLS could use to calculate gains in consumer welfare from new products for use in the CPI. The BLS telecommunications CPI estimates that since 1988, telecommunications prices have increased by 8.5% or an increase of 1.02% per year. This estimate ignores cellular service. A corrected telecommunication services COLI that includes cellular service decreased from 1.0 in 1988 to 0.903 in 1996 for a decrease of 1.28% per year. Thus, the bias in the BLS telecommunications services CPI equals approximately 2.3 percentage points per year. The neglect of new products in the CPI can lead to significant biases
more
fewer
Audience Level
0

1
Kids
General
Special
Audience level: 0.45 (from 0.08 for Social exp ... to 0.90 for Innovation ...)
Related Identities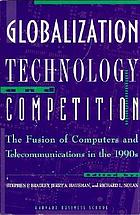 Alternative Names
Hausman, J.

Hausman, J. 1946-

Hausman, J. A.

Hausman, J. A. 1946-

Hausman, Jerry.

Hausman, Jerry 1946-

Jerry A. Hausman Amerikaans econoom

Jerry A. Hausman amerikansk ekonom

Jerry A. Hausman amerikansk økonom

Jerry A. Hausman economista estadounidense

Jerry Hausman

Jerry Hausman économiste américain

Jerry Hausman US-amerikanischer Wirtschaftswissenschaftler

Хаусман, Джерри

Хаусман, Джерри американский экономист

傑里·A·豪斯曼

Languages
Covers