Vinge, Vernor
Most widely held works about Vernor Vinge
Most widely held works by Vernor Vinge
A fire upon the deep
by
Vernor Vinge
( Book )
65 editions published between
1992
and 2016 in 12 languages and held by 1,556 WorldCat member libraries worldwide
A Fire Upon the Deepis the big, breakout book that fulfills the promise of Vinge's career to date: a gripping tale of galactic war told on a cosmic scale. Thousands of years hence, many races inhabit a universe where a mind's potential is determined by its location in space, from superintelligent entities in the Transcend, to the limited minds of the Unthinking Depths, where only simple creatures and technology can function. Nobody knows what strange force partitioned space into these "regions of thought," but when the warring Straumli realm use an ancient Transcendent artifact as a weapon, they unwittingly unleash an awesome power that destroys thousands of worlds and enslaves all natural and artificial intelligence. Fleeing the threat, a family of scientists, including two children, are taken captive by the Tines, an alien race with a harsh medieval culture, and used as pawns in a ruthless power struggle. A rescue mission, not entirely composed of humans, must rescue the children-and a secret that may save the rest of interstellar civilization
A deepness in the sky
by
Vernor Vinge
( Book )
28 editions published between
1999
and 2015 in 6 languages and held by 1,261 WorldCat member libraries worldwide
The story of the Spiders, inhabitants of a planet where the sun regularly stops shining for periods of 200 years, during which they are frozen in ice. The novel picks them up emerging from their most recent hibernation in a frenzy of activity and innovation to make up for lost time. By the author of A Fire upon the Deep
Rainbows end
by
Vernor Vinge
( Book )
23 editions published between
2006
and 2013 in 3 languages and held by 1,231 WorldCat member libraries worldwide
In a near-future western civilization that is threatened by corruptive practices within its technologically advanced information networks, a recovered Alzheimer's victim and his family are caught up in a dangerous maelstrom beyond their worst imaginings
The children of the sky
by
Vernor Vinge
( Book )
12 editions published between
2011
and 2012 in
English
and
French
and held by 1,055 WorldCat member libraries worldwide
"Ten years have passed on Tines World, where Ravna Bergnsdot and a number of human children ended up after a disaster that nearly obliterated humankind throughout the galaxy. Ravna and the pack animals for which the planet is named have survived a war, and Ravna has saved more than one hundred children who were in cold-sleep aboard the vessel that brought them. While there is peace among the Tines, there are those among them--and among the humans--who seek power ... and no matter the cost, these malcontents are determined to overturn the fledgling civilization that has taken root since the humans landed. On a world of fascinating wonders and terrifying dangers, Vernor Vinge has created a powerful novel of adventure and discovery that will entrance the many readers of A Fire Upon the Deep. Filled with the inventiveness, excitement, and human drama that have become hallmarks of his work, this new novel is sure to become another great milestone in Vinge's already stellar career."--
Marooned in realtime
by
Vernor Vinge
( Book )
18 editions published between
1986
and 2009 in 4 languages and held by 598 WorldCat member libraries worldwide
On a distant future Earth where the human race has inexplicably dwindled to some three hundred members, a secretive person harbors a deadly secret that he or she is willing to kill in order to protect
The collected stories of Vernor Vinge
by
Vernor Vinge
( Book )
12 editions published between
2001
and 2009 in 3 languages and held by 583 WorldCat member libraries worldwide
A compilation of short fiction by the Hugo Award winner ranges from his earliest works to his longer takes from the 1970s and 1980s and includes "The Ungoverned" and "The Blabber."
The peace war
by
Vernor Vinge
( Book )
21 editions published between
1984
and 2009 in 4 languages and held by 530 WorldCat member libraries worldwide
Fifty years before, the "Peace Authority" took control of governments worldwide with a radically different weapon, the "bobbler, ' which encased its targets within an impenetrable force field, rendering resistance useless. after the takeover come the plagues; civilization fell into a semifeudal state, and all high technology was banned. But Paul Naismith, inventer of the bobbler, has never given up hope. After having hidden from the usurping Peace Authority for decades, he is finally ready to lead the Tinker underground against the evil he helped to create. The odds against them seem impossibly long. Nothing has been able to defeat the Peace Authority's bobbler. Until now
Across realtime
by
Vernor Vinge
( Book )
11 editions published between
1984
and 2004 in
English
and
Undetermined
and held by 413 WorldCat member libraries worldwide
The Peace Authority eliminated war by using the "bobble," a unique spherical state of stasis than encapsulated an object in an impenetrable force field. Paul Naismith, reclusive leader of the Tinker underground, has developed his own extraordinary, illegal, technology, far surpassing the Authority, hoping to strike back someday
The witling
by
Vernor Vinge
( Book )
13 editions published between
1976
and 2006 in
English
and
French
and held by 259 WorldCat member libraries worldwide
Two anthropologists surveying the planet Giri are captured by the planet's inhabitants, and become caught between two warring alien societies and their deadly telekinetic powers
Tatja Grimm's world
by
Vernor Vinge
( Book )
7 editions published between
1987
and 2006 in
English
and held by 115 WorldCat member libraries worldwide
Multiple Hugo Award winner Vernor Vinge's first full-length novel As a mud-spattered youngster, Tatja quickly realized she was different from the stone-age primitives with whom she grew up. Her insatiable curiosity and thirst for knowledge could not be quenched among them; she had to explore and learn more about the strange world she lived on. She finds the bastion of all culture, arts, entertainment and history for the entire planet, the seven-hundred-year-old science fiction magazine Fantasie, which is produced entirely aboard a gargantuan floating vessel the size of a small city. But despite the printing presses, sail-powered vessels, and mind-expanding technology, Tatja is still dissatisfied. Rising through the ranks, she finds that the people on the enormous barge are just as unintelligent as the primitives she grew up with. But others have come to the planet who not only challenge her intelligence, but offer her a tantalizing opportunity to uncover answers to mysteries that have long plagued her. But with opportunity comes risk. And if she acts unwisely, she could bring doom to the only world she knows. At the publisher's request, this title is being sold without Digital Rights Management software (DRM) applied
more
fewer
Audience Level
0

1
Kids
General
Special
Audience level: 0.26 (from 0.18 for The childr ... to 0.91 for Au tréfon ...)
Related Identities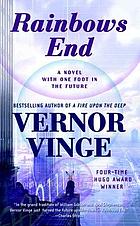 Alternative Names
Vernor Vinge Amerikaans wiskundige

Vernor Vinge Amerikaans wiskundige en schrijver

Vernor Vinge amerikansk datavetare och matematiker

Vernor Vinge amerikansk informatikar og matematikar

Vernor Vinge amerikansk informatiker og matematiker

Vernor Vinge écrivain américain

Vernor Vinge scrittore statunitense

Vernor Vinge US-amerikanischer Mathematiker, Informatiker und Science-Fiction-Autor

Vinge, Vernor

Vinge, Vernor 1944-

Vinge Vernor Steffen 1944-....

Vinge, Vernor (Vernor Steffen)

Vinge, Vernor (Vernor Steffen), 1944-

Вернор Виндж

Вернор Віндж

Върнър Виндж

וינגי, ורנור

ורנור וינג'י

ورنر وینج ریاضی‌دان و دانشمند علوم کامپیوتر آمریکایی

빈지, 버너 1944-

ヴァーナー・ヴィンジ

ヴィンジ, ヴァーナー

弗诺·文奇

Languages
Covers