Bledsoe, Albert Taylor 1809-1877
Most widely held works about Albert Taylor Bledsoe
more
fewer
Most widely held works by Albert Taylor Bledsoe
An essay on liberty and slavery
by
Albert Taylor Bledsoe
( Book )
46 editions published between
1856
and 2014 in
English
and held by 814 WorldCat member libraries worldwide
"In replying to the others, we are conscious that we have often used strong language; for which, however, we have no apology to offer. We have dealt with their arguments and positions rather than with their motives and characters. If, in pursuing this course, we have often spoken strongly, we merely beg the reader to consider whether we have not also spoken justly. We have certainly not spoken without provocation. For even these men--the very lights and ornaments of abolitionism--have seldom condescended to argue the great question of Liberty and Slavery with us as with equals. On the contrary, they habitually address us as if nothing but a purblind ignorance of the very first elements of moral science could shield our minds against the force of their irresistible arguments. In the overflowing exuberance of their philanthropy, they take pity of our most lamentable moral darkness, and graciously condescend to teach us the very A B C of ethical philosophy! Hence, if we have deemed it a duty to lay bare their pompous inanities, showing them to be no oracles, and to strip their pitiful sophisms of the guise of a profound philosophy, we trust that no impartial reader will take offence at such vindication of the South against her accusers and despisers"--Introduction. (PsycINFO Database Record (c) 2008 APA, all rights reserved)
Is Davis a traitor; or, Was secession a constitutional right previous to the war of 1861?
by
Albert Taylor Bledsoe
( Book )
25 editions published between
1866
and 2013 in
English
and held by 438 WorldCat member libraries worldwide
"The sole object of this work is to discuss the right of secession with reference to the past; in order to vindicate the character of the South for loyalty, and to wipe off the charges of treason and rebellion from the names and memories of Jefferson Davis, Stonewall Jackson, Albert Sydney Johnston, Robert E. Lee, and of all who have fought or suffered in the great war of coercion. Admitting, then, that the right of secession no longer exists; the present work aims to show, that, however those illustrious heroes may have been aspersed by the ignorance, the prejudices, and the passions of the hour, they were, nevertheless, perfectly loyal to truth, justice, and the Constitution of 1787 as it came from the hands of the fathers"--Preface
A theodicy; or, Vindication of the divine glory, as manifested in the constitution and government of the moral world
by
Albert Taylor Bledsoe
( Book )
50 editions published between
1853
and 2012 in
English
and
Undetermined
and held by 373 WorldCat member libraries worldwide
"How, under the government of an infinitely perfect Being, evil could have proceeded from a creature of his own, has ever been regarded as the great difficulty pertaining to the intellectual system of the universe. It has never ceased to puzzle and perplex the human mind. Indeed, so great and so obstinate has it seemed, that it is usually supposed to lie beyond the reach of the human faculties. The supposed want of success attending the labours of the past, is, no doubt, the principal reason which has induced so many to abandon the problem of evil in despair, and even to accuse of presumption every speculation designed to shed light upon so great a mystery. But this reason, however specious and imposing at first view, will lose much of its apparent force upon a closer examination. The assertion is frequently made, that the moral government of the world is purposely left in obscurity and apparent confusion, in order to teach man a lesson of humility and submission, by showing him how weak and narrow is the human mind. We have not, however, been able to find any sufficient reason or foundation for such an opinion. The truth is, that the more clearly the majesty and glory of the divine perfections are displayed in the constitution and government of the world, the more clearly shall we see the greatness of God and the littleness of man. Everything truly great must transcend the powers of the human mind; and hence, if nothing were mysterious, there would be nothing worthy of our veneration and worship. It is mystery, indeed, which lends such unspeakable grandeur and variety to the scenery of the moral world. The construction of a theodicy is not an attempt to solve mysteries, but to dissipate absurdities." (PsycINFO Database Record (c) 2008 APA, all rights reserved)
An examination of President Edwards' inquiry into the freedom of the will
by
Albert Taylor Bledsoe
( Book )
16 editions published between
1845
and 2011 in
English
and held by 282 WorldCat member libraries worldwide
"In 1754, Johnathan Edwards, who became President of the College of New Jersey (now Princeton), published Freedom of the Will, in which he described his philosophy of moral necessity and the will. According to President Edwards, "by determining the will, if the phrase be used with any meaning, must be intended, causing that the act of the will should be thus, and not otherwise: and the will is said to be determined, when, in consequence of some action, or influence, its choice is directed to, and fixed upon a particular object. As when we speak of the determination of motion, we mean causing the motion of the body to be in such a direction, rather than another." In the present book, Albert Bledsoe refutes Edwards' philosophy by re-examining Edwards' definitions for such concepts as cause, volition, effect, liberty and necessity. Bledsoe concludes that Edwards' theory of freedom of the will contains circular reasoning and is invalid"--Introduction. (PsycINFO Database Record (c) 2008 APA, all rights reserved)
Is secession treason?
by
Albert Taylor Bledsoe
( Book )
3 editions published in
2005
in
English
and held by 14 WorldCat member libraries worldwide
"This is a new, unabridged edition of Is Davis a traitor; or, Was secession a constitutional right previous to the war of 1861? By Albert Taylor Bledsoe, 1809-1877, originally published by the author in 1866" -- Library of Congress
more
fewer
Audience Level
0

1
Kids
General
Special
Audience level: 0.48 (from 0.39 for Cotton is ... to 0.99 for Bledsoe, A ...)
Associated Subjects
American Civil War
American periodicals
Astronomy
Bledsoe, Albert Taylor,
Christian life
Constitutional history
Constitutional law
Cotton trade
Davis, Jefferson,
England
Freedom of the will (Edwards, Jonathan)
Free will and determinism
Frontier and pioneer life
Fugitive slave law (United States : 1850)
Fugitive slaves
God
Hoover, Herbert,
Intellectual life
Intellectuals
Internal Improvement Convention
Jackson, Stonewall,
Lincoln, Abraham,
Mathematics--Philosophy
Merchants
Missions
Motion
Murray family
Politics and government
Psychology
Reconstruction (United States : 1865-1877)
Reformed Episcopal Church
Scott, Dred
Scott, Dred,
Secession
Slavery
Slavery--Controversial literature
Slavery--Justification
Slaves--Emancipation
Slave trade
Southern States
Theodicy
Tucker family
United States
United States--Confederate States of America
Virginia
War--Causes
Wise, Henry A.--(Henry Alexander),
Women's rights
Women and religion
Women--Social and moral questions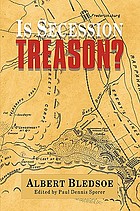 Alternative Names
Albert Taylor Bledsoe American priest, mathematician and army officer

Bledsoe, A. T.

Bledsoe, Albert

Bledsoe, Albert 1809-1877

Bledsoe, Albert T.

Taylor Bledsoe, Albert

Taylor Bledsoe, Albert 1809-1877

Languages
Covers