Spurzheim, J. G. (Johann Gaspar) 1776-1832
Most widely held works about J. G Spurzheim
more
fewer
Most widely held works by J. G Spurzheim
Observations on the deranged manifestations of the mind, or insanity
by
J. G Spurzheim
( Book )
52 editions published between
1817
and 2006 in 4 languages and held by 467 WorldCat member libraries worldwide
Les phrénologues de cette époque pensaient que les maladies mentales avaient une base cérébrale. Les dérangements de l'esprit étant le résultat d'une désorganisation des fonctions du cerveau, celle-ci pouvait être corrigée par le traitement et la rééducation. Les Observations sur la folie de Spurzheim, originairement publiées en anglais en 1817, furent traduites en français l'année suivante et constituent un véritable traité de psychiatrie où l'auteur défend l'organicisme en pathologie mentale. Il y souligne qu'il ne faut pas se fier aux simples apparences pathologiques du cerveau des fous. Il croit que la connaissance approfondie et fine de cet organe conduira à la mise en évidence de lésions responsables des troubles psychiques. Il est déjà sur la voie des recherches sur les localisations fonctionnelles en rapport avec des structures anatomiques topographiquement spécifiques. De fait, les patients doivent pouvoir être traités par la rééducation des processus responsables de la sous-activité des facultés désirables. Ce livre influença grandement le développement de la psychiatrie américaine. La réédition fac simile de l'ouvrage Observations sur la folie (1818) est précédée d'une présentation sur la vie et l'œuvre de Spurzheim. Ce livre s'adresse aux psychiatres, aux psychologues et à tous ceux intéressés par l'œuvre de ce phrénologue qui a abordé d'une manière novatrice la psychiatrie naissante
Phrenology, or, The doctrine of the mental phenomena
by
J. G Spurzheim
( Book )
30 editions published between
1832
and 1855 in
English
and held by 219 WorldCat member libraries worldwide
"The first publication presented to the English public under the title The Physiognomical System, contained several summary views of different branches of anthropology, which can be appreciated only after having been examined with great attention in all their details. Several chapters required more development, but the volume was already too large. I, therefore, after the second edition was sold, deemed it advisable to publish several chapters as separate works, and to give another arrangement to my English publications. In one volume, I gave an abstract of the anatomy of the brain,?in another, I treated of the deranged manifestations of the mind;?in a third, of the elementary principles of education, and I now publish two volumes on phrenology. In the first, I examine the physiological, and in the second the philosophical part of phrenology. Both these kinds of inquiries are inseparable from each other in the study of mental phenomena. We must first possess positive observations before we are allowed to reason but being acquainted with a sufficient number of facts, we may draw from them philosophical conclusions"--Préface. (PsycINFO Database Record (c) 2009 APA, all rights reserved)
A view of the elementary principles of education : founded on the study of the nature of man
by
J. G Spurzheim
( Book )
38 editions published between
1821
and 2012 in
English
and held by 199 WorldCat member libraries worldwide
"The most important point in Anthropology, or the study of Man, is to acquire a knowledge of his Nature; and the next, to discover the mode in which his physical and mental constitution may be most advantageously improved. Men of eminent talents have considered the principles of education worthy of their attention; and many works have been already published on this subject. It may therefore be asked, Why should another be presented? Because education is still conducted in a manner very different from that in which it ought to be. Mankind has improved less than we could wish. "There are many books," says Helvetius, "many schools, but few persons of understanding; there are many maxims, but they are seldom applied; man is old, but still a child." New elucidations of this subject, therefore, are still wanting; and I hope I shall be able to suggest some new ideas upon it. As, however, many ancient and modern philosophers have examined this subject, several of my ideas may be found in other writings; but nowhere are they reduced to the principles which I have adopted, and arranged in the same order. I hope also to succeed in pointing out some new objects, interesting in themselves, and leading to important results. This, no doubt, will produce opposition. I am also aware of the active influence of prejudice, of old habits and selfish passions; but nothing shall deter me from communicating what appears to me to be founded on the immutable laws of the Creator. His authority is the only one I acknowledge in natural history. Truth is independent of time; it must prevail, though it excite the hatred of the ignorant, the weak, and the jealous. The reader is requested to bear in mind, that the language in which this treatise is composed, is to the Author a foreign one. A person so situated is not always a competent judge of the nicer shades of meaning attaching to the expressions which he employs; and from this circumstance, together with the difficulty of commanding words to convey his ideas properly, he is liable to be betrayed into a tone of abrupt and apparently authoritative writing, quite foreign to his wish and intention. To these causes the reader is requested to impute any thing in the manner of the following pages, which may appear not suited to the circumstances or the subject"--Preface. (PsycINFO Database Record (c) 2009 APA, all rights reserved)
The physiognomical system of Drs. Gall and Spurzheim : founded on an anatomical and physiological examination of the nervous system in general and the brain in particular: and indicating the dispositions and manifestations of the mind
by
J. G Spurzheim
( Book )
17 editions published between
1814
and 1915 in
English
and held by 71 WorldCat member libraries worldwide
"The first publication presented to the English public under the title The Physiognomical System, contained several summary views of different branches of anthropology, which can be appreciated only after having been examined with great attention in all their details. Several chapters required more development, but the volume was already too large. I, therefore, after the second edition was sold, deemed it advisable to publish several chapters as separate works, and to give another arrangement to my English publications. In one volume, I gave an abstract of the anatomy of the brain, in another, I treated of the deranged manifestations of the mind; in a third, of the elementary principles of education, and I now publish two volumes on phrenology."--Preface. Spurzheim's Phrenology, or the doctrine of mental phenomena, 3rd American edition, 1835, vol 1, p. [5]
more
fewer
Audience Level
0

1
Kids
General
Special
Audience level: 0.67 (from 0.29 for Phrenology ... to 0.84 for Des dispos ...)
Related Identities
Associated Subjects
Abolitionists
Anatomy, Comparative
Austria
Brain
Brain--Anatomy
Brain--Localization of functions
Brain--Physiology
Broussais, F. J. V.--(François Joseph Victor),
Caricature
Caricatures and cartoons
Child care
Combe, George,
Corrections
Crime
Crime and criminals
Criminal anthropology
Criminals
Criminals--Rehabilitation
Education
Education--Aims and objectives
Educational anthropology
Educational psychology
Education and crime
Education--Philosophy
Ethics
Gall, F. J.--(Franz Joseph),
Great Britain
Hunter, John,
Individuality
Insanity (Law)
Mental illness
Mentally ill--Care
Natural law
Nervous system
Neuroanatomy
Neurophysiology
Philosophy
Phrenology
Physicians
Physiognomy
Psychiatry
Psychophysiology
Satire, English
Schiller, Friedrich,
Sermons
Spurzheim, J. G.--(Johann Gaspar),
Surgery
Unitarianism
Wit and humor, Pictorial
Women--Education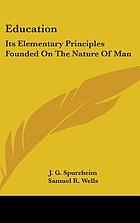 Alternative Names
Johann Gaspar Spurzheim médecin allemand

Johann Gaspar Spurzheim medico tedesco

Johann Kaspar Spurzheim

Johann Spurzheim deutscher Autor und Arzt

Johann Spurzheim Duits arts (1776-1832)

Johann Spurzheim médico alemán

Spurzheim, G.

Spurzheim, G. 1776-1832

Spurzheim, G. (Gaspar), 1776-1832

Spurzheim Gaspar

Spurzheim, Gaspar 1776-1832

Spurzheim, Gaspard 1776-1832

Spurzheim, J. G.

Spurzheim, J.G. 1776-1832

Spurzheim Jean-Gaspard

Spurzheim, Jean-Gaspard 1776-1832

Spurzheim, Johann C.

Spurzheim Johann Caspar

Spurzheim, Johann Caspar 1776-1832

Spurzheim Johann Christoph

Spurzheim, Johann Christoph 1776-1832

Spurzheim, Johann Gaspar

Spurzheim, Johann Gaspar 1776-1832

Spurzheim, Johann Kaspar

Spurzheim, Johann Kaspar 1776-1832

Spurzheim, Johannes Caspar 1776-1832

Spurzheim, Johannes Christoph 1776-1832

Spurzheim, Johannes Gaspar 1776-1832

Spurzheim, Johannes Kaspar 1776-1832

Spurzheim Kaspar

Spurzheim, Kaspar 1776-1832

Иоганн Гаспар Спарцхайм Немецкий врач, френолог

יוהאן שפורצהיים רופא גרמני

ヨハン・シュプルツハイム

史普漢

Languages
Covers