Glasersfeld, Ernst von
Most widely held works about Ernst von Glasersfeld
more
fewer
Most widely held works by Ernst von Glasersfeld
Radical constructivism : a way of knowing and learning
by
Ernst von Glasersfeld
( Book )
29 editions published between
1995
and 2002 in
English
and
Undetermined
and held by 364 WorldCat member libraries worldwide
Radical constructivism is a theory of knowing that provides a pragmatic approach to questions about reality, truth, language and human understanding. It introduces a change to many basic ideas, and consequently has a profound influence on the general attitude towards the world we experience. By generating awareness of the thinker's active role in building up concepts, the new orientation liberates the individual from spurious tethers and shows that it is ultimately ourselves who are responsible for what we think and do. To educators, the book suggests that the most important task is not to convey ready-made knowledge but to teach the art of constructing it
Radical constructivism in mathematics education
by
Ernst von Glasersfeld
( Book )
31 editions published between
1991
and 2005 in
English
and
Undetermined
and held by 318 WorldCat member libraries worldwide
Mathematics is the science of acts without things - and through this, of things one can define by acts. 1 Paul Valéry The essays collected in this volume form a mosaik of theory, research, and practice directed at the task of spreading mathematical knowledge. They address questions raised by the recurrent observation that, all too frequently, the present ways and means of teaching mathematics generate in the student a lasting aversion against numbers, rather than an understanding of the useful and sometimes enchanting things one can do with them. Parents, teachers, and researchers in the field of education are well aware of this dismal situation, but their views about what causes the wide-spread failure and what steps should be taken to correct it have so far not come anywhere near a practicable consensus. The authors of the chapters in this book have all had extensive experience in teaching as well as in educational research. They approach the problems they have isolated from their own individual perspectives. Yet, they share both an overall goal and a specific fundamental conviction that characterized the efforts about which they write here. The common goal is to find a better way to teach mathematics. The common conviction is that knowledge cannot simply be transferred ready-made from parent to child or from teacher to student but has to be actively built up by each learner in his or her own mind
Construction of arithmetical meanings and strategies
by
Leslie P Steffe
( Book )
7 editions published in
1988
in
English
and held by 276 WorldCat member libraries worldwide
The studies presented in this book will be of interest to anybody concerned with the teaching of arithmetic to young children or with cognitive development in general. The book provides an extremely detailed account of the different types of counting behavior of half a dozen children over two years. The "teaching experiment" used investigates children's construction of counting schemes, writing operations and their systems, lexical and syntactic meanings of number words and, finally, thinking strategies. The data allowed the authors to reach their main goal: to document the many subtle changes in children's counting and to interpret them theoretically. At the same time, the results of their intensive study lead the authors to affirm that a major shift in the arithmetic curriculum is necessary: they have cogently demonstrated that many of the widespread presuppositions about what young children know and what they do not know are erroneous, and that better insight into how children come to "do mathematics" should greatly improve the the teaching of arithmetic
Wie wir uns erfinden : eine Autobiographie des radikalen Konstruktivismus
by
Heinz Von Foerster
( Book )
10 editions published between
1999
and 2014 in
German
and held by 114 WorldCat member libraries worldwide
Zwei ältere Herren, einer Biophysiker, der andere Psychologe, treffen sich, um über die Vergangenheit zu sprechen. Das könnte eine ganz alltägliche Geschichte sein. Allerdings handelt es sich bei den beiden Protagonisten um die Väter des Radikalen Konstruktivismus. Der Bitte ihre Verlegers, ein Tonband mitlaufen zu lassen, kamen sie gerne nach. Ein Glücksfall, wie sich im Nachhinein herausstellt. in einem ungemein spannenden, quicklebendigen Dialog werden komplexe wissenschaftliche Fragen auf allgemeinverständliche Weise thematisiert: Was haben Kurzwellen und Kühe gemein? Warum vergräbt ein Eichhörnchen eine Nuss? Was verbindet diese Frage mit der folgenden: Was kommt zuerst - Sprache oder Bewusstsein?
Radikaler Konstruktivismus : Ideen, Ergebnisse, Probleme
by
Ernst von Glasersfeld
( Book )
18 editions published between
1995
and 2015 in 4 languages and held by 79 WorldCat member libraries worldwide
First Published in 1995. Routledge is an imprint of Taylor & Francis, an informa company
Key works in radical constructivism
by
Ernst von Glasersfeld
( Book )
7 editions published in
2007
in
English
and held by 52 WorldCat member libraries worldwide
Key works on radical constructivism brings together a number of essays by Ernst von Glasersfeld that illustrate the application of a radical constructivist way of thinking in the areas of education, language, theory of knowledge, and the analysis of a few concepts that are indispensable in almost everything we think and do. Ernst von Glasersfeld's work opens a window on how we know what we know. The present work grew out of a desire to make more accessible this line of thought, to highlight its originality and consistency, and to illustrate its fecundity in the domains of cognition and learning. The first three parts of this book contain texts by Glasersfeld that outline the constructivist approach and explicate the frequently drastic reconceptualizations he has suggested. Both the last part and the postscript consist of commentaries by Edith Ackermann, Jacques Désautels, Gérard Fourez, Leslie P. Steffe and Kenneth Tobin, scholars in the fields that Glasersfeld has been concerned with. They examine a number of critical aspects pertaining to (radical) constructivism's current and future development, often tracing out paths that warrant further exploration and reflection, in particular concerning the sociopolitical dimension of knowledge. Key works on radical constructivism is intended as a reference book for researchers, educators, and students of education-and for anyone interested in grasping, or deepening their grasp of, radical constructivism's tenets, ambitions and concerns. Readers will discover in this collection of firsthand contributions the contours of a bold, contemporary debate about a most compelling current of thought. Ernst von Glasersfeld was brought up with more than one language from the very beginning. This taught him early on that the realities people think and talk about are noticeably different. He was much influenced by Silvio Ceccato, the founder of the Operational School in Italy, and then by Jean Piaget's Genetic epistemology, to which, he believes, he was able to add some details. He worked as a language analyst at the Center for Cybernetics in Milan, directed a language research project for the Us Air Force from 1962 to 1970, and then taught as professor of cognitive psychology at the University of Georgia, USA. In 1987 he retired at the age of 75 and became Research Associate at the Scientific Reasoning Research Institute of the University of Massachusetts. Throughout, his main interest was how we come to know what we know and how thought and language are linked. He has published several books in English, German, and Italian. Marie Larochelle is Full Professor at the Faculty of Education of Université Laval, Québec City. For many years, she has actively researched socioepistemological problems related to the teaching/learning of scientific knowledge. Her publications have been primarily in the fields of science education and constructivism. Her current research interests focus on how students and future science teachers figure or represent the conflicts, controversies, negotiations and socioethical issues that shape the practice of the technosciences
The Construction of knowledge : contributions to conceptual semantics
by
Ernst von Glasersfeld
( Book )
6 editions published between
1987
and 1988 in
English
and held by 43 WorldCat member libraries worldwide
This book contains 15 essays written between 1969 through 1983. The essays included are: (1) "Semantic Analysis of Verbs in Terms of Conceptual Situations"; (2) "'Because' and the Concepts of Causation"; (3) "The Development of Language as Purposive Behavior"; (4) "Adaptation and Viability"; (5) "On the Concept of Interpretation"; (6) "Piaget and the Radical Constructivist Epistemology"; (7) "The Construct of Identity or the Art of Disregarding a Difference"; (8) "The Concepts of Adaptation and Viability in a Radical Constructivist Theory of Knowledge"; (9) "Cybernetics, Experience, and the Concept of Self"; (10) "An Introduction to Radical Constructivism"; (11) "Feedback, Induction and Epistemology"; (12) "An Interpretation of Piaget's Constructivism"; (13) "An Attentional Model for the Conceptual Construction of Units and Numbers"; (14) "Subitizing-The Role of Figural Patterns in the Development of Numerical Concepts"; and (15) "Learning as Constructive Activity." These essays are categorized in three sections: language and semantics; constructivist epistemology; and concepts of number. A list of 106 publications written by the author from 1960 to 1987 is provided. (Yp)
more
fewer
Audience Level
0

1
Kids
General
Special
Audience level: 0.51 (from 0.01 for Constructi ... to 0.96 for Leopold vo ...)
Related Identities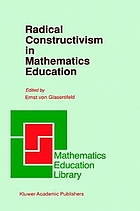 Alternative Names
Ernst von Glasersfeld Amerikaans filosoof (1917-2010)

Ernst von Glasersfeld filosofo tedesco

Ernst von Glasersfeld German philosopherGerman philosopher

Ernst von Glasersfeld österreichisch-US-amerikanischer Philosoph

Ernst von Glasersfeld philosophe allemand

Glasersfeld Ernest von 1917-....

Glasersfeld, Ernst von

Von Glasersfeld, Ernst.

Von Glasersfeld Ernst 1917-....

VonGlasersfeld, Ernst 1917-2010

Ернст фон Глазерсфельд

Эрнст фон Глазерсфельд

Էրնստ ֆոն Գլազերսֆելդ

ارنست فون گلاسرزفلد

에른스트 폰 글라저스펠트

グレーザーズフェルド, エルンスト・フォン

恩斯特·凡·葛拉瑟菲爾德

Languages
Covers