Beckwith, Francis
Most widely held works about Francis Beckwith
Most widely held works by Francis Beckwith
Defending life : a moral and legal case against abortion choice
by
Francis Beckwith
( Book )
16 editions published between
2007
and 2008 in
English
and held by 1,070 WorldCat member libraries worldwide
Defending Life is arguably the most comprehensive defense of the pro-life position on abortion - morally, legally, and politically -- that has ever been published in an academic monograph. It offers a detailed and critical analysis of Roe v. Wade and Casey v. Planned Parenthood as well as arguments by those who defend a Rawlsian case for abortion choice, such as J.J. Thomson. The author defends the substance view of persons as the view with the most explanatory power. The substance view entails that the unborn is a subject of moral rights from conception. While defending this view, the author responds to the arguments of thinkers such as Boonin, Dworkin, Stretton, Ford, and Brody. He also critiques Thomson's famous violinist argument and its revisions by Boonin and McDonagh. Defending Life includes chapters critiquing arguments found in popular politics and the controversy over cloning and stem cell research
Affirmative action : social justice or reverse discrimination?
( Book )
10 editions published between
1997
and 2002 in
English
and held by 784 WorldCat member libraries worldwide
Today's conflicts over racial equality have inspired a debate reminiscent of the turbulent 1960s. Is affirmative action necessary to maintain equal labor practices, school desegregation plans, and broad social standards of racial equality? Does affirmative action or the laws to roll it back run counter to the idea of equality itself? Should race play any role in college admissions, corporate hiring, or the awarding of government contracts? Affirmative action cuts across the raw nerves of race, gender, and class - all of which are flash points of social debate and so emotionally charged that they beg for rational discussion and analysis. Affirmative Action: Social Justice or Reverse Discrimination? fills this need by offering fifteen of the finest pieces on affirmative action ever published
Politics for Christians : statecraft as soulcraft
by
Francis Beckwith
( Book )
4 editions published between
2010
and 2012 in
English
and held by 373 WorldCat member libraries worldwide
The study of politics -- Liberal democracy and the Christian citizen -- The separation of church and state -- Secular liberalism and the neutral state -- God, natural rights, and the natural moral law
Relativism : feet firmly planted in mid-air
by
Francis Beckwith
( Book )
4 editions published in
1998
in
English
and held by 312 WorldCat member libraries worldwide
Beckwith and Koukl explore the inconsistencies inherent in the relativist position, suggest specific approaches that can be used in the course of dialogue, and consider the everyday implications of relativism, especially in relation to issues such as: abortion, homosexuality, multiculturalism, political correctness, and tolerance
To everyone an answer : a case for the Christian worldview : essays in honor of Norman L. Geisler
( Book )
3 editions published in
2004
in
English
and held by 276 WorldCat member libraries worldwide
In a society fascinated by spirituality but committed to religious pluralism, the Christian worldview faces sophisticated and aggressive opposition. A prior commitment to diversity, with its requisite openness and relativistic outlook, has meant for skeptics, critics and even many Christians that whatever Christianity is, it cannot be exclusively true or salvific. What is needed in this syncretistic era is an authoritative, comprehensive Christian response. Point by point, argument by argument, the Christian faith must be effectively presented and defended. To Everyone an Answer: A Case for the Christian Worldview offers such a response. Editors Francis J. Beckwith, William Lane Craig and J.P. Moreland have gathered together in this book essays covering all major aspects of apologetics, including faith and reason, arguments for God's existence, a case for Jesus, the problem of evil, postmodernism, religious pluralism, and Christian exclusivism
The new Mormon challenge : responding to the latest defenses of a fast-growing movement
by
Francis Beckwith
( Book )
4 editions published between
2002
and 2010 in
English
and held by 257 WorldCat member libraries worldwide
Current facts about Mormonism -Over 11 million members.-Over 60,000 full-time missionaries-more than any other single missionary-sending organization in the world.-More than 310,000 converts annually.-As many as eighty percent of converts come from Protestant backgrounds. (In Mormon circles, the saying is, "We baptize a Baptist church every week.") -Within fifteen years, the numbers of missionaries and converts will roughly double.-Within eighty years, with adherents exceeding 267 million, Mormonism could become the first world-religion to arise since Islam. You may know the statistics. What you probably don't know are the advances the Church of Jesus Christ of Latter-day Saints (LDS) is making in apologetics and academic respectability. With superb training, Mormon scholars outclass many of their opponents. Arguments against Mormon claims are increasingly refuted as outdated, misinformed, or poorly argued. The New Mormon Challenge is a response to the burgeoning challenge of scholarly Mormon apologetics. Written by a team of respected Christian scholars, it is free of caricature, sensationalism, and diatribe. The respectful tone and responsible, rigorous, yet readable scholarship set this book in a class of its own. The New Mormon Challenge recycles no previous material and duplicates no one's efforts. Instead, responding to the best LDS scholarship, it offers freshly researched and well-documented rebuttals of Mormon truth claims. Most of the chapter topics have never been addressed, and the criticisms and arguments are almost entirely new. But The New Mormon Challenge does not merely challenge Mormon beliefs; it offers the LDS Church and her members ways to move forward. The New Mormon Challenge will help you understand the intellectual appeal of Mormonism, and it will reveal many of the fundamental weaknesses of the Mormon worldview. Whether you are sharing the gospel with Mormons or are investigating Mormonism for yourself, this book will help you accurately understand Mormonism and see the superiority of the historic Christian faith. Outstanding scholarship and sound methodology make this an ideal textbook. The biblical, historical, scientific, philosophical, and theological discussions are fascinating and will appeal to Christians and Mormons alike. Exemplifying Christian scholarship at its best, The New Mormon Challenge pioneers a new genre of literature on Mormonism. The Editors Francis J. Beckwith (Ph. D., Fordham University), Carl Mosser (Ph. D. candidate, University of St. Andrews), and Paul Owen (Ph. D., University of Edinburgh) are respected authorities on the Church of Jesus Christ of Latter-day Saints and the authors of various books and significant articles on Mormonism. Their individual biographies as well as information on the book's contributors appear inside. With contributors including such respected scholars as Craig L. Blomberg, William Lane Craig, J.P. Moreland, and others, The New Mormon Challenge is, as Richard Mouw states in his foreword, "an important event for both Protestant evangelicals and Mormons" that models "to the evangelical community what it is like to engage in respectful and meaningful exploration of a viewpoint with which we disagree on key points." "In recent years, Mormon scholars have produced a body of literature that has been largely ignored by evangelicals. This current volume takes a giant step forward in correcting this oversight in a way that is both intellectually vigorous, yet respectful."--Ken Mulholland, President, Salt Lake Theological Seminary "Intellectually serious evangelical responses to the faith of the Latter-day Saints have been depressingly rare. This book represents a significant contribution to a conversation that, really, has just begun." -Daniel Peterson, Brigham Young University; Foundation for Ancient Research and Mormon Studies (FARMS) "Finally we have a book from evangelicals in which the authors have made
more
fewer
Audience Level
0

1
Kids
General
Special
Audience level: 0.33 (from 0.25 for Politics f ... to 1.00 for Clip art p ...)
Associated Subjects
Abortion
Abortion--Moral and ethical aspects
Affirmative action programs--Law and legislation
African Americans--Civil rights
Antoine, Josephine
Apologetics
Applied ethics
Bahai Faith
Beckwith, Francis
Black, Merle
Buckingham, Charles G.,
Carlson, Harry
Catholic Church
Catholic converts
Christianity and politics
Christians--Political activity
Church and state
Church of Jesus Christ of Latter-day Saints
Creationism--Study and teaching--Law and legislation
Education, Higher--Political aspects
Ethical problems
Ethical relativism
Euthanasia
Evangelicalism
Evolution (Biology)--Study and teaching--Law and legislation
Faith and reason
God
God (Christianity)
Hume, David,
Intelligent design (Teleology)--Study and teaching
Interfaith relations
Miracles
Moral conditions
Mormon Church
Mormon Church--Doctrines
Multicultural education
Political correctness
Pro-life movement
Race discrimination
Race relations
Religion
Religion and law
Religion and politics
Religion and science
Religion in the public schools--Law and legislation
Religious ethics
Science and law
Theology, Doctrinal
United States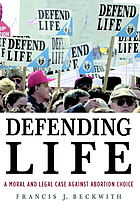 Covers
Alternative Names
Beckwith, Francis J.

Beckwith, Francis J. 1960-

Beckwith, Francis Joseph 1960-

Beckwith, Frank.

Beckwith, Frank 1960-

Francis J. Beckwith American philosopher

Francis J. Beckwith Amerikaans filosoof

Francis J. Beckwith filósofo estadounidense

Francis J. Beckwith filosofo statunitense

Francis J. Beckwith filsuf Amerika Serikat

Languages