Ward, Peter D. (Peter Douglas) 1949-
Most widely held works by Peter D Ward
Under a green sky : global warming, the mass extinctions of the past, and what they can tell us about our future
by
Peter D Ward
( Book )
16 editions published between
2007
and 2008 in
English
and held by 1,804 WorldCat member libraries worldwide
More than 200 million years ago, a cataclysm known as the Permian extinction destroyed nearly 97 percent of all living things. Its origins have long been a puzzle. Paleontologist Ward, fresh from helping prove that an asteroid had killed the dinosaurs, turned to the Permian problem, and he has come to a stunning conclusion: that the near-total devastation at the end of the Permian period was caused by rising levels of carbon dioxide leading to climate change. The story of the discovery makes for a globe-spanning adventure. Here, Ward explains how the Permian extinction as well as four others happened, and describes the freakish oceans--belching poisonous gas--and sky--slightly green and always hazy--that would have attended them. Those ancient upheavals demonstrate that the threat of climate change cannot be ignored, lest the world's life today--ourselves included--face the same dire fate.--From publisher description
Rare earth : why complex life is uncommon in the universe
by
Peter D Ward
( Book )
35 editions published between
1999
and 2005 in
English
and
Portuguese
and held by 1,759 WorldCat member libraries worldwide
In this introduction to the emerging field of astrobiology, a distinguished paleontologist and a noted astronomer team up to provide a fascinating synthesis of what's now known about the rise of life on Earth and how it sheds light on possibilities for organic life forms elsewhere in the universe. Illustrations. First book to synthesize discoveries from astronomy & paleontology regarding the advent of life on earth, & the potential for the development of life on other planets
Life as we do not know it : the NASA search for (and synthesis of) alien life
by
Peter D Ward
( Book )
9 editions published between
2005
and 2008 in
English
and held by 1,302 WorldCat member libraries worldwide
Presents an examination of the possibilty of life that is alien to planet Earth, providing a discussion of the nature of life itself, its limits, what alien life might be like, and how it can be created artificially
The call of distant mammoths : why the ice age mammals disappeared
by
Peter D Ward
( Book )
15 editions published between
1997
and 1998 in
English
and held by 1,141 WorldCat member libraries worldwide
Discusses the impact of humans on the extinction of animals, focusing particulary on mammoths in the Ice Age, but also including mass extinctions throughout history, such as marsupial lions and giant kangaroos in Australia, the giant moa in New Zealand, and various prehistoric animals in North America, all of which followed the spread of the first humans in those regions
Gorgon : paleontology, obsession, and the greatest catastrophe in earth's history
by
Peter D Ward
( Book )
5 editions published in
2004
in
English
and held by 1,088 WorldCat member libraries worldwide
The gorgons ruled the land long before there were any dinosaurs, until an environmental cataclysm 250 million years ago annihilated them--along with 90 percent of all plant and animal species on the planet--in an event so terrible even the extinction of the dinosaurs pales in comparison. For more than a decade, Ward and his colleagues have been searching South Africa's Karoo Desert for clues to this world: What were these animals like? How did they live and, more important, how did they die? In this book, Ward examines the fate of this little-known prehistoric animal and its contemporaries, the ancestors of the turtle, the crocodile, the lizard, and eventually dinosaurs. He offers theories on these mass extinctions and confronts the implications they hold for us.--From publisher description
The life and death of planet Earth : how the new science of astrobiology charts the ultimate fate of our world
by
Peter D Ward
( Book )
21 editions published between
2002
and 2011 in
English
and
Chinese
and held by 1,080 WorldCat member libraries worldwide
Planet Earth is middle-aged. Science has worked hard to piece together the story of the evolution of our world up to this point, but only recently have we developed the understanding and the tools to describe the entire life cycle of a planet. Ward and Brownlee, a geologist and an astronomer respectively, combine their knowledge of how the critical sustaining systems of our planet evolve through time with their understanding of the life cycles of stars and solar systems, to tell the story of the second half of Earth's life. The process of evolution will essentially reverse itself: life as we know it will subside until only the simplest forms remain. Eventually, they too will disappear. The oceans will evaporate, the atmosphere will degrade, and, as the sun slowly expands, Earth itself will eventually meet a fiery end. --From publisher description
The flooded earth : our future in a world without ice caps
by
Peter D Ward
( Book )
10 editions published between
2010
and 2012 in
English
and
Undetermined
and held by 984 WorldCat member libraries worldwide
"The effects of three feet of sea-level rise will be massive. Nine feet will be catastrophic. Incursions of salt into the water table will destroy most of our best agricultural land--for instance, the Central Valley of California--and corrosion will devour the electrical and fiber-optic systems of coastal cities, as well as our roads and bridges. Amsterdam, Miami, Venice, and other cities, might have to be abandoned. The melting of the ice caps will not be a slow trickle of water into the sea; it will release armadas of icebergs that will make shipping in the Southern Ocean hazardous or impossible. As icebound regions melt, new sources of oil, gas, minerals, and arable land will also be revealed--as will fierce geopolitical battles over who owns the rights to them." "In The Flooded Earth, species extinction expert Peter D. Ward describes in intricate detail what our world will look like in 2050, 2100, 2300, and beyond. In this blueprint for a foreseeable future, Ward also explains what politicians and policy makers around the world should be doing now to head off the worst consequences of an inevitable transformation, including the complete melting of the ice sheets, stagnant oceans, and greenhouse extinction."--Jacket
Rivers in time : the search for clues to earth's mass extinctions
by
Peter D Ward
( Book )
10 editions published between
2000
and 2014 in
English
and held by 981 WorldCat member libraries worldwide
"Several times in the distant past, catastrophic extinctions have swept the Earth, causing more than half of all species - from single-celled organisms to awe-inspiring behemoths - to suddenly vanish and be replaced by new life forms. Today the rich diversity of life on the Earth is again in grave danger - and the cause is not a sudden cataclysmic event but rather humankind's devastation of the environment. Is life on our planet teetering on the brink of another mass extinction? In this new book, acclaimed paleontologist Peter D. Ward answers this daunting question with a resounding yes"--Jacket
The end of evolution : on mass extinctions and the preservation of biodiversity
by
Peter D Ward
( Book )
5 editions published in
1994
in
English
and held by 932 WorldCat member libraries worldwide
"The crystal-clear waters of the Philippine archipelago, eerily empty of sea life ... a lush Hawaiian paradise now the scene of devastating depopulation and extinction ... the mighty Columbia River, stripped of its once abundant salmon, now an empty series of damned lakes ... wolves, at one time numbering more than 2 million in the continental United States, now dwindled to perhaps 2,000." "Twice in the distant past, catastrophic extinctions have swept the earth, causing the 'end' of evolution for certain creatures and the beginning for others. The first occurred 250 million years ago and marked the destruction of 90 percent of all living creatures - and the survival of our first mammalian ancestors. The second great mass extinction took place 65 million years ago and 50 percent of all species - including the last of the dinosaurs - perished in a cataclysm that may have been caused in part by the earth's collision with an asteroid. Now Peter Ward, on a journey that traverses continents and travels into the past, searches for the clues to these disastrous events. His reason is urgent and chilling, for Ward and many other prominent scientists have documented signs that a third mass extinction has already begun on our planet. Could its primary cause reach back just 100,000 years, when the earth felt the impact of another wandering, potentially destructive force, a new 'asteroid' called Homo sapiens?" "Ward's journey progresses from fossil hunting in Africa to following a dinosaur trail in Hell Creek, Montana, and finally to climbing high in the remote Caucasus Mountains of Soviet Georgia to see if its thick white limestone holds evidence of a long-ago planetary destruction. At each stop along the way, Ward documents the rich diversity of life now endangered by changes in climate and the world's burgeoning population."
more
fewer
Audience Level
0

1
Kids
General
Special
Audience level: 0.25 (from 0.08 for Out of thi ... to 0.72 for The end of ...)
Related Identities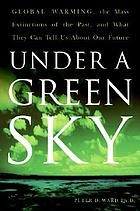 Alternative Names
Peter Ward Amerikaans paleontoloog

Peter Ward paleontologo statunitense

Peter Ward paléontologue américain

Peter Ward US-amerikanischer Paläontologe und Professor der Biologie, Erd- und Weltraumwissenschaften

Ward, P. D.

Ward, P. D. 1949-

Ward, P. D. (Peter Douglas), 1949-

Ward, Peter

Ward, Peter 1949-

Ward, Peter D.

Ward, Peter D. 1949-

Ward, Peter D. (Peter Douglas), 1949-

Ward, Peter Douglas 1949-

Уорд, Питер

וורד, פיטר דגלס 1949-

פיטר וורד

بيتر وارد

پیتر وارد

워드, 피터 1949-

워드, 피터 D. 1949-

워드, 피터 더글라스 1949-

피터 워드

ウォード, ピーター

ウォード, ピーター・D

ウォード, ピーター・ダグラス

ピーター・ウォード

彼得·沃德

Languages
Covers