Shub, Michael 1943-
Most widely held works by Michael Shub
Global stability of dynamical systems
by
Michael Shub
( Book )
36 editions published between
1978
and 1987 in 3 languages and held by 552 WorldCat member libraries worldwide
These notes are the result of a course in dynamical systems given at Orsay during the 1976-77 academic year. I had given a similar course at the Gradu ate Center of the City University of New York the previous year and came to France equipped with the class notes of two of my students there, Carol Hurwitz and Michael Maller. My goal was to present Smale's n-Stability Theorem as completely and compactly as possible and in such a way that the students would have easy access to the literature. I was not confident that I could do all this in lectures in French, so I decided to distribute lecture notes. I wrote these notes in English and Remi Langevin translated them into French. His work involved much more than translation. He consistently corrected for style, clarity, and accuracy. Albert Fathi got involved in reading the manuscript. His role quickly expanded to extensive rewriting and writing. Fathi wrote (5. 1) and (5. 2) and rewrote Theorem 7. 8 when I was in despair of ever getting it right with all the details. He kept me honest at all points and played a large role in the final form of the manuscript. He also did the main work in getting the manuscript ready when I had left France and Langevin was unfortunately unavailable. I ran out of steam by the time it came to Chapter 10. M
Invariant manifolds
by
Morris W Hirsch
( Book )
20 editions published in
1977
in 3 languages and held by 408 WorldCat member libraries worldwide
From topology to computation : proceedings of the Smalefest
by
Morris W Hirsch
( Book )
15 editions published between
1990
and 1993 in
English
and held by 180 WorldCat member libraries worldwide
This volume is a Festschrift for Stephen Smale's 60th birthday; most of the chapters are based on papers given at a symposium in his honor at the University of California at Berkeley. The contributions reflect the breadth of Smale's interests, ranging over a wide variety of fields in pure and applied mathematics. In addition, Smale has provided an autobiographical essay, as well as a record of the lively panel discussions at the symposium. The research contributions include papers on differential topology, mathematical economics, dynamical systems, on the theory of computation, on nonlinear functional analysis, and on various applications in the physical and biological sciences. All are currently active areas of interdisciplinary research
Foundations of computational mathematics : selected papers of a conference held at Rio de Janeiro, January 1997
by
Felipe Cucker
( Book )
13 editions published in
1997
in
English
and
German
and held by 145 WorldCat member libraries worldwide
This book contains articles corresponding to some of the talks delivered at the Foundations of Computational Mathematics (FoCM) conference at IMPA in Rio de Janeiro in January 1997. FoCM brings together a novel constellation of subjects in which the computational process itself and the foundational mathematical underpinnings of algorithms are the objects of study. The conference was organized around nine workshops: systems of algebraic equations and computational algebraic geometry, homotopy methods and real machines, information based complexity, numerical linear algebra, approximation and PDE's, optimization, differential equations and dynamical systems, relations to computer science and vision and related computational tools. The book gives the reader an idea of the state of the art in this emerging discipline
Stably ergodic approximation : two examples
by
Michael Shub
( Book )
3 editions published in
1998
in
English
and held by 7 WorldCat member libraries worldwide
Abstract: "It has been conjectured that the stably ergodic diffeomorphisms are open and dense in the space of volume-preserving, partially-hyperbolic diffeomorphisms of a compact manifold. In this paper we deal with two recalcitrant examples; the standard map cross Anosov and the ergodic automorphisms of the four torus. In both cases we show that they may be approximated by stably ergodic diffeomorphisms which have the stable accessibility property."
Newton and predictor-corrector methods for over-determined systems of equations
by J. P Dedieu
( Book )
3 editions published in
1998
in
English
and held by 7 WorldCat member libraries worldwide
Abstract: "Complexity theoretic aspects of continuation methods for the solution of square or underdetermined systems of polynomial equations have been studied by various authors. In this paper we consider overdetermined systems where there are more equations than unknowns. We take two approaches to the problem. In the first we study Newton's method for an overdetermined system and then apply it to the elements of a path in the space of problems to produce a path of solutions. In the second we study the map from the variety of solutions to the variety of problems and use its structure to lift a path of problems to solutions. We call these second methods predictor-corrector methods."
Stable ergodicity and julienne quasi-conformality
by Charles Pugh
( Book )
2 editions published in
1997
in
English
and held by 6 WorldCat member libraries worldwide
Abstract: "In this paper we eliminate some of the most nettlesome hypotheses of our previous article, 'Stably ergodic dynamical systems and partial hyperbolicity' [22], and expand the domain of stably ergodic, partially hyperbolic dynamical systems to include all partially hyperbolic affine diffeomorphisms of compact homogeneous spaces which have the accessibility property. Our main tool is a new concept -- julienne quasi- conformality of the stable and unstable holonomy maps. An important feature of this is that the holonomy maps preserve all julienne density points."
Stable ergodicity and stable accessibility
by
Cedric D. J Pugh
( Book )
2 editions published in
1996
in
English
and held by 6 WorldCat member libraries worldwide
Abstract: "In this paper we discuss how a little hyperbolicity goes a long way towards guaranteeing stable ergodicity. Examples to which our theory applies include translations on certain homogeneous spaces and the time one map of the geodesic flow for a manifold of constant negative curvature. We also discuss the role played by a concept from control theory, accessibility by paths tangent to a pair of subbundles of the tangent bundle."
more
fewer
Audience Level
0

1
Kids
General
Special
Audience level: 0.70 (from 0.60 for Can one al ... to 0.94 for Endomorphi ...)
Related Identities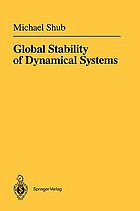 Alternative Names
Michael Shub American mathematician

Michael Shub Amerikaans wiskundige

Michael Shub US-amerikanischer Mathematiker

Shub, M.

Shub, M. 1943-

Shub, M. (Michael), 1943-

Shub, Michael

Shub, Michael 1942-

Shub, Michael Ira

Shub, Michael Ira 1943-

Shub, Mike

Languages
Covers