Egan, Greg 1961-
Most widely held works about Greg Egan
Most widely held works by Greg Egan
Diaspora : a novel
by
Greg Egan
( Book )
29 editions published between
1997
and 2016 in 8 languages and held by 879 WorldCat member libraries worldwide
In the 30th century, Earth is dying and the world's three separate intelligences unite to search for a new home. One intelligence is the regular flesh and blood, another is android and the third is bodiless software. The hero is Yatima, an android who leads an exploration party, and on the voyage he meets new civilizations
Schild's ladder
by
Greg Egan
( Book )
21 editions published between
2001
and 2015 in
English
and held by 700 WorldCat member libraries worldwide
Tchicaya and his spaceship Rindler are the center of scientific study of a newly created vacuum in space. He soon finds himself the focus of a fierce conflict between a faction that wants to study and preserve the vacuum and one that wants to destroy it
Zendegi
by
Greg Egan
( Book )
15 editions published between
2010
and 2015 in 4 languages and held by 691 WorldCat member libraries worldwide
"In the near future, journalist Martin Seymour travels to Iran to cover the parliamentary elections. Most would-be opposition candidates are disqualified and the election becomes the non-event the world expects. But shortly afterward a compromising image of a government official captured on a mobile phone triggers a revolutionary movement that overthrows the old theocracy. Nasim Golestani, a young Iranian scientist living in exile in the United States, is hoping to work on the Human Connectome Project--which aims to construct a detailed map of the wiring of the human brain--but when government funding for the project is canceled and a chance comes to return to her homeland, she chooses to head back to Iran. Fifteen years after the revolution, Martin is living in Iran with his wife and young son, while Nasim is in charge of the virtual world known as Zendegi, used by millions of people for entertainment and business. When Zendegi comes under threat from powerful competitors, Nasim draws on her old skills, and data from the now-completed Human Connectome Project, to embark on a program to create more lifelike virtual characters and five the company an unbeatable edge. As controversy grows over the nature and rights of these software characters, tragedy strikes Martin's family. Martin turns to Nasim, seeking a solution that no one else can offer ... but Zendegi is about to become a battlefield."--Dust cover flap
Incandescence
by
Greg Egan
( Book )
11 editions published between
1994
and 2010 in
English
and
Italian
and held by 650 WorldCat member libraries worldwide
"The Amalgam spans the nearly entire galaxy, and is composed of innumerable beings from a wild variety of races, some human or near it, some entirely other. The one place that they cannot go is the bulge, the bright, hot center of the galaxy. There dwell the Aloof, who for millions of years have deflected any and all attempts to communicate with or visit them. So when Rakesh is offered an opportunity to travel within their sphere, in search of a lost race, he cannot turn it down. Roi is a member of that lost race, which is not only lost to the Amalgam, but lost to itself. In their world, there is but toil, and history and science are luxuries that they can ill afford. When she meets Zak, the male who will become her teacher and mentor, everything starts to change. Their strange world is under threat, and it will take an unprecedented flowering of science to save it. Rakesh's journey will take him across millennia and light years. Roi's will take her across vistas of learning and discovery just as vast"--Jacket
Distress : a novel
by
Greg Egan
( Book )
31 editions published between
1995
and 2015 in 8 languages and held by 604 WorldCat member libraries worldwide
An adventure novel on a group of scientists whose work threatens to alter the universe. The hero is a science reporter with an implanted camera and the story features a world with five sexes. By an Australian writer, author of Permutation City
Permutation city
by
Greg Egan
( Book )
44 editions published between
1994
and 2014 in 6 languages and held by 437 WorldCat member libraries worldwide
What happens when your digital self overpowers your physical self? A life in Permutation City is unlike any life to which you're accustomed. You have Eternal Life, the power to live forever. Immortality is a real thing, just not the thing you'd expect. Life is just electronic code. You have been digitized, scanned, and downloaded into a virtual reality program. A Copy of a Copy. For Paul Durham, he keeps making Copies of himself, but the issue is that his Copies keep changing their minds and shutting themselves down. You also have Maria Deluca, who is nothing but an Autoverse addict. She spends every waking minute with the cellular automaton known as the Autoverse, a world that lives by the mathematical "laws of physics." Paul makes Maria an offer to design and drop a seed into the Autoverse that will allow her to indulge in her obsession. There is, however, one catch: you can no longer terminate, bail out, and remove yourself. You will never be your normal flesh-and-blood life again. The question then becomes: Is this what she really wants? Is this what we really want? From the brilliant mind of Greg Egan, Permutation City, first published in 1994, comes a world of wonder that makes you ask if you are you, or is the Copy of you the real you?
The eternal flame
by
Greg Egan
( Book )
8 editions published between
2012
and 2013 in
English
and held by 433 WorldCat member libraries worldwide
"The generation ship Peerless is in search of advanced technology capable of sparing their home planet from imminent destruction. In theory, the ship is traveling fast enough that it can traverse the cosmos for generations, and still return home only a few years after they departed. But a critical fuel shortage threatens to cut their urgent voyage short, even as a population explosion stretches the ship's life-support capacity to its limits. When the astronomer Tamara discovers the Object, a meteor whose trajectory will bring it within range of the Peerless, she sees a risky solution to the fuel crisis. Meanwhile, the biologist Carlo searches for a better way to control fertility, despite the traditions and prejudices of their society. As the scientists clash with the ship's leaders, they find themselves caught up in two equally dangerous revolutions: one in the sexual roles of their species, the other in their very understanding of the nature of matter and energy"--Dust jacket flap
The clockwork rocket
by
Greg Egan
( Book )
4 editions published between
2011
and 2012 in
English
and held by 425 WorldCat member libraries worldwide
"In Yalda's universe, light has no universal speed and its creation generates energy. On Yalda's world, plants make food by emitting their own light into the dark night sky. As a child, Yalda witnesses one of a series of strange meteors, the Hurtlers, that are entering the planetary system at an immense, unprecedented speed. It becomes apparent that her world is in imminent danger--and the task of dealing with the Hurtlers will require knowledge and technology far beyond anything her civilization has yet achieved! Only one solution seems tenable: if a spacecraft can be sent on a journey at sufficiently high speed, its trip will last many generations for those on board, but it will return after just a few years have passed at home. The travelers will have a chance to discover the science their planet urgently needs, and bring it back in time to avert disaster."--Dust jacket flap
Teranesia : a novel
by
Greg Egan
( Book )
23 editions published between
1999
and 2016 in 7 languages and held by 390 WorldCat member libraries worldwide
Prabir Suresh returns to the Indonesian island of Teranesia, "the land of butterflies, where evolution has stopped making sense."
Quarantine
by
Greg Egan
( Book )
41 editions published between
1992
and 2014 in 11 languages and held by 363 WorldCat member libraries worldwide
In the late 21st century life can still be uncertain, even when one takes account of the amazing advances in bioengineering and information systems. Then, one night the stars disappear and the Earth is in quarantine but nobody can work out why
more
fewer
Audience Level
0

1
Kids
General
Special
Audience level: 0.41 (from 0.11 for Greg Egan ... to 0.77 for Greg Egan' ...)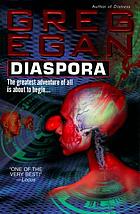 Alternative Names
Egan, Gregory Mark 1961-

Greg Egan australijski pisarz fantastyki naukowej

Greg Egan Australisch schrijver

Greg Egan australischer Science-Fiction-Schriftsteller

Greg Egan auteur australien de science-fiction

Greg Egan scrittore di fantascienza australiano

Грег Еган

Иган, Грег

Ґреґ Іґен

גרג אגן

그레그 이건

이건, 그레그

이건, 그렉

イーガン, グレッグ

グレッグ・イーガン

格雷格·伊根

Languages
Covers