Kumar, P. R.
Most widely held works by P. R Kumar
Adaptive control, filtering, and signal processing
by
Karl J Åström
( Book )
8 editions published in
1995
in
English
and held by 200 WorldCat member libraries worldwide
The area of adaptive systems, which encompasses recursive identification, adaptive control, filtering, and signal processing, has been one of the most active areas of the past decade. Since adaptive controllers are fundamentally nonlinear controllers which are applied to nominally linear, possibly stochastic and time-varying systems, their theoretical analysis is usually very difficult. Nevertheless, over the past decade much fundamental progress has been made on some key questions concerning their stability, convergence, performance, and robustness. Moreover, adaptive controllers have been successfully employed in numerous practical applications, and have even entered the marketplace
Discrete event systems, manufacturing systems, and communication networks
by
P. R Kumar
( Book )
5 editions published in
1995
in
English
and held by 169 WorldCat member libraries worldwide
The study of discrete event dynamical systems (DEDS) has become rapidly popular among researchers in systems and control, in communication networks, in manufacturing, and in distributed computing. This development has created problems for researchers and potential "consumers" of the research. The first problem is the veritable Babel of languages, formalisms, and approaches, which makes it very difficult to determine the commonalities and distinctions among the competing schools of approaches. The second, related problem arises from the different traditions, paradigms, values, and experiences that scholars bring to their study of DEDS, depending on whether they come from control, communication, computer science, or mathematical logic. As a result, intellectual exchange among scholars becomes compromised by unexplicated assumptions
Packets with deadlines a framework for real-time wireless networks
by
I-Hong Hou
( )
6 editions published in
2013
in
English
and held by 138 WorldCat member libraries worldwide
With the explosive increase in the number of mobile devices and applications, it is anticipated that wireless traffic will increase exponentially in the coming years. Moreover, future wireless networks all carry a wide variety of flows, such as video streaming, online gaming, and VoIP, which have various quality of service (QoS) requirements. Therefore, a new mechanism that can provide satisfactory performance to the complete variety of all kinds of flows, in a coherent and unified framework, is needed. In this book, we introduce a framework for real-time wireless networks. This consists of a model that jointly addresses several practical concerns for real-time wireless networks, including per-packet delay bounds, throughput requirements, and heterogeneity of wireless channels. We detail how this framework can be employed to address a wide range of problems, including admission control, packet scheduling, and utility maximization
Scaling laws for ad hoc wireless networks an information theoretic approach
by
Feng Xue
( )
6 editions published in
2006
in
English
and held by 79 WorldCat member libraries worldwide
In recent years there has been significant and increasing interest in ad hoc wireless networks. The design, analysis and deployment of such wireless networks necessitate a fundamental understanding of how much information transfer they can support, as well as what the appropriate architectures and protocols are for operating them. This monograph addresses these questions by presenting various models and results that quantify the information transport capability of wireless networks, as well as shed light on architecture design from a high level point of view. The models take into consideration important features such as the spatial distribution of nodes, strategies for sharing the wireless medium, the attenuation of signals with distance, and how information is to be transferred, whether it be by encoding, decoding, choice of power level, spatio-temporal scheduling of transmissions, choice of multi-hop routes, or other modalities of cooperation between nodes. An important aspect of the approach is to characterize how the information hauling capacity scales with the number of nodes in the network. The monograph begins by studying models of wireless networks based on current technology, which schedules concurrent transmissions to take account of interference, and then routes packets from their sources to destinations in a multi-hop fashion. An index of performance, called transport capacity, which is measured by the bit meters per second the network can convey in aggregate, is studied. For arbitrary networks, including those allowing for optimization of node locations, the scaling law for the transport capacity in terms of the number of nodes in the network is identified. For random networks, where nodes are randomly distributed, and source-destination pairs are randomly chosen, the scaling law for the maximum common throughput capacity that can be supported for all the source-destination pairs is characterized. The constructive procedure for obtaining the sharp lower bound gives insight into an order optimal architecture for wireless networks operating under a multi-hop strategy. To determine the ultimate limits on how much information wireless networks can carry requires an information theoretic treatment, and this is the subject of the second half of the monograph. Since wireless communication takes place over a shared medium, it allows more advanced operations in addition to multi-hop. To understand the limitations as well as possibilities for such information transfer, wireless networks are studied from a Shannon information-theoretic point of view, allowing any causal operation. Models that characterize how signals attenuate with distance, as well as multi-path fading, are introduced. Fundamental bounds on the transport capacity are established for both high and low attenuation regimes. The results show that the multi-hop transport scheme achieves the same order of scaling, though with a different pre-constant, as the information theoretically best possible, in the high attenuation regime. However, in the low attenuation regime, superlinear scaling may be possible through recourse to more advanced modes of cooperation between nodes. Techniques used in analyzing multi-antenna systems are also studied to characterize the scaling behavior of large wireless networks
Proceedings, twenty-fifth annual Allerton Conference on Communication, Control, and Computing : conference held September 30-October 2, 1987, Allerton House, Monticello, Illinois
by
Control, and Computing (25, 1987, Monticello, Ill.) Allerton Conference on Communication
( Book )
3 editions published in
1987
in
English
and held by 8 WorldCat member libraries worldwide
more
fewer
Audience Level
0

1
Kids
General
Special
Audience level: 0.82 (from 0.47 for Lecture se ... to 1.00 for Closed-loo ...)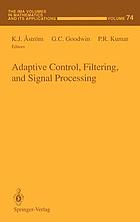 Alternative Names
Kumar, P. R.

Kumar, Panganamala Ramana

Panqanamala Ramana Kumar

Languages
Covers