Carlson, Allan C.
Overview
| | |
| --- | --- |
| Works: | 52 works in 159 publications in 1 language and 5,289 library holdings |
| Genres: | History |
| Roles: | Author |
Most widely held works by Allan C Carlson
The "American way" : family and community in the shaping of the American identity
by
Allan C Carlson
( Book )
8 editions published in
2003
in
English
and held by 577 WorldCat member libraries worldwide
"The "American Way," Allan Carlson's episodic history of the last century, shows how our nation's identity has been shaped by carefully constructed images of the American family and the American home. From the surprisingly radical measures put forth by Theodore Roosevelt to encourage stable, large families, to the unifying role of the image of the home in assimilating immigrants, to the "maternalist" activists who attempted to transform the New Deal and other social welfare programs into vehicles for shoring up traditional family life, Carlson convincingly demonstrates the widespread appeal exerted by the images of family and community. Carlson also shows how a family- and faith-centered discourse anchored Henry Luce's publishing enterprise and even American foreign policy during the Cold War."--Jacket
Conjugal America : on the public purposes of marriage
by
Allan C Carlson
( Book )
8 editions published between
2007
and 2017 in
English
and
Undetermined
and held by 423 WorldCat member libraries worldwide
"Conjugal America will be central to the new debate on marriage and its purposes. This book sees the current moment as an opportunity to revitalize a necessary institution that has recently been abused and neglected and reinstate it as the primary source of commitment and care in the modern world."--Jacket
The new agrarian mind : the movement toward decentralist thought in twentieth-century America
by
Allan C Carlson
( Book )
15 editions published between
1999
and 2017 in
English
and held by 348 WorldCat member libraries worldwide
Collectively labeled the New Agrarians to distinguish them from the simpler Jeffersonianism of the nineteenth century, they shared a coherent set of goals that were at once socially conservative and economically radically." "The story of these independent thinkers remains significant. The New Agrarians represented a serious attempt by modern America to create a "third way" in politics, one not easily fit onto the conventional left-right spectrum. Agrarian influences can be traced in the crafting of 1950s conservatism as well as the forging of the environmental movement in the 1970s. This book will be of significant interest to political scientists, economists, literary scholars, and sociologists."--Jacket
Fractured generations : crafting a family policy for twenty-first-century America
by
Allan C Carlson
( Book )
4 editions published between
2005
and 2017 in
English
and held by 330 WorldCat member libraries worldwide
"As Allan Carlson makes clear in Fractured Generations, no nation can progress, or even survive, without a durable family system. The family is the source of life and the crucible of character that makes liberty possible. Contemporary family policy represents an attempt to counter the negative forces of the last four decades so as to restore the natural family to its necessary place in American life. Fractured Generations chapters follow the life course of the human family - marriage; the birth of children; infant and toddler care; schooling; building a home; crafting a durable family economy; and elder care. This is a passionate and well-reasoned appeal for a return to the institution that is the last best hope for America's future: the family."--Jacket
The natural family where it belongs : new Agrarian essays
by
Allan C Carlson
( Book )
9 editions published between
2013
and 2017 in
English
and
Undetermined
and held by 283 WorldCat member libraries worldwide
"This volume holds to the remarkable thesis that agrarianism is alive in twenty-first century America and--if not exactly well--showing clear and enticing prospects for the future. It also emphasizes the evident bond of the healthy, natural family to an agrarian--or agrarian-like--household, where the 'sexual' and the 'economic' are merged through marriage and child-bearing and where the family is defined in considerable measure by its material efforts"--
Godly seed : American evangelicals confront birth control, 1873-1973
by
Allan C Carlson
( Book )
10 editions published between
2011
and 2017 in
English
and
Undetermined
and held by 256 WorldCat member libraries worldwide
In an ironic twist, American evangelical leaders are joining mainstream acceptance of contraception. Godly Seed: American Evangelicals Confront Birth Control, 1873-1973, examines how mid-twentieth-century evangelical leaders eventually followed the mainstream into a quiet embrace of contraception, complemented by a brief acceptance of abortion. It places this change within the context of historic Christian teaching regarding birth control, including its origins in the early church and the shift in arguments made by the Reformers of the sixteenth century. The book explores the demographic effects of this transition and asks: did the delay by American evangelicals leaders in accepting birth control have consequences? At the same time, many American evangelicals are rethinking their acceptance of birth control even as a majority of the nation's Roman Catholics are rejecting their church's teaching on the practice. Raised within a religious movement that has almost uniformly condemned abortion, many young evangelicals have begun to ask whether abortion can be neatly isolated from the issue of contraception. A significant number of evangelical families have, over the last several decades, rejected the use of birth control and returned decisions regarding family size to God. Given the growth of the evangelical movement, this pioneering work will have a large-scale impact. - Publisher
The natural family : a manifesto
by
Allan C Carlson
( Book )
4 editions published between
2005
and 2007 in
English
and held by 254 WorldCat member libraries worldwide
Carlson and Mero examine why the family is in crisis, the ways in which the natural family is the source of culture and freedom, and what families can do to preserve the most fundamental and wholesome relationship on earth. Assured that human nature is on their side, Carlson and Mero can be both realistic about the family's plight and relentlessly optimistic. The Natural Family: A Manifesto is a road map, especially for the young, for rebuilding a culture of freedom, joy, and love. -- BOOK JACKET
Third ways : how Bulgarian greens, Swedish housewives, and beer-swilling Englishmen created family-centered economies-- and why they disappeared
by
Allan C Carlson
( Book )
6 editions published in
2007
in
English
and held by 223 WorldCat member libraries worldwide
"Freewheeling capitalism or collectivist communism: when it came to political-economic systems, did the twentieth century present any other choice? Does our century? In Third Ways, social historian Allan Carlson tells the story of how different thinkers from Bulgaria to Great Britain created economic systems during the twentieth century that were by intent neither capitalist nor communist. Unlike fascists, these seekers were committed to democracy and pluralism. Unlike liberal capitalists, they refused to treat human labor and relationships as commodities like any other. And unlike communists, they strongly defended private property and the dignity of persons and families. Instead, the builders of these alternative economic systems wanted to protect and renew the "natural" communities of family, village, neighborhood, and parish. They treasured rural culture and family farming and defended traditional sex roles and vital home economies." "Carlson's book takes a fresh look at distributism, the controversial economic project of Hilaire Belloc and G.K. Chesterton which focused on broad property ownership and small-scale production; recovers the forgotten thought of Alexander Chayanov, a Russian economist who put forth a theory of "the natural family economy"; discusses the remarkable "third way" policies of peasant-led governments in post-World War I Bulgaria, Poland, and Romania; recounts the dramatic and largely unknown effort by Swedish housewives to defend their homes against radical feminism; relates the iconoclastic ideas of economic historian Karl Polanyi, including his concepts of "the economy without markets" and "the great transformation"; and praises the efforts by European Christian Democrats to build a moral economy on the concept of homo religious - "religious man."" "Finally, Carlson's work explains why these efforts - at times rich in hope and prospects ultimately failed, often with tragic results. The tale inspires wistful regret over lost opportunities that, if seized, might have spared tens of millions of lives and forestalled or avoided the blights of fascism, Stalinism, socialism, and the advent of the servile state. And yet the book closes with hope, enunciating a set of principles that could be used today for invigorating a "family way" economy compatible with an authentic, healthy, and humane culture of enterprise."--Jacket
more
fewer
Audience Level
0

1
Kids
General
Special
Audience level: 0.39 (from 0.27 for The natura ... to 0.67 for The Family ...)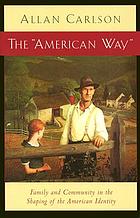 Alternative Names
Allan C. Carlson Amerikaans auteur

Allan C. Carlson US-amerikanischer Historiker und Autor

Carlson, Allan.

Carlson, Allan 1949-

Carlson, Allan C.

Carlson, Allan Constantine.

Karlson, Alan

Карлсон, Алан

آلن سی. کارلوس نویسنده و تاریخ‌نگار آمریکایی

Languages
Covers