Goldberg, Linda S.
Most widely held works by Linda S Goldberg
Topics in empirical international economics : a festschrift in honor of Robert E. Lipsey
by
Magnus Blomström
( Book )
18 editions published between
2001
and 2009 in
English
and held by 308 WorldCat member libraries worldwide
The next section features articles on international trade, including such significant issues as deterring child labour exploitation in developing countries, exchange rate regimes, and mapping US comparative advantage across various factors. The book concludes with research on multinational corporations and includes a discussion of the long-debated issue of whether growth of production abroad substitutes for or is complementary to production growth at home. The papers in the volume are dedicated to Robert E. Lipsey, who, for more than a half century at the NBER contributed significantly to the broad field of empirical international economics
The international role of the dollar and trade balance adjustment
by
Linda S Goldberg
( Book )
18 editions published in
2006
in
English
and held by 79 WorldCat member libraries worldwide
Abstract: The pattern of international trade adjustment is affected by the continuing international role of the dollar and related evidence on exchange rate pass-through into prices. This paper argues that a depreciation of the dollar would have asymmetric effects on flows between the United States and its trading partners. With low exchange rate pass-through to U.S. import prices and high exchange rate pass-through to the local prices of countries consuming U.S. exports, the effect of dollar depreciation on real trade flows is dominated by an adjustment in U.S. export quantities, which increase as U.S. goods become cheaper in the rest of the world. Real U.S. imports are affected less because U.S. prices are more insulated from exchange rate movements pass-through is low and dollar invoicing is high. In relation to prices, the effects on the U.S. terms of trade are limited: U.S. exporters earn the same amount of dollars for each unit shipped abroad, and U.S. consumers do not encounter more expensive imports. Movements in dollar exchange rates also affect the international trade transactions of countries invoicing some of their trade in dollars, even when these countries are not transacting directly with the United States
Exchange rates and local labor markets
by
Linda S Goldberg
( Book )
14 editions published in
1999
in
English
and held by 77 WorldCat member libraries worldwide
We document the consequences of real exchange rate movements for the employment, hours, and hourly earnings of workers in manufacturing industries across individual states. Exchange rates have statistically significant wage and employment implications in these local labor markets. The importance and size of these dollar-induced effects vary considerably across industries and are more pronounced in some U.S. regions. In addition to the importance of exchange rate shocks, we confirm prior research results showing that relatively strong local conditions drive up wage in local industries, while anticipated future (positive) local shocks reduce current wages
Foreign direct investment, trade and real exchange rate linkages in Southeast Asia and Latin America
by
Linda S Goldberg
( Book )
11 editions published in
1997
in
English
and held by 73 WorldCat member libraries worldwide
We investigate the relationships among trade, foreign direct investment and the real exchange rate between a set of Southeast Asian and Latin American countries and both the United States and Japan. Foreign direct investment by both Japan and the United States to the Southeast Asian countries in our sample is significantly affected by bilateral real exchange rates. Also, trade between the countries in our sample and the United States and Japan is significantly affected by foreign direct investment. These sets of relationships, between the real exchange rate and foreign direct investment, and between foreign direct investment and trade, support two channels through which the real exchange rate affects trade: a direct effect on the relative price of goods and an indirect effect through foreign direct investment
Exchange rate pass-through into import prices : a macro or micro phenomenon?
by
José Campa
( Book )
19 editions published between
2002
and 2004 in
English
and held by 71 WorldCat member libraries worldwide
"Exchange rate regime optimality, as well as monetary policy effectiveness, depends on the tightness of the link between exchange rate movements and import prices. Recent debates hinge on whether producer-currency-pricing (PCP) or local currency pricing (LCP) of imports is more prevalent, and on whether exchange rate pass-through rates are endogenous to a country's macroeconomic conditions. We provide cross-country and time series evidence on both of these issues for the imports of twenty-five OECD countries. Across the OECD and especially within manufacturing industries, there is compelling evidence of partial pass-through in the short-run-- rejecting both PCP and LCP. Over the long run, PCP is more prevalent for many types of imported goods. Higher inflation and exchange rate volatility are weakly associated with higher pass-through of exchange rates into import prices. However, for OECD countries, the most important determinants of changes in pass-through over time are microeconomic and relate to the industry composition of a country's import bundle"--Federal Reserve Bank of New York web site
International trade and factor mobility : an empirical investigation
by
Linda S Goldberg
( Book )
13 editions published in
1999
in
English
and held by 69 WorldCat member libraries worldwide
Foreign Direct Investment (FDI) has been growing rapidly, at a pace far exceeding the growth in international trade. Thus, a full understanding of the relationship between trade in goods and FDI is important for obtaining a complete picture of the extent and sources of international linkages. We investigate whether FDI serves as a complement to trade or a substitute for trade based on the effects identified by the Rybczynski theorem whereby an increase in a factor of production used intensively in one sector affects production both in that sector and in other sectors. Using detailed data on bilateral capital and trade flows between the United States and individual Latin American countries, we examine the linkages between FDI into particular sectors of Latin American economies and the net exports of those and other manufacturing sectors. We find that FDI from the United States can lead to significant, and varied, shifts in the composition of activity in many Latin American countries and across many manufacturing industries
Exchange-rate pass-through to import prices in the euro area
by
José Campa
( Book )
26 editions published in
2005
in
English
and held by 63 WorldCat member libraries worldwide
"This paper presents an empirical analysis of transmission rates from exchange rate movements to import prices, across countries and product categories, in the euro area over the last fifteen years. Our results show that the transmission of exchange rate changes to import prices in the short run is high, although incomplete, and that it differs across industries and countries; in the long run, exchange rate pass-through is higher and close to one. We find no strong statistical evidence that the introduction of the euro caused a structural change in this transmission. Although estimated point elasticities seem to have declined since the introduction of the euro, we find little evidence of a structural break in the transmission of exchange rate movements except in the case of some manufacturing industries. And since the euro was introduced, industries producing differentiated goods have been more likely to experience reduced rates of exchange rate pass-through to import prices. Exchange rate changes continue to lead to large changes in import prices across euro-area countries"--National Bureau of Economic Research web site
Foreign and domestic bank participation in emerging markets : lessons from Mexico and Argentina
by
Linda S Goldberg
( Book )
12 editions published in
2000
in
English
and held by 62 WorldCat member libraries worldwide
The Asian Crisis has highlighted the importance of strong domestic financial systems in overall economic development and stabilization. Less agreement is evident on the role of foreign banks in achieving this goal. We explore this issue by studying bank-specific data on lending by domestically- and foreign-owned banks in Argentina and Mexico. We find that foreign banks generally have had higher loan growth rates than their domestically-owned counterparts, with lower volatility of lending, contributing to lower overall volatility of credit. Additionally, in both countries, foreign banks show notable credit growth during crisis periods. In Argentina, the loan portfolios of foreign and domestic privately-owned banks are similar, and lending rates analogously respond to aggregate demand fluctuations. In Mexico, foreign and domestic banks with lower levels of impaired assets have similar loan responsiveness and portfolios. State-owned banks (Argentina) and banks with high levels of impaired assets (Mexico) have more stagnant loan growth and weak responsiveness to market signals. Overall, these findings suggest that bank health, and not ownership per se, is the critical element in the growth, volatility, and cyclicality of bank credit. Diversity in ownership appears to contribute to greater stability of credit in times of crisis and domestic financial system weakness
more
fewer
Audience Level
0

1
Kids
General
Special
Audience level: 0.60 (from 0.05 for Topics in ... to 0.77 for Study guid ...)
Related Identities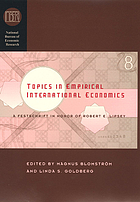 Alternative Names
Goldberg, L.

Goldberg, Linda

Goldberg, Linda (Linda S.)

Languages
Covers