Finkelstein, Norman G.
Most widely held works about Norman G Finkelstein
more
fewer
Most widely held works by Norman G Finkelstein
The Holocaust industry : reflection on the exploitation of Jewish suffering
by
Norman G Finkelstein
( Book )
50 editions published between
2000
and 2015 in
English
and
Turkish
and held by 1,490 WorldCat member libraries worldwide
"Recalling Holocaust hoaxers such as Jerzy Kosinski and Binjamin Wilkomirski, as well as the demagogic constructions of writers like Daniel Goldhagen, Finkelstein contends that the main danger posed to the memory of Nazism's victims comes not from the distortions of Holocaust deniers but from self-proclaimed guardians of Holocaust memory. Drawing on a wealth of untapped sources, he exposes the double shakedown of European countries as well as legitimate Jewish claimants, and concludes that the Holocaust industry has become an outright extortion racket."--Jacket
Beyond chutzpah : on the misuse of anti-semitism and the abuse of history
by
Norman G Finkelstein
( Book )
45 editions published between
2005
and 2015 in
English
and
German
and held by 1,148 WorldCat member libraries worldwide
Finkelstein, a political science professor and author of The Holocaust Industry: Reflections on the Exploitation of Jewish Suffering, has conducted a rancorous public feud with Harvard Law professor and pro-Israel stalwart Alan Dershowitz over the latter's The Case for Israel, and here expands his arguments into a vigorous polemic on the Israeli-Palestinian conflict. The first part of the book examines what he feels is a growing tendency of pro-Israel commentators to use spurious charges of anti-Semitism to deflect and discredit legitimate criticism of Israel. The second, much longer, part is a line-by-line debunking of The Case for Israel, which he compares to Communist apologetics for Stalinist Russia
Image and reality of the Israel-Palestine conflict
by
Norman G Finkelstein
( Book )
52 editions published between
1995
and 2015 in 3 languages and held by 1,052 WorldCat member libraries worldwide
Traces the history of the Israel-Palestine conflict and discusses how the true causes and consequences of the conflict have been distorted by the media
A nation on trial : the Goldhagen thesis and historical truth
by
Norman G Finkelstein
( Book )
25 editions published between
1998
and 2014 in 3 languages and held by 816 WorldCat member libraries worldwide
In his book, Hitler's willing executioners, Daniel Goldhagen maintains that ordinary Germans were driven by fanatical anti-Semitism to murder the Jews. "In A Nation on Trial, two leading critics [Norman G. Finkelstein and Ruth Bettina Birn] challenge Goldhagen's findings". -- Jacket
L'industrie de l'Holocauste : réflexions sur l'exploitation de la souffrance des Juifs
by
Norman G Finkelstein
( Book )
51 editions published between
2001
and 2016 in 17 languages and held by 265 WorldCat member libraries worldwide
Un ouvrage provoquant qui explique comment la mémoire de l'Holocauste a été exploitée pour promouvoir des intérêts politiques, c'est-à-dire la politique israélienne. Pour "désacraliser" la Shoah, l'auteur invite à comparer et à ouvrir la mémoire juive aux malheurs des autres peuples persécutés. [SDM]
American radical : the trials of Norman Finkelstein
( Visual )
1 edition published in
2009
in
English
and held by 255 WorldCat member libraries worldwide
Documentary about Jewish American academic Norman Finkelstein, a devoted son of holocaust survivors, ardent critic of U.S. and Israeli Mid-East policy, and author of five provocative books, including The Holocaust Industry. Finkelstein has been steadfastly at the center of many intractable controversies, including the recent denial of his tenure at DePaul University. He's called a lunatic and a self-hating Jew by some and an inspirational street-fighting revolutionary by others
"This time we went too far" : truth and consequences of the Gaza invasion
by
Norman G Finkelstein
( Book )
18 editions published between
2010
and 2011 in 3 languages and held by 157 WorldCat member libraries worldwide
For the Palestinians who live in the narrow coastal strip of Gaza, the December 2008 Israeli invasion was a nightmare of unimaginable proportions: IN the 22 day long action 14000 Gazans were killed, several hundred on the first day alone. And yet, while nothing should diminish Palestinian suffereing through these frightful days, it is possible something redemptive will emerge from the tragedy of Gaza. For, as Norman Finkelstein outlines in a concise work that melds cold anger with cool analysis, the profound injustice of the Israeli assault has been widely recognised by bodies impossible to brand as partial or extremist
Defamation
by
Yoav Shamir
( Visual )
2 editions published between
2009
and 2014 in
English
and held by 90 WorldCat member libraries worldwide
Israeli director Yoav Shamir embarks on a provocative and at times irreverent quest to answer the question: What is anti-Semitism today? Does it remain a dangerous and immediate threat? Or is it a scare tactic used by right-wing Zionists to discredit their critics? Speaking with an array of people from across the political spectrum and traveling to places like Auschwitz and Brooklyn, Shamir discovers the realities of anti-Semitism today
Knowing too much : why the American Jewish romance with Israel is coming to an end
by
Norman G Finkelstein
( Book )
7 editions published in
2012
in
English
and held by 66 WorldCat member libraries worldwide
Traditionally, American Jews have been broadly liberal in their political outlook; indeed African-Americans are the only ethnic group more likely to vote Democratic in US elections. Over the past half century, however, attitudes on one topic have stood in sharp contrast to this group's generally progressive stance: support for Israel. Despite Israel's record of militarism, illegal settlements and human rights violations, American Jews have, stretching back to the 1960s, remained largely steadfast supporters of the Jewish "homeland." But, as Norman Finkelstein explains in an elegantly-argued and richly-textured new book, this is now beginning to change. Reports by Human Rights Watch, Amnesty International and the United Nations, and books by commentators as prominent as President Jimmy Carter and as well-respected in the scholarly community as Stephen Walt, John Mearsheimer and Peter Beinart, have increasingly pinpointed the fundamental illiberalism of the Israeli state. In the light of these exposes, the support of America Jews for Israel has begun to fray. This erosion has been particularly marked among younger members of the community. A 2010 Brandeis University poll found that only about one quarter of Jews aged under 40 today feel "very much" connected to Israel. In successive chapters that combine Finkelstein's customary meticulous research with polemical brio, Knowing Too Much sets the work of defenders of Israel such as Jeffrey Goldberg, Michael Oren, Dennis Ross and Benny Morris against the historical record, showing their claims to be increasingly tendentious. As growing numbers of American Jews come to see the speciousness of the arguments behind such apologias and recognize Israel's record as simply indefensible, Finkelstein points to the opening of new possibilities for political advancement in a region that for decades has been stuck fast in a gridlock of injustice and suffering
more
fewer
Audience Level
0

1
Kids
General
Special
Audience level: 0.44 (from 0.18 for Beyond chu ... to 0.94 for Palästina ...)
Related Identities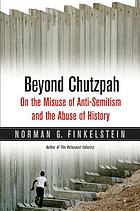 Alternative Names
Finkelstein, Norman.

Finkelstein, Norman 1953-

Finkelstein, Norman Gary

Finkelstein, Norman Gary 1953-

Finkilstāyn, Nūrmān

Norman Finkelstein politicoloog

Norman Finkelstein US-amerikanischer Politologe und Autor

Norman Finkelşteyn

Norman G. Finkelstein historien américain

Norman G. Finkelstein storico statunitense

Норман Фінкельштейн

Финкельштейн, Норман

נארמאן פינקעלשטיין

נורמן פינקלשטיין

فنكلستين، نورمان ج

فنكلستين، نورمان ج.، 1953-

فنكلشتاين، نورمان، 1953-

نورمان ج. فينكلشتين، 1953-

نورمان فينكلستاين

نورمن فینکلشتاین

നോർമൻ ഫിങ്കൽസ്റ്റീൻ

노르만 핀켈슈타인

핀켈슈타인, 노르만 G. 1953-

핀켈슈타인, 노먼 G. 1953-

ノーマン・フィンケルスタイン

フィンケルスタイン, ノーマン・G

Languages
Covers