Hilborn, Ray 1947-
Most widely held works by Ray Hilborn
The ecological detective : confronting models with data
by
Ray Hilborn
( )
27 editions published between
1997
and 2013 in
English
and held by 1,795 WorldCat member libraries worldwide
The modern ecologist usually works in both the field and laboratory, uses statistics and computers, and often works with ecological concepts that are model-based, if not model-driven. How do we make the field and laboratory coherent? How do we link models and data? How do we use statistics to help experimentation? How do we integrate modeling and statistics? How do we confront multiple hypotheses with data and assign degrees of belief to different hypotheses? How do we deal with time series (in which data are linked from one measurement to the next) or put multiple sources of data into one inferential framework? These are the kinds of questions asked and answered by The Ecological Detective. Ray Hilborn and Marc Mangel investigate ecological data much as a detective would investigate a crime scene by trying different hypotheses until a coherent picture emerges. The book is not a set of pat statistical procedures but rather an approach. The Ecological Detective makes liberal use of computer programming for the generation of hypotheses, exploration of data, and the comparison of different models. The authors' attitude is one of exploration, both statistical and graphical. The background required is minimal, so that students with an undergraduate course in statistics and ecology can profitably add this work to their tool-kit for solving ecological problems
Overfishing : what everyone needs to know
by
Ray Hilborn
( Book )
14 editions published in
2012
in
English
and held by 843 WorldCat member libraries worldwide
Over the past twenty years considerable public attention has been focused on the decline of marine fisheries, the sustainability of world fish production, and the impacts of fishing on marine ecosystems. Many have voiced their concerns about marine conservation, as well as the sustainable and ethical consumption of fish. But are fisheries in danger of collapse? Will we soon need to find ways to replace this food system? Should we be worried that we could be fishing certain species to extinction? Can commercial fishing be carried out in a sustainable way? While overblown prognoses concerning the dire state of fisheries are plentiful, clear scientific explanations of the basic issues surrounding overfishing are less so, and there remains great confusion about the actual amount of overfishing and its ecological impact. This book provides an explanation of the broad issues associated with overfishing. Guiding readers through the scientific, political, economic, and ethical issues associated with harvesting fish from the ocean, it also provides answers to questions about which fisheries are sustainably managed and which are not. The authors address topics including historical overfishing, high seas fisheries, recreational fisheries, illegal fishing, climate and fisheries, trawling, economic and biological overfishing, and marine protected areas. In order to illustrate the effects of each of these issues, they incorporate case studies of different species of fish. Overall, the authors present a hopeful view of the future of fisheries. Most of the world's fisheries are not overfished, and many once overfished stocks are now rebuilding. In fact, we can learn from the management failures and successes to ensure that fisheries are sustainable and contribute to national wealth and food security. This book presents the "big picture" of the state of oceans and the solutions to ending overfishing
Review of survey, commercial fishery and tagging data for sablefish (Anoplopoma fimbria) in British Columbia (Supplement to the November 2001 sablefish stock assessment). = Examen des données de relevé, de marquage et de pêche commerciale de la morue charbonnière (Anoplopoma fimbria) en Colombie-Britannique (supplément à l'évaluation du stock de morue charbonnière de novembre 2001)
by
A. R Kronlund
( )
6 editions published in
2002
in
English
and held by 55 WorldCat member libraries worldwide
This paper was prepared as a supplement to the most recent assessment of sablefish off British Columbia in order to accommodate new survey information and to help evaluate whether the current assessment of sablefish stock status should be revised. Data sources used for analyses in the paper include fishery-independent surveys, commercial catch & effort data, tag recovery data, and sablefish catch data from a longspine thornyhead trawl survey. After a review of these sources, the paper presents an exploratory analysis of catch & effort data, a tag recovery analysis, and stock estimates & recruitment indices from other data sources. Results of this research, representing a re-interpretation of stock status, are discussed and recommendations to fishery managers are provided
Harvesting Methuselah's clam's-Is the geoduck fishery sustainable, or just apparently so?
by
J. M Orensanz
( )
2 editions published in
2000
in
English
and held by 36 WorldCat member libraries worldwide
Geoducks (Panopea abrupta) are very large, long-lived bivalves with potential life-spans well beyond 100 years. Such life-spans should be expected to confer great stability to these populations. This paper re-examines information about the ecology & dynamics of geoduck populations in Washington State & British Columbia, and explores the implications for stock assessment & management. It reviews geoduck biology & the fishing process, identifies strengths & shortcomings of two management systems, and highlights urgently-needed information. Analyses are presented to show long-term recruitment trends over a large spatial scale and to compare recent recruitment with that during the 1930's. Recommendations are provided regarding the most urgently needed research
Sablefish stock assessment for 2000 and recommended yield options for 2001
by
Vivian Haist
( )
1 edition published in
2000
in
English
and held by 34 WorldCat member libraries worldwide
This document represents a major assessment for B.C. sablefish. The document is comprised of five sections, the first of which summarizes fishery and biological information. The next three sections describe three alternative methods that are used to estimate B.C. sablefish abundance. All three methods utilize tag release and recapture data, which has been the primary indicator of sablefish abundance trends since the 1995 assessment. Prior to that time commercial catch per unit effort (CPUE) was used as a tuning index, but concern that CPUE did not reflect true abundance trends led to the development of assessment methods based on the tag-recapture data. The final section of the document presents results of stock projections
Sablefish stock assessment for 2001 and advice to managers for 2002
by
Vivian Haist
( )
3 editions published between
2000
and 2001 in
English
and held by 34 WorldCat member libraries worldwide
This document summarizes the British Columbia sablefish fishery, fisheries management initiatives, and biological characteristics of sablefish as determined during annual surveys (weight, length, juvenile abundance). It then discusses a number of issues arising from the sablefish tagging program initiated in 1977 for the primary purpose of stock identification, including: tag recoveries from the 2000 survey; sablefish movement to Alaska; and recovery rates from coded tag releases. Tag returns are used to estimate stock size & exploitation rate. Finally, results of simulations to determine appropriate sablefish harvest rates are presented along with advice to fishery managers on sablefish stock status & appropriate harvest levels
Movements of juvenile halibut in IPHC regulatory areas 2 and 3
by
Ray Hilborn
( Book )
4 editions published in
1995
in
English
and held by 33 WorldCat member libraries worldwide
In 1980 and 1981, more than 68,000 juvenile halibut were tagged in the Gulf of Alaska and Southeast Alaska in an effort to obtain estimates of movements of juvenile halibut. In this paper we develop a maximum likelihood method for estimating the movement between International Pacific Halibut Commission (IPHC) regulatory Areas 3B, 3A, 2C, 2B and 2A. In addition to the movement rates, we also estimate the sizespecific natural mortality, tagging mortality and size selectivity for commercial gear in Areas 3B and 3A. We found that all of these parameters could be estimated with low confounding, and that the predicted recovery pattern of tags conforms closely to the observed recoveries. The best fitting model estimates that there are substantial southerly movements of juvenile halibut; for example, we estimate that 17% of fish tagged in 3B would recruit as adults to 2B, and that 25% of fish tagged in 3A would recruit as adults to 2B. Further improvements in the analysis could include smaller spatial scale of analysis, and combining tagging analysis with catch-at-age data
Analysis of historic data for juvenile and adult salmonid production : phase I, final report
( Book )
3 editions published between
1992
and 1993 in
English
and held by 16 WorldCat member libraries worldwide
Survival of hatchery reared Columbia River chinook (Oncorhynchus tshawytscha) salmon from release to return is highly variable and thought to be related to river flow during juvenile outmigration in the spring. The purpose of this project is to examine the relationship between survival of coded-wire-tagged (CWT) Columbia River salmonids and in-river flow and other freshwater factors. This report covers Phase 1, in which two methods to estimate survival were developed and evaluated, and criteria for data selection were established
Development of a simulation model of mallard duck populations
by
Canadian Wildlife Service
( Book )
3 editions published in
1974
in
English
and held by 13 WorldCat member libraries worldwide
Describes an attempt to develop a comprehensive computer model of North American mallard (Anas platyrhynchus) populations. The model considers major population processes and spatial distribution patterns in an attempt to predict long-term population trends. It focuses on population biology and habitat, with those human factors that affect mallard populations being treated as driving variables. The model also takes account of the sex-age class structure of the mallard population, insofar as this relates to breeding, migration, and vulnerability to hunting. The first section of this report reviews some basic principles of simulation, including notation and symbolism, model components, variables and their relationships, the data used, and where models can go wrong. The second section describes the model and the third evaluates and discusses the usefulness of the model
more
fewer
Audience Level
0

1
Kids
General
Special
Audience level: 0.31 (from 0.22 for The ecolog ... to 0.85 for Forecast o ...)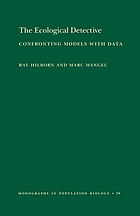 Covers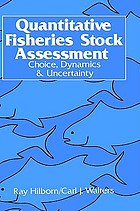 Alternative Names
Hilborn, R. 1947-

Hilborn, R. (Ray), 1947-

Hilborn, Ray.

Hilborn Raymond

Hilborn, Raymond 1947-

Hilborn, Raymond William 1947-

Hilburn, R. 1947-

Hilburn, R. (Ray), 1947-

Ray Hilborn ahli biologi asal Amerika Serikat

Ray Hilborn Canadian biologist

ヒルボーン, レイ

Languages