Kalleberg, Arne L.
Most widely held works by Arne L Kalleberg
Ending poverty in America : how to restore the American dream
by
John Edwards
( Book )
7 editions published between
2007
and 2011 in
English
and held by 743 WorldCat member libraries worldwide
Is poverty a fact of life? Can the wealthiest nation in the world do nothing to combat the steadily rising numbers of Americans living in poverty & mdash;or the 50 million Americans living in "near poverty"? Senator John Edwards and some of the country's most prominent scholars, businesspeople, and community activists say otherwise. Published in conjunction with one of the country's leading anti-poverty centers, Ending Poverty in America brings together some of America's most respected social scientists, including William Julius Wilson, Katherine S. Newman, and Richard B. Freeman, alongside jour
Fighting for time : shifting boundaries of work and social life
by
Cynthia Fuchs Epstein
( Book )
9 editions published in
2004
in
English
and
Undetermined
and held by 715 WorldCat member libraries worldwide
"In Fighting for Time, editors Cynthia Fuchs Epstein and Arne L. Kalleberg bring together a team of distinguished sociologists and management analysts to examine the social construction of time and its importance in American culture." "Fighting for Time challenges assumptions about the relationship between time and work, revealing that time is a fluid concept that derives its importance from cultural attitudes, social psychological processes, and the exercise of power. Its insight will be of interest to sociologists, economists, social psychologists, business leaders, and anyone interested in the work-life balance."--Jacket
Good jobs, bad jobs : the rise of polarized and precarious employment systems in the United States, 1970s to 2000s
by
Arne L Kalleberg
( Book )
19 editions published between
2011
and 2013 in
English
and held by 496 WorldCat member libraries worldwide
The economic boom of the 1990s veiled a grim reality: in addition to the growing gap between good and bad quality jobs was also expanding. The postwar prosperity of the mid-twentieth century had enabled millions of American workers to join the middle class, but as author Arne L. Kalleberg shows, by the 1970s this upward movement had slowed, in part due to the steady disappearance of secure, well-paying industrial jobs. Ever since, precarious employment has been on the rise - paying low wages, offering few benefits, and with virtually no long-term security. Today, the polarization between workers with higher skill levels and those with low skills and low wages is more entrenched than ever. Good Jobs, Bad Jobs traces this trend to large-scale transformations in the American labor market and the changing demographics of low-wage workers. Kalleberg draws on nearly four decades of survey data, as wlel as his own research, to evaluate trends in U.S. job quality and suggest ways to improve American labor-market practices and social policies. Good Jobs, Bad Jobs provides an insightful analysis of how and why precarious employment is gaining ground in the labor market and the role these developments have played in the decline of the middle class. Kalleberg shows that by the 1970s government deregulation, global competition, and the rise of the service sector gained traction, while institutional protections for workers - such as unions and minimum-wage legislation - weakened. Together, these forces marked the end of postwar security for American workers. The composition of the labor force also changed significantly; the number of dual-earner families increased, as did the share of the workforce comprised of women, non-white, and immigrant workers. Of these groups, blacks, Latinos, and immigrants remain concentrated in the most precarious and low-quality jobs, with educational attainment being the leading indicator of who will earn the highest wages and experience the most job security and highest levels of autonomy and control over their jobs and schedules. Kalleberg demonstrates, however, that building a better safety net - increasing government responsibility for worker health care and retirement, as well as strengthening unions - can go a long way toward redressing the effects of today's volatile labor market. There is every reason to expect that the growth of precarious jobs - which already make up a significant share of the American job market - will continue. Good Jobs, Bad Jobs deftly shows that the decline in U.S. job quality is not the result of fluctuations in the business cycle, but rather is the result of economic restructuring and the disappearance of institutional protections for workers. Only government, employers, and labor working together on long-term strategies - including an expanded safety net, strengthened legal protections, and better training opportunities - can help reverse this trend. -- from dust jakcet
Work and industry : structures, markets, and processes
by
Arne L Kalleberg
( Book )
18 editions published between
1987
and 1990 in
English
and
Undetermined
and held by 438 WorldCat member libraries worldwide
Work occupies a pivotal role in the daily activities and over the course of a lifetime of members of modern societies. In anticipation, work influ ences education and training; it has much to do with shaping current earned income and status in the community; and in retrospect, it influ ences retirement income and activities. It is a powerful force affecting personal associations. In our society work is deeply encased in moral and religious values: As Poor Richard says, A Life of Leisure and a Life of Laziness are two Things. Do you imagine that Sloth will afford you more Comfort than Labour? No, for as Poor Richard says: ... Industry gives Comfort, and Plenty and Respect. Study to show thyself approved unto God a workman that needeth not to be ashamed. But few words have as many different meanings and nuances as "work": to forge or to shape, to stir or to knead, to solve, to exploit, to practice trickery for some end, to excite or to provoke, to persuade or to influence, to toil, and the like. A need for precision in meaning is requisite with respect to work, not only in common discourse, but, even more so, in scholarly communication
Sourcebook of labor markets : evolving structures and processes
by
Ivar E Berg
( Book )
10 editions published in
2001
in
English
and held by 227 WorldCat member libraries worldwide
A distinguished roster of contributors considers the state of the art of the field at the turn of the 21st century and charts an ambitious agenda for the future. Following what the editors describe as an 'sevolutionist' approach to the study of labor markets, the chapters address issues of continuity and discontinuity in a wide range of topics including: markets and institutional structures; employment relations and work structures; patterns of stratification in the United States; and public policies, opportunity structures, and economic outcomes
The mismatched worker
by
Arne L Kalleberg
( Book )
5 editions published between
2006
and 2007 in
English
and held by 190 WorldCat member libraries worldwide
Inequality : structures, dynamics and mechanisms : essays in honour of Aage B. Sørensen
( Book )
10 editions published between
2004
and 2005 in
English
and held by 92 WorldCat member libraries worldwide
Aage Sorensen was an influential intellectual presence who was one of the world's leading authorities on social stratification and the sociology of education. His research sought to understand the structures, dynamics and mechanisms that underlie inequalities in industrial societies by focusing on how individuals' attainments are shaped by characteristics of a society's or organization's opportunity structure, on the one hand, and individuals' education, experience and other human capital resources, on the other. He emphasized inequalities associated with education and schooling, class, and stratification outcomes such as income and occupational status. Within these general foci, he tackled the study of phenomena as diverse as rates of learning in elementary school reading groups and promotion patterns in large industrial corporations. The chapters of this volume illustrate some of the major themes that characterized Aage's research; these topics are also likely to constitute important concerns for future efforts to understand structured social inequality in society. These themes include: the development of explicit dynamic models to account for observed patterns of education, care
Nonstandard work, substandard jobs : flexible work arrangements in the U.S.
by
Arne L Kalleberg
( Book )
2 editions published in
1997
in
English
and held by 55 WorldCat member libraries worldwide
Nonstandard work arrangements (independent contracting, working for a temporary help agency, contract or on-call work, day labor, self-employment, and regular part-time employment) are growing more common in the United States. In 1995, more than 29 percent of all jobs were in nonstandard work arrangements. A study of these jobs and the characteristics of the workers who hold them was conducted through analysis of the 1995 Current Population Survey. The study found that nonstandard workers are disadvantaged by their work arrangement and the preponderance of low-quality jobs because they are more likely than regular full-time workers to be employed in low-quality jobs. In addition to paying lower wages, all types of nonstandard nobs are much less likely to provide health insurance or a pension than is regular full-time employment, are more likely to be of limited duration, and are poor ways to move to regular full-time employment, at least within a particular firm. More women than men, and both genders in minority groups, are more likely to hold low-quality, nonstandard jobs. The study concluded that public policies are needed to improve job quality and provide greater workplace protection for workers in nonstandard work arrangements. (Contains 21 references.) (Kc)
more
fewer
Audience Level
0

1
Kids
General
Special
Audience level: 0.38 (from 0.15 for Fighting f ... to 0.79 for Policy res ...)
Related Identities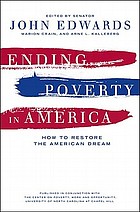 Alternative Names
Kalleberg, Arne Lindeman 1949-

Languages
Covers