Gupta, Anoop
Most widely held works by Anoop Gupta
Parallel computer architecture : a hardware/software approach
by
David E Culler
( Book )
22 editions published between
1998
and 2007 in
English
and held by 452 WorldCat member libraries worldwide
The most exciting development in parallel computer architecture is the convergence of traditionally disparate approaches on a common machine structure. This book explains the forces behind this convergence of shared-memory, message-passing, data parallel, and data-driven computing architectures. It then examines the design issues that are critical to all parallel architecture across the full range of modern design, covering data access, communication performance, coordination of cooperative work, and correct implementation of useful semantics. It not only describes the hardware and software te
Parallelism in production systems
by
Anoop Gupta
( Book )
12 editions published between
1984
and 1987 in
English
and
Undetermined
and held by 214 WorldCat member libraries worldwide
Fast sparse matrix factorization on modern workstations
by
Edward Rothberg
( Book )
7 editions published in
1989
in
English
and held by 15 WorldCat member libraries worldwide
The performance of workstation-class machines has experienced a dramatic increase in the recent past. Relatively inexpensive machines which offer 14 MIPS and 2 MFLOPS performance are now available, and machines with even higher performance are not far off. One important characteristic of these machines is that they rely on a small amount of high-speed cache memory for their high performance. In this paper, we consider the problem of Cholesky factorization of a large sparse positive definite system of equations on a high performance workstation. We find that the major factor limiting performance is the cost of moving data between memory and the processor. We use two techniques to address this limitation; we decrease the number of memory references and we improve cache behavior to decrease the cost of each reference. When run on benchmarks from the Harwell-Boeing Sparse Matrix Collection, the resulting factorization code is almost three times as fast as SPARSPAK on a DECStation 3100. We believe that the issues brought up in this paper will play an important role in the effective use of high performance workstations on large numerical problems
The performance impact of data reuse in parallel dense Cholesky factorization
by
Edward Rothberg
( Book )
5 editions published in
1992
in
English
and held by 14 WorldCat member libraries worldwide
Abstract: "This paper explores performance issues for several prominent approaches to parallel dense Cholesky factorization. The primary focus is on issues that arise when blocking techniques are integrated into parallel factorization approaches to improve data reuse in the memory hierarchy. We first consider panel-oriented approaches, where sets of contiguous columns are manipulated as single units. These methods represent natural extensions of the column-oriented methods that have been widely used previously. On machines with memory hierarchies, panel- oriented methods significantly increase the achieved performance over column-oriented methods
Parallel ICCG on a hierarchical memory multiprocessor : addressing the triangular solve bottleneck
by
Edward Rothberg
( Book )
6 editions published in
1990
in
English
and held by 13 WorldCat member libraries worldwide
Abstract: "The incomplete Cholesky conjugate gradient (ICCG) algorithm is a commonly used iterative method for solving large sparse systems of equations. In this paper, we study the parallel solution of sparse triangular systems of equations, the most difficult aspect of implementing the ICCG method on a multiprocessor. We focus on shared- memory multiprocessor architectures with deep memory hierarchies. On such architectures we find that previously proposed parallelization approaches result in little or no speedup. The reason is that these approaches cause significant increases in the amount of memory system traffic as compared to a sequential approach. Increases of as much as a factor of 10 on four processors were observed."
A comparative evaluation of nodal and supernodal parallel sparse matrix factorization : detailed simulation results
by
Edward Rothberg
( Book )
2 editions published in
1990
in
English
and held by 10 WorldCat member libraries worldwide
In this paper we consider the problem of factoring a large sparse system of equations on a modestly parallel shared-memory multiprocessor with a non-trivial memory hierarchy. Using detailed multiprocessor simulation, we study the behavior of the parallel sparse factorization scheme developed at the Oak Ridge National Laboratory. We then extend the Oak Ridge scheme to incorporate the notion of supernodal elimination. We present detailed analyses of the sources of performance degradation for each of these schemes. We measure the impact of interprocessor communication costs, processor load imbalance, overheads introduced in order to distribute work, and cache behavior on overall parallel performance. For the three benchmark matrices which we study, we find that the supernodal scheme gives a factor of 1.7 to 2.7 performance advantage for 8 processors and a factor of 0.9 to 1.6 for 32 processors. The supemodal scheme exhibits higher performance due mainly to the fact that it executes many fewer memory operations and produces fewer cache misses. However, the natural task grain size for the supernodal scheme is much larger than that of the Oak Ridge scheme, making effective distnbution of work more difficult, especially when the number of processors is large
Techniques for improving the performance of sparse matrix factorization on multiprocessor workstations
by
Edward Rothberg
( Book )
3 editions published in
1990
in
English
and held by 9 WorldCat member libraries worldwide
The result is greatly increased factorization performance. We present experimental results from executions of our codes on the Silicon Graphics 4D/380 multiprocessor. Using eight processors, we find that the supernodal parallel code achieves a computation rate of approximately 40 MFLOPS when factoring a range of benchmark matrices. This is more than twice as fast as the parallel nodal code developed at the Oak Ridge National Laboratory running on the SGI 4D/380."
Temporal, processor, and spatial locality in multiprocessor memory references
by
Anant Agarwal
( Book )
7 editions published between
1988
and 1989 in
English
and
Undetermined
and held by 9 WorldCat member libraries worldwide
The performance of cache-coherent multiprocessors is strongly influenced by locality in the memory reference behavior of parallel applications. While the notions of temporal and spatial locality in uniprocessor memory references are well understood, the corresponding notions of locality in multiprocessors and their impact on multiprocessor cache behavior are not clear. A locality model suitable for multiprocessor cache evaluation is derived by viewing memory references as streams of processor identifiers directed at specific cache/memory blocks. This viewpoint differs from the traditional uniprocessor approach that uses streams of addresses to different blocks emanating form specific processors. Our view is based on the intuition that cache coherence traffic in multiprocessor is largely determined by the number of processors accessing a location, the frequency with which they access the location, and the sequence in which their accesses occur. The specific locations accessed by each processor, the time order of access to different locations, and the size of the working set play a smaller role in determining the cache coherence traffic, although they still influence intrinsic cache performance. Looking at traces from the viewpoint of a memory block leads to a new notion of reference locality for multiprocessors, called processor locality. In this paper, we study the temporal, spatial, and processor locality in the memory reference patterns of three parallel applications. Based on the observed locality, we then reflect on the expected cache behavior of the three applications. (kr)
more
fewer
Audience Level
0

1
Kids
General
Special
Audience level: 0.65 (from 0.61 for Parallel c ... to 0.84 for Temporal, ...)
Related Identities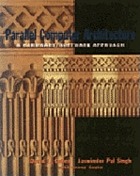 Alternative Names
Languages
Covers