Stenger, Victor J. 1935-2014
Most widely held works by Victor J Stenger
God : the failed hypothesis : how science shows that God does not exist
by
Victor J Stenger
( Book )
4 editions published between
2007
and 2008 in
English
and held by 869 WorldCat member libraries worldwide
Physicist Victor J. Stenger contends that, if God exists, some evidence for this existence should be detectable by scientific means, especially considering the central role that God is alleged to play in the operation of the universe and the lives of humans. Treating the traditional God concept like any other scientific hypothesis, Stenger examines all of the claims made for God's existence. He considers the latest Intelligent Design arguments as evidence of God's influence in biology. He looks at human behavior for evidence of immaterial souls and the possible effects of prayer. He discusses the findings of physics and astronomy in weighing the suggestions that the universe is the work of a creator and that humans are God's special creation. After evaluating all the scientific evidence, Stenger concludes that beyond a reasonable doubt the universe and life appear exactly as we might expect if there were no God.--From publisher description
Physics and psychics : the search for a world beyond the senses
by
Victor J Stenger
( Book )
8 editions published in
1990
in
English
and held by 636 WorldCat member libraries worldwide
This book critically examines theories of a transcendent reality in terms of all that is currently known about matter at its most fundamental level. Victor J. Stenger gives a provocative, often amusing history of psychic research and occult beliefs, offering a convincing rebuttal to those who attempt to link physics to mystical truths. Stenger examines a number of well-known paranormal claims and shows how they can be explained without resorting to supernatural or psychic hypotheses. Discussing quantum theory and relativity, he demonstrates that these concepts actually invalidate paranormal claims and that there is no scientific basis for a universe other than one composed of observable matter. The human species has always lived under the assumption that supernatural forces determine destiny. Can our lives retain meaning when this assumption seems unfounded?
The new atheism : taking a stand for science and reason
by
Victor J Stenger
( Book )
7 editions published between
2009
and 2014 in
English
and held by 467 WorldCat member libraries worldwide
Stenger describes how secularists have jumped on the anti-Islam hysteria generated after September 11 to take the offensive against religion generally, most often the Abrahamic monotheistic religions of the West
The fallacy of fine-tuning : why the universe is not designed for us
by
Victor J Stenger
( Book )
9 editions published between
2011
and 2014 in
English
and held by 451 WorldCat member libraries worldwide
Argues that many claims by theists are based on their misunderstanding of science. He looks at the specific parameters and shows that plausible reasons can be found for the values they have within the existing standard models of physics and cosmology
Timeless reality : symmetry, simplicity, and multiple universes
by
Victor J Stenger
( Book )
5 editions published in
2000
in
English
and held by 443 WorldCat member libraries worldwide
"Many people believe that the laws of nature represent a deep, Platonic reality that goes beyond the material objects that are observed by eye and by advanced scientific instruments. Stenger maintains that reality may be simpler and less mysterious than most think. The quantum world only appears mysterious when forced to obey rules of everyday human experience. Stenger convincingly argues that, based on established principles of simplicity and symmetry, at its deepest level reality is literally timeless. Within this reality it is possible that many universes exist, each with structures and laws different from our own."
God and the atom
by
Victor J Stenger
( Book )
4 editions published in
2013
in
English
and held by 323 WorldCat member libraries worldwide
Overview: This history of atomism, from Democritus to the recent discovery of the Higgs boson, chronicles one of the most successful scientific hypotheses ever devised, making the case that in the final analysis, atoms and the void are all that exists. Originating separately in both ancient Greece and India, the concept of the atom persisted for centuries, despite often running afoul of conventional thinking. Until the twentieth century, no direct evidence for atoms existed. Today it is possible to actually observe atoms using a scanning tunneling microscope. The book begins with the story of the earliest atomists--the ancient Greek philosophers Leucippus, Democritus, and Epicurus, and the Latin poet Lucretius. As the author notes, the idea of elementary particles as the foundation of reality had many opponents throughout history--from Aristotle to Christian theologians and even some nineteenth-century chemists and philosophers. While theists today accept that the evidence for the atomic theory of matter is overwhelming, they reject the atheistic implications of that theory
God and the multiverse : humanity's expanding view of the cosmos
by
Victor J Stenger
( Book )
6 editions published in
2014
in
English
and held by 303 WorldCat member libraries worldwide
"Cosmologists have reasons to believe that the vast universe in which we live is just one of an endless number of other universes within a multiverse--a mind-boggling array that may extend indefinitely in space and endlessly in both the past and the future. In this comprehensive history of multiverse theory, Victor Stenger reviews the key developments in the history of science that led to the current consensus view of astrophysicists, taking pains to explain essential concepts and discoveries in accessible language. He shows that science's emerging understanding of the multiverse--consisting of trillions upon trillions of galaxies--is fully explicable in naturalistic terms with no need for supernatural forces to explain its origin or ongoing existence. How can conceptions of God, traditional or otherwise, be squared with this new worldview? The author shows how, in the light of science, long-held beliefs will need to undergo major revision or otherwise face eventual extinction."--Publisher description
Quantum gods : creation, chaos, and the search for cosmic consciousness
by
Victor J Stenger
( Book )
6 editions published between
2009
and 2010 in
English
and held by 288 WorldCat member libraries worldwide
Does quantum mechanics show a connection between the human mind and the cosmos? Are our brains tuned into a "cosmic consciousness" that pervades the universe enabling us to make our own reality? Do quantum mechanics and chaos theory provide a place for God to act in the world without violating natural laws? Many popular books make such claims and argue that key developments in twentieth-century physics, such as the uncertainty principle and the butterfly effect, support the notion that God or a universal mind acts upon material reality. The author here examines these contentions in a carefully reasoned analysis of popular theories that seek to link spirituality to physics. Throughout the book, the author alternates his discussions of popular spirituality with a survey of what the findings of twentieth-century physics actually mean. Thus he offers the reader a useful synopsis of contemporary religious ideas as well as basic but sophisticated physics presented in layperson's terms (without equations). Of particular interest in this book is the author's discussion of a new kind of deism, which proposes a God who creates a universe with many possible pathways determined by chance, but otherwise does not interfere with the physical world or the lives of humans
more
fewer
Audience Level
0

1
Kids
General
Special
Audience level: 0.34 (from 0.27 for God : the ... to 0.95 for ¿Existe Di ...)
Related Identities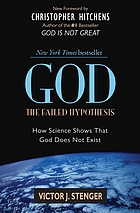 Alternative Names
Stenger, V. J.

Victor J. Stenger Amerikaans natuurkundige

Victor J. Stenger US-amerikanischer Physiker und atheistischer Aktivist

Віктор Стенджер

Стенджер, Виктор

Վիկտոր Սթենջեր

فيكتور شتينجر

ویکتور استنجر فیزیک‌دان و فیلسوف آمریکایی

விக்டர் இசுடெங்கர்

스텐저, 빅터 J. 1935-

ステンガー, ヴィクター・J

維克特·斯鄧葛

Languages
Covers