Vanhoozer, Kevin J.
Most widely held works about Kevin J Vanhoozer
more
fewer
Most widely held works by Kevin J Vanhoozer
Dictionary for theological interpretation of the Bible
( Book )
12 editions published between
2005
and 2015 in
English
and
Chinese
and held by 673 WorldCat member libraries worldwide
The Dictionary for Theological Interpretation of the Bible is a groundbreaking reference tool that seeks first of all to marry the tasks of exegesis and theology with the goal of theological interpretation of Scripture
The Cambridge companion to postmodern theology
by
Kevin J Vanhoozer
( Book )
32 editions published between
2003
and 2009 in
English
and held by 657 WorldCat member libraries worldwide
Postmodernity allows for no absolutes and no essence. Yet theology is concerned with the absolute, the essential. How then does theology sit within postmodernity? Is postmodern theology possible, or is such a concept a contradiction in terms? Should theology bother about postmodernism or just get on with its own thing? Can it?
Is there a meaning in this text? : the Bible, the reader, and the morality of literary knowledge
by
Kevin J Vanhoozer
( Book )
14 editions published between
1998
and 2009 in
English
and held by 545 WorldCat member libraries worldwide
"Is there a meaning in the Bible, or is meaning rather a matter of who is reading or of how one reads? Does Christian doctrine have anything to contribute to debates about interpretation, literary theory, and postmodernity? These are questions of crucial importance for contemporary biblical studies and theology alike." "Kevin Vanhoozer contends that the postmodern crisis in hermeneutics - "incredulity towards meaning," a deep-set skepticism concerning the possibility of correct interpretationis fundamentally a crisis in theology provoked by an inadequate view of God and by the announcement of God's "death.""--BOOK JACKET
Biblical narrative in the philosophy of Paul Ricoeur : a study in hermeneutics and theology
by
Kevin J Vanhoozer
( Book )
18 editions published between
1990
and 2007 in
English
and
Japanese
and held by 529 WorldCat member libraries worldwide
Although Paul Ricoeur's writings are widely and appreciatively read by theologians, this book offers a full, sympathetic yet critical account of Ricoeur's theory of narrative interpretation and its contribution to theology. Unlike many previous studies of Ricoeur, Part I argues that Ricoeur's hermeneutics must be viewed in the light of his overall philosophical agenda, as a fusion and continuation of the unfinished projects of Kant and Heidegger. Particularly helpful is the focus on Ricoeur's recent narrative theory as the context in which Ricoeur deals with problems of time and the creative imagination; and it becomes clear that narrative stands at the crossroads of Ricoeur's search for the meaning of human being as well as his search for the meaning of texts. Part II examines the potential of Ricoeur's narrative theory for resolving certain theological problems, such as the dichotomy betweens the Jesus of history and the Christ of faith
The drama of doctrine : a canonical-linguistic approach to Christian theology
by
Kevin J Vanhoozer
( Book )
10 editions published between
2005
and 2010 in
English
and
Spanish
and held by 367 WorldCat member libraries worldwide
Kevin Vanhoozer is emerging as one of the most significant younger theological voices of our generation. This book will consolidate that reputation still further. It is a magisterial treatment of the origins and nature of doctrine, worthy to be ranked alongside George Lindbeck's classic The Nature of Doctrine. It is essential reading for all concerned with the nature and future of doctrine."--Alister McGrath, Professor of Historical Theology, Oxford University, Director, Oxford Centre for Evangelism and Apologetics. Observing a strange disappearance of doctrine within the church, Kevin Vanhoozer argues that there is no more urgent task for Christians today than to engage in living truthfully with others before God. He details how doctrine serves the church-the theater of the gospel-by directing individuals and congregations to participate in the drama of what God is doing to renew all things in Jesus Christ. Taking his cue from George Lindbeck and others who locate the criteria of Christian identity in Spirit-led church practices, Vanhoozer re-locates the norm for Christian doctrine in the canonical practices, which, he argues, both provoke and preserve the integrity of the church's witness as prophetic and apostolic
The Trinity in a pluralistic age : theological essays on culture and religion
by
Kevin J Vanhoozer
( Book )
9 editions published between
1996
and 1997 in
English
and held by 317 WorldCat member libraries worldwide
This provocative collection of papers from an international array of theologians explores the Christian doctrine of the Trinity in the context of twentieth-century cultural and religious pluralism. How should Christians think about their faith in relation to other faiths and in relation to culture in general? Can the Trinity fit into a global religion? These essays - originally presented at the Fifth Edinburgh Dogmatic Conference - show how a full-orbed Trinitarian doctrine, with a proper emphasis on both the One and the Three, provides the necessary resources for successfully addressing the problems and the possibilities of contemporary pluralism
Everyday theology : how to read cultural texts and interpret trends
by
Kevin J Vanhoozer
( Book )
7 editions published in
2007
in
English
and held by 315 WorldCat member libraries worldwide
Generally speaking, students, theologians, pastors, and church leaders are well-trained in the task of biblical exegesis. Where many fall short, however, is in the area of cultural exegesis--reading and interpreting the texts and trends produced by our culture, which can have a profound influence on the way we understand the world and practice our faith. Anyone interested in the intersection of Christianity and culture needs to be able to do "everyday theology," that is, to think theologically about our cultural environment and pass it through the grid of Scripture, in order to respond faithfully as Christian disciples. Everyday Theology is the first volume in the new Cultural Exegesis series. With an emphasis on both methodology and case study, it is well-suited for seminary classroom use. A significant introduction by Vanhoozer lays out the hermeneutical method for engaging with culture. This is followed by a series of essays that engage cultural texts and trends, from the music of Eminem to the grocery store checkout lane to the phenomenon of Internet blogs. A concluding chapter walks the reader step-by-step through the interpretation process with an additional case study. - Publisher
Beyond the Bible : moving from scripture to theology
by
I. Howard Marshall
( Book )
5 editions published in
2004
in
English
and held by 311 WorldCat member libraries worldwide
Using a "principled approach," Marshall moves from Scripture itself to contemporary understanding and application of Scripture. He examines how principles can be established from Scripture, whether explicitly or implicitly, and explores how the continuing development of insight can provide us with guidelines for the ongoing task of developing and applying Christian theology. Responses from Kevin Vanhoozer and Stanley Porter are included
Hermeneutics at the crossroads
( Book )
13 editions published in
2006
in
English
and held by 284 WorldCat member libraries worldwide
In this volume, Christian and other religiously committed theorists find themselves at an uneasy point in history--between premodernity, modernity, and postmodernity--where disciplines and methods, cultural and linguistic traditions, and religious commitments tangle and cross. Here, leading theorists explore the state of the art of the contemporary hermeneutical terrain. As they address the work of Gadamer, Ricoeur, and Derrida, the essays collected in this work engage key themes in philosophical hermeneutics, hermeneutics and religion, hermeneutics and the other arts, hermeneutics and literature, and hermeneutics and ethics. Contributors are Bruce Ellis Benson, Christina Bieber Lake, John D. Caputo, Eduardo J. Echeverria, Benne Faber, Norman Lillegard, Roger Lundin, Brian McCrea, James K.A. Smith, Michael VanderWeele, Kevin Vanhoozer, and Nicholas Wolterstorff. --From publisher's description
more
fewer
Audience Level
0

1
Kids
General
Special
Audience level: 0.35 (from 0.04 for Hermeneuti ... to 0.83 for Postcanoni ...)
Related Identities
Associated Subjects
Balthasar, Hans Urs von,
Bible
Bible.--Epistles of Paul
Bible.--New Testament
Bible.--Old Testament
Biblia
Boyd, Gregory A.,
Canonical criticism
Chinese American churches
Chinese American clergy
Christianity and culture
Church growth
Dogma
Dogma, Development of
God (Christianity)
God (Christianity)--Love
Hermeneutics
Hermeneutics--Religious aspects--Christianity
Jesus Christ
Knowledge, Theory of (Religion)
Leadership--Religious aspects--Christianity
Lindbeck, George A
Lubac, Henri de,
Metaphor--Religious aspects--Christianity
Missions--Theory
Multiculturalism
Mystical union--Biblical teaching
Narration in the Bible
Narrative theology
Pastoral theology
Philosophical theology
Philosophy
Philosophy and religion
Postmodern theology
Providence and government of God
Reformed Church--Doctrines
Religion
Religion and drama
Religious pluralism
Religious pluralism--Christianity
Ricœur, Paul
Speech acts (Linguistics)
Study skills
Theodicy
Theology
Theology, Doctrinal
Theology, Practical
Theology--Methodology
Trinity
Vanhoozer, Kevin J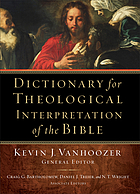 Alternative Names
Kevin Vanhoozer American academic

Vanhoozer, Kevin

Vanhoozer, Kevin 1957-

Vanhoozer, Kevin J.

Vanhoozer, Kevin J. (Kevin Jon)

Vanhoozer, Kevin Jon.

Vanhoozer, Kevin Jon 1957-

반후저, 케빈 J

밴후저, 케빈

밴후저, 케빈 J

벤후져, 케빈 J

케빈 밴후저

ヴァンフーザー, ケヴィン・J

Languages
Covers