Rajan, Raghuram
Most widely held works by Raghuram Rajan
Fault lines : how hidden fractures still threaten the world economy
by
Raghuram Rajan
( Book )
32 editions published between
2010
and 2012 in 3 languages and held by 1,527 WorldCat member libraries worldwide
Raghuram Rajan was one of the few economists who warned of the global financial crisis before it hit. Rajan shows how the individual choices that collectively brought about the economic meltdown--made by bankers, government officials, and ordinary homeowners--were rational responses to a flawed global financial order in which the incentives to take on risk are incredibly out of step with the dangers those risks pose. He traces the deepening fault lines in a world overly dependent on the indebted American consumer to power global economic growth and stave off global downturns. He exposes a system where America's growing inequality and thin social safety net create tremendous political pressure to encourage easy credit and keep job creation robust, no matter what the consequences to the economy's long-term health; and where the U.S. financial sector, with its skewed incentives, is the critical but unstable link between an overstimulated America and an underconsuming world
Saving capitalism from the capitalists : unleashing the power of financial markets to create wealth and spread opportunity
by
Raghuram Rajan
( Book )
42 editions published between
2003
and 2015 in 6 languages and held by 962 WorldCat member libraries worldwide
"Saving Capitalism from the Capitalists is a groundbreaking book that will radically change our understanding of the capitalist system, particularly the role of financial markets. They are the catalyst for inspiring human ingenuity and spreading prosperity. The perception of many, especially in the wake of never-ending corporate scandals, is that financial markets are parasitic institutions that feed off the blood, sweat, and tears of the rest of us."--Jacket
The great reversals : the politics of financial development in the 20th century
by
Raghuram Rajan
( Book )
33 editions published between
2000
and 2001 in
English
and held by 164 WorldCat member libraries worldwide
We show that the development of the financial sector does not change monotonically over time. In particular, we find that by most measures, countries were more financially developed in 1913 than in 1980 and only recently have they surpassed their 1913 levels. This pattern is inconsistent with most recent theories of why cross-country differences in financial development do not track differences in economic development, since these theories are based upon time-invariant factors, such as a country's legal origin. We propose instead an 'interest group' theory of financial development. Incumbents oppose financial development because it breeds competition. The theory predicts that incumbents' opposition will be weaker when an economy allows both cross-border trade and capital flows. This theory can go some way in accounting for the cross-country differences and the time series variation of financial development
Liquidity shortages and banking crises
by
Douglas W Diamond
( Book )
33 editions published between
2002
and 2004 in
English
and held by 142 WorldCat member libraries worldwide
Emerging markets do not handle adverse shocks well. In this paper, I will outline an explanation of why emerging markets are so fragile, and why they may adopt contractual mechanisms %uF818 such as a dollarized banking system -- that increase their fragility. I draw on this analysis to explain why dollarized economies may be prone to dollar shortages and twin crises. The model of crises described here differs in some important aspects from what is now termed the first, second, and third generation models of crises. I then examine how domestic policies, especially monetary policy, can mitigate the adverse effects of these crises. Finally, I will ask if there is a constructive role for international financial institutions both in helping to prevent the crises and in helping resolve them
The cost of diversity : the diversification discount and inefficient investment
by
Raghuram Rajan
( Book )
21 editions published between
1997
and 1999 in
English
and held by 99 WorldCat member libraries worldwide
In a simple model of capital budgeting in a diversified firm where headquarters has limited power, we show that funds are allocated towards the most inefficient divisions. The distortion is greater the more diverse are the investment opportunities of the firm's divisions. We test these implications on a panel of diversified firms in the U.S. during the period 1979-1993. We find that i) diversified firms mis-allocate investment funds; ii) the extent of mis-allocation is positively related to the diversity of the investment opportunities across divisions; iii) the discount at which these diversified firms trade is positively related to the extent of the investment mis-allocation and to the diversity of the investment opportunities across divisions
What determines firm size?
by
Krishna B Kumar
( Book )
19 editions published in
1999
in
English
and held by 94 WorldCat member libraries worldwide
Motivated by theories of the firm, which we classify as technological' or organizational, ' we analyze the determinants of firm size across industries and across countries in a sample of 15 European countries. We find that, on average, firms facing larger markets are larger. At the industry level, we find firms in the utility sector are large, perhaps because they enjoy a natural, or officially sanctioned, monopoly. Capital intensive industries, high wage industries, and industries that do a lot of R & D have larger firms, as do industries that require little external financing. At the country level, the most salient findings are that countries with efficient judicial systems have larger firms, and, correcting for institutional development, there is little evidence that richer countries have larger firms. Interestingly, institutional development, such as greater judicial efficiency, seems to be correlated with lower dispersion in firm size within an industry. The effects of interactions (between an industry's characteristics and a country's environment) on size are perhaps the most novel results in the paper, and are best able to discriminate between theories. As the judicial system improves, the difference in size between firms in capital intensive industries and firms in industries that use little physical capital diminishes, a finding consistent with size of firms in industries dependent on external finance is larger in countries with better financial markets, suggesting that financial constraints limit average firm size
Power in a theory of the firm
by
Raghuram Rajan
( Book )
19 editions published between
1996
and 1998 in
English
and held by 93 WorldCat member libraries worldwide
Transactions take place in the firm rather than in the market because the firm offers agents" who make specific investments power. Past literature emphasizes the allocation of ownership as the" primary mechanism by which the firm does this. Within the contractibility assumptions of this" literature, we identify a potentially superior mechanism, the regulation of access to critical resources." Access can be better than ownership because: i) the power agents get from access is more contingent" on them making the right investment; ii) ownership has adverse effects on the incentive to specialize." The theory explains the importance of internal organization and third party ownership."
Business environment and firm entry : evidence from international data
by
Leora Klapper
( Book )
22 editions published between
2003
and 2004 in
English
and held by 77 WorldCat member libraries worldwide
Using a comprehensive database of firms in Western and Eastern Europe, we study how the business environment in a country drives the creation of new firms. Our focus is on regulations governing entry. We find entry regulations hamper entry, especially in industries that naturally should have high entry. Also, value added per employee in naturally "high entry" industries grows more slowly in countries with onerous regulations on entry. Interestingly, regulatory entry barriers have no adverse effect on entry in corrupt countries, only in less corrupt ones. Taken together, the evidence suggests bureaucratic entry regulations are neither benign nor welfare improving. However, not all regulations inhibit entry. In particular, regulations that enhance the enforcement of intellectual property rights or those that lead to a better developed financial sector do lead to greater entry in industries that do more R&D or industries that need more external finance
Financial dependence and growth
by
Raghuram Rajan
( Book )
14 editions published between
1995
and 1996 in
English
and held by 74 WorldCat member libraries worldwide
Does finance affect economic growth? A number of studies have identified a positive correlation between the level of development of a country's financial sector and the rate of growth of its per capita income. As has been noted elsewhere, the observed correlation does not necessarily imply a causal relationship. This paper examines whether financial development facilitates economic growth by scrutinizing one rationale for such a relationship; that financial development reduces the costs of external finance to firms. Specifically, we ask whether industrial sectors that are relatively more in need of external finance develop disproportionately faster in countries with more developed financial markets. We find this to be true in a large sample of countries over the 1980s. We show this result is unlikely to be driven by omitted variables, outliers, or reverse causality
Banks as liquidity providers : an explanation for the co-existence of lending and deposit-taking
by
A. K Kashyap
( Book )
14 editions published in
1999
in
English
and held by 73 WorldCat member libraries worldwide
This paper addresses the following question: what ties together the traditional commercial banking activities of deposit-taking and lending? We begin by observing that since banks often lend via commitments, or credit lines, their lending and deposit-taking may be two manifestations of the same primitive function: the provision of liquidity on demand. After all, once the decision to extend a line of credit has been made, it is really nothing more than a checking account with overdraft privileges. This observation leads us to argue that there will naturally be synergies between the two activities, to the extent that both require banks to hold large volumes of liquid assets (cash and securities) on their balance sheets: if deposit withdrawals and commitment takedowns are imperfectly correlated, the two activities can share any deadweight costs of holding the liquid assets. We develop this idea with a simple model, and then use a variety of data to test the model's empirical implications
more
fewer
Audience Level
0

1
Kids
General
Special
Audience level: 0.48 (from 0.30 for Fault line ... to 0.77 for The cost o ...)
Related Identities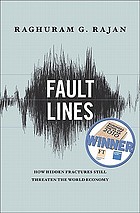 Alternative Names
Govind Rajan, Raghuram 1963-

Raghuram G. Rajan 1963-....

Raghuram Govind Rajan 1963-....

Raghuram Rajan 1963-....

Raghuram Rajan Amerikaans econoom

Raghuram Rajan economista indiano

Raghuram Rajan Indian economist

Raghuram Rajan indisch-amerikanischer Ökonom

Rajan, R.

Rajan, R. G. 1963-

Rajan, Raghuram

Rajan Raghuram 1963-....

Rajan, Raghuram G.

Rajan Raghuram G. 1963-....

Раджан, Рагхурам

Раджан, Рагхурам Г.

रघुराम राजन

ৰঘূৰাম ৰাজন

ਰਘੁਰਾਮ ਰਾਜਨ

ரகுராம் கோவிந்த் ராஜன்

ரகுராம் கோவிந்த் ராஜன் பொருளாதார நிபுணர்

రఘురాం రాజన్

ರಘುರಾಮ ರಾಜನ್

രഘുറാം രാജൻ

라구람 라잔

라잔, 라구람 G

ラグラム・ラジャン

ラジャン, ラグラム

拉古拉姆·拉詹

拉格拉迈·拉詹

Languages
Covers