Lam, Monica S.
Most widely held works by Monica S Lam
A systolic array optimizing compiler
by
Monica S Lam
( Book )
10 editions published between
1987
and 1989 in
English
and
Undetermined
and held by 158 WorldCat member libraries worldwide
Compilers, principles, techniques, and tools
by
Alfred V Aho
( Book )
6 editions published between
2006
and 2014 in
English
and held by 22 WorldCat member libraries worldwide
"This new edition of the classic "Dragon" book has been completely revised to include the most recent developments to compiling. The book provides a thorough introduction to compiler design and continues to emphasize the applicability of compiler technology to a broad range of problems in software design and development. The first hall of the book is designed for use in an undergraduate compilers course while the second half can be used in a graduate course stressing code optimization."--Jacket
Fault-tolerance and two-level pipelining in VLSI systolic arrays
by
H. T Kung
( Book )
3 editions published in
1983
in
English
and
Undetermined
and held by 6 WorldCat member libraries worldwide
This paper addresses two important issues in systolic array designs: fault-tolerance and two-level pipelining. The proposed 'systolic' fault-tolerant scheme maintains the original data flow pattern by bypassing defective cells with a few registers. As a result, many of the desirable properties of systolic arrays (such as local and regular communication between cells) are preserved. Two-level pipelining refers to the use of pipelined functional units in the implementation of systolic cells. This paper addresses the problem of efficiently utilizing pipelined units to increase the overall system throughput. We show that both of these problems can be reduced to the same mathematical problem of incorporating extra delays on certain data paths in originally correct systolic designs. We introduce the mathematical notion of a cut which enables us to handle this problem effectively. The results obtained by applying the techniques described in this paper are encouraging. When applied to systolic arrays without feedback cycles, the arrays can tolerate large numbers of failures (with the addition of very little hardware) while maintaining the original throughput. Furthermore, all of the pipeline stages in the cells can be kept fully utilized through the addition of a small number of delay registers. However, adding delays to systolic arrays with cycles typically induces a significant decrease in throughput. In response to this, we have derived a new class of systolic algorithms in which the data cycle around a ring of processing cells
The design of SMART : a scheduler for multimedia applications
by Jason Nieh
( Book )
1 edition published in
1996
in
English
and held by 2 WorldCat member libraries worldwide
Abstract: "We have created SMART, a Scheduler for Multimedia And Real-Time applications. SMART supports both real-time and conventional computations and provides flexible and accurate control over the sharing of processor time. SMART is able to satisfy real-time constraints in an optimal manner and provide proportional sharing across all real-time and conventional tasks. Furthermore, when not all real-time constraints can be met, SMART satisfies each real-time task's proportional share of deadlines, and adjusts its execution rate dynamically. This technique is especially important for multimedia applications that can operate at different rates depending on the loading condition. This paper presents the design of SMART and provides measured performance results of its effectiveness based on a prototype implementation in the Solaris [registered trademark symbol] operating system."
An efficient shared memory layer for distributed memory machines
by Daniel J Scales
( Book )
1 edition published in
1994
in
English
and held by 2 WorldCat member libraries worldwide
Abstract: "This report describes a system called SAM that simplifies the task of programming machines with distributed address spaces by providing a shared name space and dynamic caching of remotely accessed data. SAM makes it possible to utilize the computational power available in networks of workstations and distributed memory machines, while getting the ease of programming associated with a single address space model. The global name space and caching are especially important for complex scientific applications with irregular communication and parallelism. SAM is based on the principle of tying synchronization with data accesses. Precedence constraints are expressed by accesses to single-assignment values, and mutual exclusion constraints are represented by access to data items called accumulators. Programmers easily express the communication and synchronization between processes using these operations; they can also use alternate paradigms that are built with the SAM primitives. Operations for prefetching data and explicitly sending data to another processor integrate cleanly with SAM's shared memory model and allow the user to obtain the efficiency of message passing when necessary. We have built implementations of SAM for the CM-5, the Intel iPSC/860, the Intel Paragon, the IBM SP1, and heterogeneous networks of Sun, SGI, and DEC workstations (using PVM). In this report, we describe the basic functionality provided by SAM, discuss our experience in using it to program a variety of scientific applications and distributed data structures, and provide performance results for these complex applications on a range of machines. Performance results for applications of such complexity have not typically been available for most other distributed shared memory systems. Our experience indicates that SAM significantly simplifies the programming of these parallel systems, supports the necessary functionality for developing efficient implementations of sophisticated applications, and provides portability across a range of distributed memory environments."
Musubi an open mobile social network
by
Monica S Lam
( Visual )
1 edition published in
2011
in
English
and held by 1 WorldCat member library worldwide
All the social networks available today are 'social intranets'. To interact, users must belong to the same proprietary network who owns and controls all of the users' personal data as well as the application platform. With social networks like Facebook boasting of over 750 million users, it is possible that a monopoly in social networks may emerge, putting at risk not just personal privacy but open competition as well. This talk presents the architecture of an open mobile social internet where users can interact with each other without signing up to a proprietary network. Prof Lam and her research group have created a prototype system called Musubi which uniquely provides disintermediated social sharing services; all communication is supported using public key encryption thus leaking no user information to a third party. Musubi is also a platform that facilitates the development of disintermediated social applications. Musubi is available on the Android market
more
fewer
Audience Level
0

1
Kids
General
Special
Audience level: 0.64 (from 0.51 for Accounting ... to 1.00 for In Search ...)
Related Identities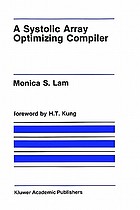 Alternative Names
Monica S. Lam Computer scientist

Monica S. Lam especialista en informtica estadounidense

Monica S. Lam informatica statunitense

Monica S. Lam Informatikerin

ラム, M. S

Languages
Covers