Forster, E. S. (Edward Seymour) 1879-1950
Overview
| | |
| --- | --- |
| Works: | 241 works in 1,042 publications in 5 languages and 10,597 library holdings |
| Genres: | History Biography Sources Bibliography Military history Trials, litigation, etc |
| Roles: | Translator, Author, Editor, Author of introduction, tra, Owner, Other |
| Classifications: | B407, 185.1 |
Most widely held works about E. S Forster
Most widely held works by E. S Forster
Parts of animals
by
Aristotle
( Book )
104 editions published between
1937
and 2015 in 5 languages and held by 1,338 WorldCat member libraries worldwide
"Aristotle, great Greek philosopher, researcher, reasoner, and writer, born at Stagirus in 384 B.C., was a son of a medical doctor Nicomachus and Phaestis. He studied under Plato at Athens and taught there 367-347; spent three years at the court of a former pupil Hermeias in Asia Minor and married Pythias a relation of his; after some time at Mitylene, in 343-2 he was appointed by King Philip of Macedon to be tutor of his teen-aged son Alexander, and had other students. After Philip's death in 336, Aristotle became head of his own school (of Peripatetics), the Lyceum at Athens. Because of anti-Macedonian feeling there after Alexander's death in 323, he withdrew to Chalcis in Euboea, where he died in 322. Nearly all the works he prepared for publication are lost, the priceless ones extant being lecture-materials, notes, and memoranda (some are spurious). I Practical. Nicomachean Ethics; Great Ethics (Magna Moralia); Eudemian Ethics; Politics; Economics (on the good of the family); On Virtues and Vices. II Logical: Categories; Analytics (Prior and Posterior); Interpretation; Refutations used by Sophists; Topica. III Physical: Twenty-six works (some suspect) including astronomy, generation and destruction, the senses, memory, sleep, dreams, life, facts about animals, etc. IV Metaphysics: on being as being. V Art: Rhetoric and Poetics. VI Other works including the Constitution of Athens; more works also of doubtful authorship. VII Fragments of various works such as dialogues on philosophy and literature; and of treatises on rhetoric, politics and metaphysics."--Jacket
On sophistical refutations [and] On coming-to-be and passing away
by
Aristotle
( Book )
98 editions published between
1955
and 2015 in 5 languages and held by 1,309 WorldCat member libraries worldwide
"Aristotle, great Greek philosopher, researcher, reasoner, and writer, born at Stagirus in 384 BCE, was the son of Nicomachus, a physician, and Phaestis. He studied under Plato at Athens and taught there (367-347); subsequently he spent three years at the court of a former pupil, Hermeias, in Asia Minor and at this time married Pythias, one of Hermeias's relations. After some time at Mitylene, in 343-2 he was appointed by King Philip of Macedon to be tutor of his teen-aged son Alexander. After Philip's death in 336, Aristotle became head of his own school (of Peripatetics), the Lyceum at Athens. Because of anti-Macedonian feeling there after Alexander's death in 323, he withdrew to Chalcis in Euboea, where he died in 322. Nearly all the works Aristotle prepared for publication are lost; the priceless ones extant are lecture-materials, notes, and memoranda (some are spurious). They can be categorized as follows: I Practical: Nicomachean Ethics; Great Ethics (Magna Moralia); Eudemian Ethics; Politics; Economics (on the good of the family); On Virtues and Vices. II Logical: Categories; Analytics (Prior and Posterior); Interpretation; Refutations used by Sophists; Topica. III Physical: Twenty-six works (some suspect) including astronomy, generation and destruction, the senses, memory, sleep, dreams, life, facts about animals, etc. IV Metaphysics: on being as being. V Art: Rhetoric and Poetics. VI Other works including the Constitution of Athens; more works also of doubtful authorship. VII Fragments of various works such as dialogues on philosophy and literature; and of treatises on rhetoric, politics and metaphysics."--Jacket
Isaeus
by
Isaeus
( Book )
78 editions published between
1927
and 2015 in 6 languages and held by 1,243 WorldCat member libraries worldwide
Though he occupies a firm place in the canon of the ten Attic orators, ISAEUS seems not to have been an Athenian, but a metic, being a native of Chalcis in Euboea. From passages in his work he is inferred to have lived from about 420 to 350 B.C. But no contemporary mentions him, and it is from Dionysius of Halicarnassus that we learn he was the teacher of Demosthenes, a fact confirmed by several unmistakable examples of borrowing from or imitation of him by his great pupil. Isaeus took no part in politics, but composed speeches for others, particularly in cases of inheritance. While he shares with Lysias the merits of a pure Attic and a ludicity of style, Isaeus is more aggressive and more flexible in his presentation; and in these respects he undoubtedly influenced Demosthenes. We learn of the existence in ancient times of at least fifty orations, but all that has come down to us is eleven speeches on legacy cases and a large fragment of a speech dealing with a claim of citizenship
Posterior analytics
by
Aristotle
( Book )
88 editions published between
1960
and 2015 in 4 languages and held by 985 WorldCat member libraries worldwide
"ARISTOTLE, great Greek Philosopher, researcher, reasoner, and writer, born at Stagirus in 384 B.C., was the son of a medical doctor Nicomachus and Phaestis. He studied uner Plato at Athens and taught there 367-347; spent three years at the court of a former pupil Hermeias in Asia Minor and married Pythias a relation of his; after some time at Mitylene, in 343-2 he was appointed by King Philip of Macedon to be a tutor of his teen-aged son Alexander, and had other pupils. After Philip's death in 336, Aristotle became head of his own school (of 'Peripatetics'), the Lyceum at Athens. Because of anti-Macedonian feeling there after Alexander's death in 323, he withdrew to Chalcis in Euboea and died there in 322. Nearly all the works he prepared for publication are lost, the priceless ones extant being lecture-materials, notes, and memoranda (some are spurious). I Practical. Nicomachean Ethics; Great Ethics (Magna Moralia); Eudemian Ethics; Politics; Economics (on the good of the family); On virtues and Vices; II Logical. Categories; Analytics (Prior and Posterior): Interpretation; Refutations used by Sophists; Topica. III Physical. Twenty six works (some suspedt) including astronomy, generation and destruction, the senses, memory, sleep, dreams, life, facts about animals, etc. IV Metaphysics on being as being. V Art Rhetoric and Poetic. VI Other works including the Constitution of Athens; more works also doubtful authorship. VII Fragments of various works such as dialogues on philosophy and literature; and of treatises on rhetoric, politics and metaphysics. -- Jacket
Epitome of Roman history
by
Lucius Annaeus Florus
( Book )
63 editions published between
1929
and 2015 in 3 languages and held by 924 WorldCat member libraries worldwide
Florius, born apparently in Africa, lived in Spain and in Rome in Hadrian's time. He wrote, in brief pointed rhetorical style, a summary of Roman history (especially wars) in two books in order to show the greatness and decline of Roman morals. It was perhaps planned to reach his own times, but the extant work ends with Augustus' reign (30 BC-AD 14). This Epitome is a useful rapid sketch of Roman military history. -- jacket
On agriculture
by
Lucius Junius Moderatus Columella
( Book )
44 editions published between
1941
and 1993 in 3 languages and held by 895 WorldCat member libraries worldwide
Columella (Lucius Iunius Moderatus) of Gades (Cadiz) lived in the reigns of the first emperors to about A.D. 70, coming early in life to Italy where he owned farms and lived near Rome. It is probable that he did military service in Syria and Cilicia and that he died at Tarentum. To one Publius Silvinus he addressed his Res Rustica the most comprehensive, systematic and detailed of Roman agricultural works: Book I Choice of farming-site; water-supply; buildings; staff. II Ploughing; fertilizing; care of crops. III, IV, V Cultivation, grafting and pruning of fruit trees ets., vines, olives. VI Acquisition, breeding, and rearing of oxen, horses, and mules; veterinary medicine. VII Sheep, goats, pigs, and dogs. VIII Poultry, fish-ponds. IX Bee-keeping. X (in hexameter poetry) Gardening, as an addition to the Georgics of Virgil who did not include it. At Silvinus' request Columella added XI Duties of the overseer of a farm; calendar for farm-work; more on gardening; and XII Duties of the overseer's wife; manufacture of wines; pickling; preserving. A XIIIth book is formed as a separate work by De Arboribus 'On Trees' (cp. Books III, IV, V) - on vines and olives and various trees, addressed it seems to Eprius Marcellus and forming perhaps part of an otherwise lost work written before the Res Rustica
The Organon
by
Aristotle
( Book )
12 editions published between
1955
and 1962 in 3 languages and held by 524 WorldCat member libraries worldwide
Logical works of Aristotle translated into Latin from the Greek by Ioannes Argyropoulos including De interpretatione, Prior analytics, and Posterior analytics
The Turkish letters of Ogier Ghiselin de Busbecq, imperial ambassador at Constantinople, 1554-1562
by
Ogier Ghislain de Busbecq
( Book )
34 editions published between
1927
and 2010 in
English
and
Undetermined
and held by 420 WorldCat member libraries worldwide
In four letters to his friend Nicholas Michault - who had been Busbecq's fellow student in Italy and afterwards was imperial ambassador to the Portuguese court - he details impressions on everything he saw and experienced in Turkey, including landscapes, plants, animals, Islam, ethnic groups, architecture, slavery, military matters, court practices, clothing, gender and domestic relations, and the Sultan himself."
more
fewer
Audience Level
0

1
Kids
General
Special
Audience level: 0.47 (from 0.06 for On sophist ... to 0.74 for A short hi ...)
Related Identities
Associated Subjects
Agriculture
Ampelius, Lucius
Animal locomotion
Animals
Aristotle
Athens (Greece)
Authors, Greek
Classical biography
Cosmology
Definition (Philosophy)
Ethics
Ethics, Ancient
Fallacies (Logic)
Florus, Lucius Annaeus
Forensic orations
Generals
Great books of the Western world
Greece
Greek language
Greek literature
Greek poetry
Greek prose literature
History, Ancient
Home economics
Inheritance and succession
Inheritance and succession (Greek law)
Isaeus,
Knowledge, Theory of
Logic
Logic, Ancient
Metaphysics
Philosophy
Philosophy, Ancient
Physical sciences
Poetics
Political science
Posterior analytics (Aristotle)
Putrefaction
Reproduction
Rhetoric
Rhetoric, Ancient
Rome (Empire)
Science
Science--Methodology
Speeches, addresses, etc., Greek
Topics (Aristotle)
Travel
Trees
Turkey
Zoology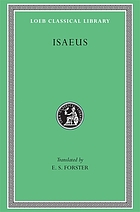 Alternative Names
Forster, E. S.

Forster, E.S. 1879-1950

Forster, E. S. (Edward Seymour)

Forster, E. S. (Edward Seymour), 1879-1950

Forster, Edward S.

Forster, Edward Seymor.

Forster, Edward Seymour.

Forster, Edward Seymour 1879-1950

Languages
Covers