Forster, E. S. (Edward Seymour) 1879-1950
Overview
| | |
| --- | --- |
| Works: | 215 works in 1,134 publications in 6 languages and 11,088 library holdings |
| Genres: | History Biography Sources Trials, litigation, etc Classification Commentaries Software Spurious and doubtful works Criticism, interpretation, etc |
| Roles: | Translator, Author, Editor, Author of introduction, Other, tra, Owner |
| Classifications: | PA6156, 160 |
Most widely held works about E. S Forster
Most widely held works by E. S Forster
Parts of animals
by
Aristoteles
( Book )
129 editions published between
1937
and 2015 in 6 languages and held by 1,394 WorldCat member libraries worldwide
"Aristotle, great Greek philosopher, researcher, reasoner, and writer, born at Stagirus in 384 B.C., was a son of a medical doctor Nicomachus and Phaestis. He studied under Plato at Athens and taught there 367-347; spent three years at the court of a former pupil Hermeias in Asia Minor and married Pythias a relation of his; after some time at Mitylene, in 343-2 he was appointed by King Philip of Macedon to be tutor of his teen-aged son Alexander, and had other students. After Philip's death in 336, Aristotle became head of his own school (of Peripatetics), the Lyceum at Athens. Because of anti-Macedonian feeling there after Alexander's death in 323, he withdrew to Chalcis in Euboea, where he died in 322. Nearly all the works he prepared for publication are lost, the priceless ones extant being lecture-materials, notes, and memoranda (some are spurious). I Practical. Nicomachean Ethics; Great Ethics (Magna Moralia); Eudemian Ethics; Politics; Economics (on the good of the family); On Virtues and Vices. II Logical: Categories; Analytics (Prior and Posterior); Interpretation; Refutations used by Sophists; Topica. III Physical: Twenty-six works (some suspect) including astronomy, generation and destruction, the senses, memory, sleep, dreams, life, facts about animals, etc. IV Metaphysics: on being as being. V Art: Rhetoric and Poetics. VI Other works including the Constitution of Athens; more works also of doubtful authorship. VII Fragments of various works such as dialogues on philosophy and literature; and of treatises on rhetoric, politics and metaphysics."--Jacket
On sophistical refutations [and] On coming-to-be and passing away
by
Aristotle
( Book )
114 editions published between
1955
and 2015 in 5 languages and held by 1,363 WorldCat member libraries worldwide
"Aristotle, great Greek philosopher, researcher, reasoner, and writer, born at Stagirus in 384 BCE, was the son of Nicomachus, a physician, and Phaestis. He studied under Plato at Athens and taught there (367-347); subsequently he spent three years at the court of a former pupil, Hermeias, in Asia Minor and at this time married Pythias, one of Hermeias's relations. After some time at Mitylene, in 343-2 he was appointed by King Philip of Macedon to be tutor of his teen-aged son Alexander. After Philip's death in 336, Aristotle became head of his own school (of Peripatetics), the Lyceum at Athens. Because of anti-Macedonian feeling there after Alexander's death in 323, he withdrew to Chalcis in Euboea, where he died in 322. Nearly all the works Aristotle prepared for publication are lost; the priceless ones extant are lecture-materials, notes, and memoranda (some are spurious). They can be categorized as follows: I Practical: Nicomachean Ethics; Great Ethics (Magna Moralia); Eudemian Ethics; Politics; Economics (on the good of the family); On Virtues and Vices. II Logical: Categories; Analytics (Prior and Posterior); Interpretation; Refutations used by Sophists; Topica. III Physical: Twenty-six works (some suspect) including astronomy, generation and destruction, the senses, memory, sleep, dreams, life, facts about animals, etc. IV Metaphysics: on being as being. V Art: Rhetoric and Poetics. VI Other works including the Constitution of Athens; more works also of doubtful authorship. VII Fragments of various works such as dialogues on philosophy and literature; and of treatises on rhetoric, politics and metaphysics."--Jacket
Isaeus
by
Isaeus
( Book )
87 editions published between
1927
and 2015 in 6 languages and held by 1,249 WorldCat member libraries worldwide
Isaeus (c. 420-350 BCE) composed speeches for others. He shares with Lysias pure Attic and lucidity of style, but his more aggressive and flexible presentation undoubtedly influenced Demosthenes. Of at least fifty attributed orations, there survive eleven on legacy cases and a large fragment dealing with a claim of citizenship
Posterior analytics
by
Aristoteles
( Book )
93 editions published between
1960
and 2015 in 4 languages and held by 1,006 WorldCat member libraries worldwide
"ARISTOTLE, great Greek Philosopher, researcher, reasoner, and writer, born at Stagirus in 384 B.C., was the son of a medical doctor Nicomachus and Phaestis. He studied uner Plato at Athens and taught there 367-347; spent three years at the court of a former pupil Hermeias in Asia Minor and married Pythias a relation of his; after some time at Mitylene, in 343-2 he was appointed by King Philip of Macedon to be a tutor of his teen-aged son Alexander, and had other pupils. After Philip's death in 336, Aristotle became head of his own school (of 'Peripatetics'), the Lyceum at Athens. Because of anti-Macedonian feeling there after Alexander's death in 323, he withdrew to Chalcis in Euboea and died there in 322. Nearly all the works he prepared for publication are lost, the priceless ones extant being lecture-materials, notes, and memoranda (some are spurious). I Practical. Nicomachean Ethics; Great Ethics (Magna Moralia); Eudemian Ethics; Politics; Economics (on the good of the family); On virtues and Vices; II Logical. Categories; Analytics (Prior and Posterior): Interpretation; Refutations used by Sophists; Topica. III Physical. Twenty six works (some suspedt) including astronomy, generation and destruction, the senses, memory, sleep, dreams, life, facts about animals, etc. IV Metaphysics on being as being. V Art Rhetoric and Poetic. VI Other works including the Constitution of Athens; more works also doubtful authorship. VII Fragments of various works such as dialogues on philosophy and literature; and of treatises on rhetoric, politics and metaphysics. -- Jacket
On agriculture
by
Lucius Junius Moderatus Columella
( Book )
14 editions published in
1968
in 3 languages and held by 741 WorldCat member libraries worldwide
Columella (first century CE) included Cato and Varro among many sources for On Agriculture, but his personal experience was paramount. Written in prose except for the hexameters on horticulture of Book 10, the work is richly informative about country life in first century CE Italy
Epitome of Roman history
by
Cornelius Nepos
( Book )
36 editions published between
1929
and 1966 in 3 languages and held by 575 WorldCat member libraries worldwide
Florus (second century CE) wrote, in brief pointed rhetorical style, a two-book summary of Roman history (especially military) in order to show the greatness and decline of Roman morals. Based chiefly on Livy and perhaps planned to reach Florus' own times, the extant work ends with Augustus's reign (30 BCE-14 CE)
The Turkish letters of Ogier Ghiselin de Busbecq, imperial ambassador at Constantinople, 1554-1562
by
Ogier Ghislain de Busbecq
( Book )
30 editions published between
1927
and 2013 in
English
and
Undetermined
and held by 423 WorldCat member libraries worldwide
In four letters to his friend Nicholas Michault - who had been Busbecq's fellow student in Italy and afterwards was imperial ambassador to the Portuguese court - he details impressions on everything he saw and experienced in Turkey, including landscapes, plants, animals, Islam, ethnic groups, architecture, slavery, military matters, court practices, clothing, gender and domestic relations, and the Sultan himself."
The Organon
by
Aristotle
( Book )
in
English
and held by 407 WorldCat member libraries worldwide
more
fewer
Audience Level
0

1
Kids
General
Special
Audience level: 0.42 (from 0.14 for On sophist ... to 0.86 for The works ...)
Related Identities
Associated Subjects
Agriculture
Anatomy, Comparative
Animal locomotion
Animals
Aristotle
Authors, Greek
Classical biography
Cosmology
Definition (Philosophy)
De generatione et corruptione (Aristotle)
Early printed books
Economics
Fallacies (Logic)
Forensic orations
Forster, E. S.--(Edward Seymour),
Gardening
Generals
Greece
Greece--Athens
Greek language
Greek literature
Greek poetry
Greek prose literature
Historia animalium (Aristotle)
Historians
History, Ancient
Home economics
Incunabula
Inheritance and succession
Inheritance and succession (Greek law)
Isaeus,
Knowledge, Theory of
Logic
Medicine, Arab
Nepos, Cornelius
Ontology
Philosophy
Philosophy, Ancient
Posterior analytics (Aristotle)
Putrefaction
Reproduction
Rome (Empire)
Science
Science--Methodology
Science--Philosophy
Speeches, addresses, etc., Greek
Topics (Aristotle)
Travel
Turkey
Zoology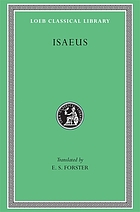 Alternative Names
Forster, E. S.

Forster, E.S. 1879-1950

Forster, E. S. (Edward Seymour)

Forster, E. S. (Edward Seymour), 1879-1950

Forster, Edward S.

Forster, Edward Seymor.

Forster, Edward Seymour.

Forster, Edward Seymour 1879-1950

Languages
Covers