Tardos, Éva
Most widely held works by Éva Tardos
Algorithm design
by
Jon Kleinberg
( Book )
36 editions published between
2005
and 2014 in 3 languages and held by 514 WorldCat member libraries worldwide
"Algorithm Design takes a fresh approach to the algorithms course, introducing algorithmic ideas through the real-world problems that motivate them. In a clear, direct style, Jon Kleinberg and Eva Tardos teach students to analyze and define problems for themselves, and from this to recognize which design principles are appropriate for a given situation. The text encourages a greater understanding of the algorithm design process and an appreciation of the role of algorithms in the broader field of computer science."--Jacket
Combinatorial algorithms for the generalized circulation problem
by
Andrew V Goldberg
( Book )
8 editions published in
1988
in
English
and held by 23 WorldCat member libraries worldwide
We consider a generalization of the maximum network flow problem in which the amounts of flow entering and leaving an arc are linearly related. More precisely, if x(e) units of flow enter an arc e, x(e) gamma (e) units arrive at the other end. For instance, nodes of the graph can correspond to different currencies, with the multipliers being the exchange rates. We require conservation of flow at every node except a given source node. The goal is to maximize the amount of flow excess at the source. This problem is a special case of linear programming, and therefore can be solved in polynomial time. In this paper we present the first polynomial time combinatorial optimization algorithms for this problem. The algorithms are simple and intuitive. (KR)
Network flow algorithms
by
Andrew V Goldberg
( Book )
8 editions published in
1989
in
English
and
German
and held by 21 WorldCat member libraries worldwide
Network flow problems are central problems in operations research, computer science, and engineering and they arise in many real world applications. Starting with early work in linear programming and spurred by the classic book of Ford and Fulkerson, the study of such problems has led to continuing improvements in the efficiency of network flow algorithms. In spite of the long history of this study, many substantial results have been obtained within the last several years. In this survey we examine some of these recent developments and the ideas behind them. We discuss the classical network flow problems, the maximum flow problem and the minimum-cost circulation problem, and a less standard problem, the generalized flow problem, sometimes called the problem of flows with losses and gains. The survey contains six chapters in addition to this introduction. Chapter 1 develops the terminology needed to discuss network flow problems. Chapter 2 discusses the maximum flow problem, and Chapters 3, 4, and 5 discuss different aspects of the minimum-cost circulation problem, and Chapter 6 discusses the generalized flow problem. In the remainder of this introduction, we mention some of the history of network flow research, comment on some of the results to be presented in detail in later sections, and mention some results not covered in this survey. We are interested in algorithms whose running time is small as a function of the size of the network and the numbers involved (e.g. capacities, costs, or gains). (KR)
Polynomial dual network simplex algorithms
by
James B Orlin
( Book )
6 editions published in
1991
in
English
and held by 16 WorldCat member libraries worldwide
Abstract: "We show how to use polynomial and strongly polynomial capacity scaling algorithms for the transshipment problem to design a polynomial dual network simplex pivot rule. Our best pivoting strategy leads to an O(m²log n) bound on the number of pivots, where n and m denotes the number of nodes and arcs in the input network. If the demands are integral and at most B, we also give an O(m(m+n log n)min(log nB, mlog n))- time implementation of a strategy that requires somewhat more pivots."
Interior-point methods in parallel computation
by
Andrew V Goldberg
( Book )
1 edition published in
1989
in
English
and held by 12 WorldCat member libraries worldwide
Ln this paper we use interior-point methods for linear programing, developed in the context of sequential computation, to obtain a parallel algorithm for the bipartite matching problem. Our algorithm runs in $O[superscript]n$(SQRT m) time. Our results extend to the weighted bipartite matching problem and to the zero-one minimum-cost flow problem, yielding $O[superscript]n$((SQRT m) log C) algorithms. This improves previous bounds on these problems and illustrates the importance of interior-point methods in the context of parallel algorithm design
Fast approximation algorithms for fractional packing and covering problems
by
Serge A Plotkin
( Book )
2 editions published in
1992
in
English
and held by 10 WorldCat member libraries worldwide
We give several applications of our algorithms. The new approach yields several orders of magnitude of improvement over the best previously known running times for the scheduling of unrelated parallel machines in both the preemptive and the non-preemptive models, for the job shop problem, for the cutting-stock problem, and for the minimum-cost multicommodity flow problem."
more
fewer
Audience Level
0

1
Kids
General
Special
Audience level: 0.69 (from 0.56 for Algorithmi ... to 0.96 for An applica ...)
Related Identities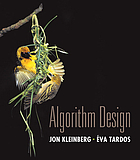 Alternative Names
Éva Tardos Hongaars wiskundige

Éva Tardos Hungarian mathematician

Éva Tardos informática teórica húngara

Éva Tardos matematico ungherese

Éva Tardos mathématicienne d'origine hongroise née en 1957 lauréate du prix Fulkerson et du prix Gödel pour des articles en maths discrètes

Éva Tardos ungarischer Mathematiker

Tardos, É.

Tardos, É. 1957-

Tardos, É. (Éva)

Tardos, Éva

טארדוש, אווה

‏טרדוש, אוה

ايفا تاردوس

タルドシュ

Languages
Covers