Boehrer, Bruce Thomas
Most widely held works by Bruce Thomas Boehrer
Parrot culture : our 2,500-year-long fascination with the world's most talkative bird
by
Bruce Thomas Boehrer
( Book )
6 editions published between
2004
and 2010 in
English
and held by 498 WorldCat member libraries worldwide
Traces the unusual history of parrots from their introduction in the Graeco-Roman world as items of oriental luxury, through the great age of New World exploration, to the contemporary ecological crisis of globalism
Monarchy and incest in Renaissance England : literature, culture, kinship, and kingship
by
Bruce Thomas Boehrer
( Book )
8 editions published between
1992
and 2015 in
English
and held by 371 WorldCat member libraries worldwide
In dissolving his marriage to Catherine of Aragon, Henry VIII claimed that Catherine's brief marriage to Henry's deceased brother, Arthur, had rendered the subsequent union incestuous. Henry's next marriage could be called incestuous as well, for Anne Boleyn's sister Mary had been the king's mistress before her. But early rumor hinted at an even darker incestuous connection between Henry and Anne; she was, some charged, not only the king's lover, but his illegitimate daughter. Monarchy and Incest in Renaissance England argues that a preoccupation with incest is built into the dominant social and cultural concerns of early modern England. Proceeding from a study of Henry VIII's divorce and succession legislation through the reigns of Elizabeth I, James I, and Charles I, this work examines the interrelation between family politics and literary expression in and around the English royal court. Boehrer contends that themes of incest appear irregularly and prominently in the imaginative literature of the period. Some fifty extant plays from 1559 to 1658 deal either explicitly or implicitly with the subject. Incest emerges as a structural motif in texts as diverse as The Faerie Queene and Paradise Lost, and figures at least implicitly in nondramatic works by Jonson, Chapman, Shakespeare, and others. Monarchy and Incest in Renaissance England explores the response to, and modification of cultural anxieties regarding family structure. It is a brilliant and original work that will be of interest to scholars and students of English Renaissance literature and history, as well as of cultural studies
Animal characters : nonhuman beings in early modern literature
by
Bruce Thomas Boehrer
( Book )
14 editions published in
2010
in
English
and
Undetermined
and held by 369 WorldCat member libraries worldwide
"Our 2500-Year-Long Fascination with the World's Most Talkative Bird Bruce Thomas Boehrer" ""As both a fiction writer and a lover of parrots, I was delighted and enlightened by Parrot Culture. This is an enchanting book."--Robert Olen Butler, author of A Good Scent from a Strange Mountain" ""Engrossing ... Bruce Thomas Boehrer concentrates his well-stocked mind on what over the centuries we humans have done to, and done with, parrots."--Times Literary Supplement" "During the Renaissance, horses--long considered the privileged, even sentient companions of knights-errant--gradually lost their special place on the field of battle and with it their distinctive status in the world of chivalric heroism. Parrots, once the miraculous, articulate companions of popes and emperors, declined into figures of mindless mimicry. Cats, which were tortured by Catholics in the Middle Ages, were tortured in the Reformation as part of the Protestant attack on Catholicism. And sheep, the model for Agnus Deiimagery, underwent transformations at once legal, material, and spiritual as a result of their changing role in Europe's growing manufacturing and trade economies. While in the Middle Ages, these nonhumans were endowed with privileged social associations, personal agency, even the ability to reason and speak, in the early modern period they lost these qualities at the very same time that a new emphasis on, and understanding of, human character was developing in European literature."
Shakespeare among the animals : nature and society in the drama of early modern England
by
Bruce Thomas Boehrer
( Book )
14 editions published between
2002
and 2007 in
English
and held by 320 WorldCat member libraries worldwide
"Shakespeare among the Animals examines the role of animal metaphor on the Shakespearean stage, particularly as such metaphor serves to underwrite various forms of social difference. Working through texts such as Shakespeare's Midsummer Night's Dream, Jonson's Volpone, and Middleton's A Chaste Maid in Cheapside, Boehrer focuses upon the allegedly natural character of femininity, masculinity, ethnicity, and the nature of the natural world itself as it appears on the Renaissance stage. Addressing each of these topics in turn, Shakespeare among the Animals explores the notions of cultural order that underlie early modern conceptions of the natural world, and the ideas of nature implicit in early modern social practice."--Jacket
The fury of men's gullets : Ben Jonson and the digestive canal
by
Bruce Thomas Boehrer
( Book )
7 editions published between
1997
and 2015 in
English
and held by 299 WorldCat member libraries worldwide
Throughout his work, Ben Jonson referred to writing in terms of ingestion, digestion, and excretion, mimicking the functions of the digestive tract. In The Fury of Men's Gullets, Bruce Boehrer explores the poet's fascination with alimentary matters and the way in which such references describe Jonson's personal and cultural transformation. Drawing on the theoretical work of Gilles Deleuze and Felix Guattari, the author studies the alimentary and convivial language in Jonson's work. He suggests that these pervasive metaphors provided the poet with a vocabulary for addressing issues of patronage and friendship, literary production and consumption, and social inclusion and exclusion. In his wide-ranging examination of Jonson's plays, prose, and nondramatic verse, Boehrer discusses the sociohistorical significance of food, the politics of conspicuous consumption, the infrastructure of Jacobean London, and pertinent aspects of Renaissance medical practice and physiological theory. The Fury of Men's Gullets uniquely interprets Jonson's construction of early modern English literary sensibility
The culture of the horse : status, discipline, and identity in the Early Modern world
( Book )
1 edition published in
2005
in
English
and held by 204 WorldCat member libraries worldwide
"This volume fills an important gap in the analysis of early modern history and culture by reintroducing scholars to the significance of the horse. A more complete understanding of the role of horses and horsemanship is absolutely crucial to our understanding of the early modern world. Each chapter in the collection provides a snapshot of how horse culture and the broader culture are intertwined in a tapestry of images, objects, structures, sounds, gestures, texts, and ideas. Without knowledge of how the horse figured in all these aspects, no version of political, material, or intellectual culture in the period can be entirely accurate."--Jacket
Environmental degradation in Jacobean drama
by
Bruce Thomas Boehrer
( Book )
11 editions published between
2013
and 2015 in
English
and
Undetermined
and held by 197 WorldCat member libraries worldwide
"In Environmental Degradation in Jacobean Drama, Bruce Boehrer provides the first general history of the Shakespearean stage to focus primarily on ecological issues. Early modern English drama was conditioned by the environmental events of the cities and landscapes within which it developed. Boehrer introduces Jacobean London as the first modern European metropolis in an England beset by problems of overpopulation; depletion of resources and species; land, water and air pollution; disease and other health-related issues; and associated changes in social behavior and cultural output. In six chapters he discusses the work of the most productive and influential playwrights of the day: Shakespeare, Jonson, Middleton, Fletcher, Dekker and Heywood, exploring the strategies by which they made sense of radical ecological change in their drama. In the process, Boehrer sketches out these playwrights' differing responses to environmental issues and traces their legacy for later literary formulations of green consciousness"--
A cultural history of the human body
by
Karen Raber
( Book )
24 editions published between
2007
and 2014 in
English
and held by 71 WorldCat member libraries worldwide
A Cultural History of Sexuality presents an overarching survey from ancient times to the present. With six volumes covering 2800 years, this is the most authoritative history of sexuality in all its many forms across Western cultures. Volume 1: A Cultural History of Sexuality in the Classical World Edited by Mark Golden, University of Winnipeg, and Peter Toohey, University of Calgary Volume 2: A Cultural History of Sexuality in the Middle Ages Edited by Ruth Evans, Saint Louis University Volume 3: A Cultural History of Sexuality in the Renaissance Edited by Bette Talvacchia, University of Connecticut Volume 4: A Cultural History of Sexuality in the Enlightenment Edited by Julie Peakman, Birkbeck College, University of London Volume 5: Sexuality in the Age of Empire Edited by Chiara Beccalossi, University of Queensland, Australia, and Ivan Crozier, University of Edinburgh Volume 6: A Cultural History of Sexuality in the Modern Age Gert Hekma, University of Amsterdam Each volume discusses the same themes in its chapters: 1. Heterosexuality; 2. Homosexuality; 3. Sexual Variations; 4. Sex Religion, and the Law; 5. Sex, Medicine and Disease; 6. Sex, Popular Beliefs and Culture; 7. Prostitution; 8. Erotica. This means readers can either have a broad overview of a period by reading a volume or follow a theme through history by reading the relevant chapter in each volume
A cultural history of animals
by
Bruce Thomas Boehrer
( Book )
4 editions published in
2007
in
English
and held by 22 WorldCat member libraries worldwide
Vol. 2(2007) betrifft die Handschrift Cod. 318 (f. 17r) der Burgerbibliothek Bern (S. 132; inkl. Abb.)
more
fewer
Audience Level
0

1
Kids
General
Special
Audience level: 0.40 (from 0.26 for Monarchy a ... to 0.99 for "Ludwig Na ...)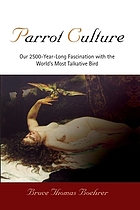 Alternative Names
Boehrer Bruce

Boehrer, Bruce 1956-

Boehrer, Bruce T.

Boehrer, Bruce T. 1956-

Languages
Covers