Kroto, H. W.
Most widely held works about H. W Kroto
Most widely held works by H. W Kroto
Molecular rotation spectra
by
H. W Kroto
( Book )
24 editions published between
1975
and 2003 in
English
and held by 423 WorldCat member libraries worldwide
The Fullerenes
by
H. W Kroto
( Book )
15 editions published between
1993
and 2012 in
English
and
French
and held by 246 WorldCat member libraries worldwide
Until recently, the element carbon was believed to exhibit only two main allotropic forms, diamond and graphite. Research in the US and Europe has now confirmed the existence of a third previously unknown form - buckminsterfullerene (<RM>C<INF>60</INF></RM>) and its relatives, the fullerenes (<RM>C<INF>24</INF>, C<INF>28</INF>, C<INF>32</INF>, C<INF>70</INF> etc</RM>). The story of fullerene chemistry, physics and materials science began in 1985, almost twenty years after the existence of a spherical carbon cluster was first considered. In September 1985 a joint Sussex/Rice Universities team including Kroto, Heath, O'Brien, Curl and Smalley used a powerful mass spectrometric technique to identify the C+<INF>60</INF> species, and proposed a spherical structure and the name buckminsterfullerene. It was not, however, until Krätschmer and Huffman reported the isolation of crystals of C<INF>60</INF> in 1990 that the closed cage structure of C<INF>60</INF> could be confirmed. The Fullerenes documents the work leading up to 1990 and more recent developments in the field of fullerene research and will serve as an indispensible reference tool for all workers in this area
The Fullerenes : new horizons for the chemistry, physics, and astrophysics of carbon
by
H. W Kroto
( Book )
21 editions published between
1993
and 2010 in
English
and held by 225 WorldCat member libraries worldwide
"In 1985, Buckminsterfullerene (fullerene-60) C[subscript 60] was discovered serendipitously during graphite laser vaporization experiments designed to simulate the chemistry in a red giant carbon star. The molecule was isolated for the first time in macroscopic amounts in 1990, a breakthrough which triggered an explosion of research into its chemical and physical properties. The fullerenes hold great potential for material science applications, such as semiconductors and microscopic engineering, and as new compounds for pharmaceuticals, polymers and the chemical industry. Buckminsterfullerene possesses a beauty and elegance that has excited the imaginations of laymen and scientists alike. It seems almost impossible to comprehend how the existence of the third well-characterized allotrope of carbon could have evaded discovery until virtually the end of the twentieth century. In October 1992 a Discussion Meeting of the Royal Society entitled 'A Post-Buckminsterfullerene View of the Chemistry, Physics and Astrophysics of Carbon' organized by H.W. Kroto, A.L. MacKay, G. Turner and D.R.M. Walton, was held to celebrate this exciting advance. The scientists who played key roles in the discovery and who are currently uncovering fascinating problems and the implications of this elegant molecule, presented the papers published in this book."--Jacket
Bionanodesign : following nature's touch
by
Maxim Ryadnov
( )
5 editions published in
2009
in
English
and
Undetermined
and held by 58 WorldCat member libraries worldwide
This new publication brings together contemporary approaches for designing nanostructures that employ naturally derived self-assembling motifs as synthetic platforms
Atom Resolved Surface Reactions Nanocatalysis
by
P. R Davies
( )
2 editions published in
2007
in
English
and held by 53 WorldCat member libraries worldwide
This book offers a unique perspective of the impact of scanning probe microscopies on our understanding of the surface chemistry at the nanoscale, This book offers a unique perspective of the impact of scanning probe microscopes on our understanding of the chemistry of the surface at the nanoscale. Research oriented, with the concepts gleaned from Scanning Tunnelling Microscopy being related to the more established and accepted views in surface chemistry and catalysis, the authors have addressed the question "How do the models based on classical spectroscopic and kinetic studies stand up to scrutiny at the atom-resolved level?". In taking this approach the reader, new to the field of surface chemistry, should be able to obtain a perspective on how the evidence from STM confirms or questions long standing tenets. An emphasis is given to "how did we get to where we are now" and a large number of figures from the literature are included along with suggestions for further reading. Topics discussed include: - the dynamics of oxygen chemisorption at metal surfaces - control of oxygen states and surface reconstruction - dissociative chemisorption of diatomic and hydrocarbon molecules - nanoparticles and chemical reactivity - STM at high pressures - structural studies of sulfur containing molecules and molecular templating This book will appeal to all those who wish to become familiar with the contribution Scanning Tunnelling Microscopy has made to the understanding of the field of surface chemistry and heterogeneous catalysis and also to those who are new to catalysis, a fascinating and important area of chemistry
Spectroscopy, dynamics and molecular theory of carbon plasmas and vapors : advances in the understanding of the most complex high-temperature elemental system
by
Stephan Irle
( Book )
6 editions published in
2011
in
English
and held by 49 WorldCat member libraries worldwide
This book is a stop-gap contribution to the science and technology of carbon plasmas and carbon vapors. It strives to cover two strongly related fields : the molecular quantum theory of carbon plasmas and carbon nanostructures; and the molecular and atomic spectroscopy of such plasmas and vapors. These two fields of research are strongly intertwined and thus reinforce one another. Even though the use of carbon nanostructures is increasing by the day and their practical uses are emerging, there is no modern review on carbon plasmas, especially from molecular theoretical and spectroscopic viewpoints. The importance of the present book is therefore great from both educational and practical aspects. This review might be the first step towards bringing such textbooks into existence for university education. Similarly, for applied and engineering works in carbon nanostructures, the book provides a theoretical salient point for technologists in the field
C60 Buckminsterfullerene : the celestial sphere that fell to earth
by
H. W Kroto
( Visual )
4 editions published between
1995
and 2004 in
English
and
Spanish
and held by 12 WorldCat member libraries worldwide
Harold Kroto discusses the discovery of C60 Buckminsterfullerene and how the study of carbon chemistry and materials science was changed by studying the role of carbon in space and stars
more
fewer
Audience Level
0

1
Kids
General
Special
Audience level: 0.61 (from 0.02 for Spectrosco ... to 0.97 for Harold Kro ...)
Associated Subjects
Advertising--Cosmetics
Architecture and technology
Atomic spectroscopy
Bethe, Hans A.--(Hans Albrecht),
Biotechnology
Buckminsterfullerene
Carbon
Chemical equilibrium
Chemistry
Cohen-Tannoudji, Claude,
Cosmetics
Cosmetics industry
Cosmetics--Testing
Cronin, James W.,
Davis, Raymond,
Design and technology
Discoveries in science
Enlightenment
Fragmentation reactions
Fullerenes
Hounsfield, Godfrey,
Humanities
Interdisciplinary approach to knowledge
Materials science
Mather, John C
Molecular dynamics
Molecular rotation
Molecular spectra
Molecular spectroscopy
Molecular structure
Nanostructured materials
Nanotechnology
Nobel Prizes
Nobel Prize winners
Phillips, William D.--(William Daniel),
Plasma (Ionized gases)
Quantum chemistry
Quantum theory
Rationalism
Reason
Recombinant molecules
Reines, Frederick,
Science and the humanities
Skin
Smalley, Richard E
Structure-activity relationships (Biochemistry)
Technology
Vapors
Video tapes
Zewail, Ahmed H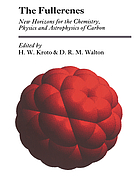 Alternative Names
Harold Kroto

Harold Kroto brit kémikus

Harold Kroto britischer Chemiker und Nobelpreisträger für Chemie

Harold Kroto britisk kjemiker og Nobelpristager i kjemi

Harold Kroto Brits scheikundige

Harold Kroto chimico inglese

Harold Kroto chimiste britannique

Harold Kroto químic britànic

Harold Kroto químico británico

Harold Walter Kroto

Harold Walter Kroto químico británico

Harolds Kroto

Kroto, H. W.

Kroto, Harold.

Kroto, Harold W.

Kroto, Harold Walter.

Kroto, Harold Walter, Sir

Kroto, Harry.

Krotoschiner, Harold

Krotoschiner, Harold Walter

Χάρρυ Κρότο

Гаролд Крото

Крото, Харольд

Хари Крото британски хемичар и нобеловец

הארי קרוטו

הארי קרוטו כימאי בריטי

هارولد كروتو

هارولد كروتو كيميائي بريطاني

هارولد کروتو شیمی‌دان بریتانیایی

ہیری کروٹو

हॅरोल्ड क्रोटो

হ্যারল্ড ওয়াল্টার ক্রোটো

クロトー, ハリー

クロート, ハロルド

ハロルド・クロトー

哈罗德·克罗托

Languages
Covers