Hill, Robert C. (Robert Charles) 1931-2007
Most widely held works about Robert C Hill
Most widely held works by Robert C Hill
Homilies on Genesis
by
John Chrysostom
( Book )
in
English
and held by 615 WorldCat member libraries worldwide
Commentary on the Psalms
by
Theodoret
( Book )
19 editions published between
2000
and 2001 in
English
and held by 615 WorldCat member libraries worldwide
Commentary on the twelve prophets
by
Theodore
( Book )
13 editions published between
1900
and 2010 in
English
and held by 548 WorldCat member libraries worldwide
"More than one modern scholar has been prepared to class Theodore as "the foremost exponent of Antiochene exegesis." Yet not long after his death in 428 - coincidentally, but significantly, the year Nestorius acceded to the see of Constantinople - Theodore became the object of intemperate criticism by the likes of Cyril of Alexandria for his Christological views. His works were condemned by the fifth ecumenical council of 553, and only the commentary on the Twelve Prophets, here appearing in English for the first time, survives entirely in Greek." "It would not have been this work that earned Theodore an unsavory reputation. Though he is typically Antiochene in focusing on the historical background of each of the Twelve prophets, and thus avoids the elaborate search after levels of spiritual meaning he would have found in the Alexandrian Didymus, he engages in no Christological debate, simply setting the divine economy as the context of the prophets' ministry. He moves systematically through the Twelve in the order they appear in the Antioch text (itself an object of interest to students of the Septuagint), despite his lack of Hebrew and of familiarity with the genre of apocalyptic."--Jacket
Commentary on the Twelve Prophets
by
Cyril
( Book )
5 editions published in
2007
in
English
and held by 530 WorldCat member libraries worldwide
"Cyril, Bishop of Alexandria (412-444), is best known as a protagonist in the christological controversy of the second quarter of the fifth century. Readers may be surprised therefore to find such polemic absent from this early work on the twelve minor prophets of the Old Testament. Indebted to the diverse approaches of Didymus, Jerome, and Theodore, Cyril appears in this work as a balanced commentator, eclectic in his attitude and tolerant of alternative views. Although he displays an occasional uncertainty in his grasp of historical and geographical details, as well as an inclination to verbosity, Cyril has conspicuously influenced the exegesis of his younger contemporary Theodoret of Cyrus, and has made a vital contribution to the development of biblical interpretation in the church."--Publisher description
Commentary on Zechariah
by
Didymus
( Book )
10 editions published in
2006
in
English
and held by 523 WorldCat member libraries worldwide
"The book of Zechariah is 'the longest and most obscure' of the Twelve Minor Prophets, Jerome remarked. That may have been the reason why in 386 he visited the Alexandrian scholar Didymus the Blind and requested a work on this prophet. Though long thought to be lost, the work was rediscovered in 1941 at Tura outside Cairo along with some other biblical commentaries. As a result we have in our possession a commentary on Zechariah by Didymus that enjoys particular distinction as his only complete work on a biblical book extant in Greek whose authenticity is established, which comes to us by direct manuscript tradition, and has been critically edited. Thus it deserves this first appearance in English." "A disciple of Origen, whose work on Zechariah reached only to chapter five and is no longer extant, Didymus's commentary on this apocalyptic book illustrates the typically allegorical approach to the biblical text that we associate with Alexandria. Even Cyril of Alexandria in the next generation will lean rather to the historical style of commentary found in the Antiochene scholars Theodore and Theodoret, whose works on the Twelve are also extant and who had Didymus open before them. Didymus alone offers his readers a wide range of spiritual meanings on the obscure verses of Zechariah, capitalizing on his extraordinary familiarity with Holy Writ (despite his disability), and proceeding on a process of interpretation-by-association, frequently invoking also etymology and number symbolism to plumb the meaning of the text."--Jacket
Commentary on Genesis
by
Didymus
( Book )
4 editions published in
2016
in
English
and held by 354 WorldCat member libraries worldwide
"Blind since early childhood, the Egyptian theologian and monk Didymus (ca. 313-398) wielded a masterful knowledge of Scripture, philosophy, and previous biblical interpretation, earning the esteem of his contemporaries Athanasius, Antony of Egypt, Jerome, Rufinus, and Palladius, as well as the historians Socrates and Theodoret in the decades following his death. Certain features of the Genesis commentary, unfortunately not preserved in its entirety, seem to indicate that it may have been Didymus's earliest work. Not only is he silent in regard to his other works, but remarks on specific heresies as well as christological interpretations occur much less frequently here than in his Zechariah commentary. Moreover, the heavier reliance on Philo and Origen may indicate relative inexperience. Whereas Didymus specifically names Philo in this commentary, he never identifies Origen as one of his sources even when quoting the latter verbatim. Like Origen, he rejects anthropomorphic interpretations and proceeds to an allegorical approach when the literal meaning repels him. He does not, however, neglect the literal-historical level; see, for example, his examination of the story of the Flood. All three of Origen's levels of interpretation--literal, moral, and allegorical--are mobilized here. This previously untranslated text is crucial for studies of the fourth century and of the monumental influence of Origen."
Diodori Tarsensis Commentarii in Psalmos
by
Diodore
( Book )
20 editions published in
2005
in
English
and held by 223 WorldCat member libraries worldwide
Diodore of Tarsus presided over the Antiochene school of interpretation in its heyday. In his sole surviving exegetical work on the Old Testament he formulated the principles of interpreting Scripture taught in that school. Available here for the first time in English is Diodore's commentary on Psalms 1-51, with Robert C
Reading the Old Testament in Antioch
by
Robert C Hill
( Book )
14 editions published between
2005
and 2010 in
English
and held by 216 WorldCat member libraries worldwide
In the period between the councils of Nicea and Chalcedon in the fourth and fifth centuries, the faithful in the churches of the ecclesiastical district of Antioch were the beneficiaries of the ministry of the Word from distinguished pastors. Included in this ministry were homilies on the Old Testament by John Chrysostom and written commentaries by his mentor Diodore and his fellow student Theodore, and later by Theodoret. Though the biblical text was admittedly Jewish in origin, "the text and the meaning are ours," claimed Chrysostom; and the great bulk of extant remains reveals the pastoral priority given to this often obscure material. Students and exegetes of the Old Testament and its individual authors and books will be introduced here to Antioch¹s distinctive approach and interpretation by commentators reading their local form of the Greek Bible. --From publisher's description
Commentary on Daniel
by
Theodoret
( Book )
20 editions published in
2006
in 3 languages and held by 213 WorldCat member libraries worldwide
more
fewer
Audience Level
0

1
Kids
General
Special
Audience level: 0.24 (from 0.02 for Homilies o ... to 0.83 for Camp in Ru ...)
Related Identities
Associated Subjects
Allegorical interpretations
Ambassadors
Armed Forces--Officers
Bible.--Daniel
Bible.--Exodus
Bible.--Genesis
Bible.--Minor Prophets
Bible.--Old Testament
Bible.--Prophets
Bible.--Psalms
Bible.--Zechariah
Callaway, Howard H.--(Howard Hollis),
Christianity--Origin
Christian literature, Early
Christian literature, Early--Greek authors
Church history--Primitive and early church
Diplomacy
Diplomatic relations
Diplomats
Dulles, Allen,
Dulles, Eleanor Lansing,
Dulles, John Foster,
Eisenhower, Dwight D.--(Dwight David),
Employees
Fathers of the church
Government executives
Hill, Robert C.--(Robert Charles),
Howard, Katherine Graham,
John Chrysostom,--Saint,
Latin America
Manuscripts, American
Mexico
Miserere
Politics and government
Prophets
Religion
Ruggles, Daniel,
Sermons
Sermons, Early Christian
Sermons, Greek
Theodoret,--Bishop of Cyrrhus
Theology--Early church
Turkey--Antioch
United States
United States.--Army
United States.--Army.--Infantry, 5th
United States.--Department of Defense
United States.--Department of State
Utah Expedition (1857-1858)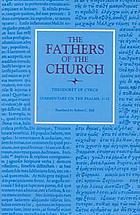 Alternative Names
Hill, Charles 1931-

Hill, R. Charles 1931-2007

Hill, R. Charles (Robert Charles), 1931-2007

Hill, Robert C.

Hill, Robert C. 1931-

Hill, Robert C. 1931-2007

Hill, Robert C. (Robert Charles), 1931-

Hill, Robert Charles, 1931-

Hill Robert Charles 1931-2007

Hill, Robert (teologia)

Languages
Covers