Smoot, George
Most widely held works about George Smoot
Most widely held works by George Smoot
Wrinkles in time
by
George Smoot
( Book )
56 editions published between
1993
and 2007 in 10 languages and held by 2,285 WorldCat member libraries worldwide
Wrinkles in Time presents the hard science behind the structured violence of the big bang theory through breathtakingly clear, lucid images and meaningful comparisons. Scientists and nonscientists alike can follow with rapt attention the story of how, in a fiery creation, wrinkles formed in space ultimately to become stars, galaxies, and even greater delicate structures. Anyone can appreciate the implications of a universe whose end is written in its beginnings - whose course developed according to a kind of cosmic DNA, which guided the universe from simplicity and symmetry to ever-greater complexity and structure. As controversial as it may seem today, Wrinkles in Time reveals truths that, in an earlier century, would have doomed its proclaimers to the fiery stake. For four thousand years some people have accepted the Genesis account of cosmic origin; for most of this century, scientists debated two rival scientific explanations known as the steady state and big bang theories. And now, Wrinkles in Time tells what really happened
Secrets of the universe the big bang, astrophysics, space ...
( )
2 editions published in
2000
in
English
and held by 9 WorldCat member libraries worldwide
The disc contains interviews with 9 of the greatest contemporary physicists covering 3 basic topics, the big bang theory, the infitesimally small and the infinitely great. It also includes animations, experiments and more
Cosmic microwave background anisotropy detected by the COBE DMR
by
George Smoot
( Visual )
1 edition published in
1992
in
English
and held by 2 WorldCat member libraries worldwide
The Cosmic Background Explorer (COBE) satellite has probed the early universe primarily through precise measurements of the of the cosmic microwave background (CMB) radiation. George Smoot, Lawrence Berkeley Laboratory, presents results from the analysis of data collected by the COBE Differential Microwave Radiometers (COBE DMR). The CMB spectrum is well described as a 2.73K blackbody and in combination with other spectrum measurements reveal a great deal about the thermal history of the early universe. The COBE maps of the CMB anisotropy reveal evidence of the formation of structure in the universe, consistent with theories such as inflation and cold dark matter
Early results from the COBE (Cosmic Background Explorer)
by
George Smoot
( Visual )
1 edition published in
1990
in
English
and held by 2 WorldCat member libraries worldwide
The COBE satellite, launched on November 18, 1989, is measuring and mapping the sky in the wavelength range 1 micron to 9 mm. This mission is designed to study the cosmic microwave and infrared background radiations and the cosmological implications of these backgrounds
by
Gravity Research Foundation
( )
in
English
and held by 1 WorldCat member library worldwide
Essays and abstracts. The collection comprises a complete set of essays submitted to the Gravity Research Foundation's annual essay contest on gravitation, its theory, applications or effects. Also included are abstracts of award winning and honorable mention essays from 1961-2014. The winners of first prize, in chronological order (1949-2014), are: David B. Wittry, Richard A. Ferrell, Myron Jordan Lover, Gabor Strasser, Bryce S. DeWitt, Stanley Deser and Richard Arnowitt, Frederick J. Belinfante, Philip Morrison and Thomas Gould, Guiseppe Cocconi and Edwin Salpeter, J. Weber, Lloyd Motz, Winston H. Bostick, G.M. Clemence, Joseph W. Weinberg and Gerald E. Tauber, Banesh Hoffmann, Kurt Just, Peter R. Phillips, P.A. Sturrock, David Layzer, V.W. Hughes and W.C. Williams, P.A. Feldman and J.R. Gribbin, Stephen W. Hawking, John Faulkner, Arthur E. Fischer, Joseph Silk, Roger Penrose, Peter Kafka and Peter Mészáros, Abhay Ashtekar, R. Brout, F. Englert and E. Gunzig, G.F.R. Ellis, D.N. Schramm, Jacob D. Beckenstein, Gary T. Horowitz, Jeeva Anandan, Lawrence M. Krauss; Lizhi Fang and Humitaka Sato (1985); M.J. Bowick, L. Smolin and L.C.R. Wijewardhana (1986); Tanmay Vachaspati (1987); Itzhak Bars and Christopher N. Pope (1988); Huei Peng and Douglas G. Torr (1989); Bruce Allen (1990); Michael S. Turner (1991); Robert M. Wald (1992); George F. Smoot and Paul J. Steinhardt (1993); T. Damour and A. M. Polyakov (1994); Gary T. Horowitz and Robert Myers (1995); D. V. Ahluwalia and C. Burgard (1996); Robert Myers (1997); Viqar Husain (1998); John Ellis, N.E. Mavromatos and D.V. Nanopoulos (1999); Arthur Lue and Erick J. Weinberg (2000); Csaba Csáki, Joshua Ehrlich and Christophe Grojean (2001); Steven B. Giddings (2002); Martin Bojowald (2003); Maulik Parikh (2004); John Ellis, Nikolaos E. Mavromatos, and Dimitri V. Nanopoulos (2005); Vijay Balasubramanian, Donald Marolf, Moshe Rozali (2006), Steven Carlip (2007), T. Padmanabhan (2008), Alexander Burinskii (2009), Mark Van Raamsdonk (2010), Ivan Agullo and Leonard Parker (2011), Claus Kiefer and Manuel Kramer (2012); Baocheng Zhang, Qing-yu Cai, Ming-sheng Zhan, and Li You (2013) and Lawrence M. Krauss and Frank Wilczek (2014)
more
fewer
Audience Level
0

1
Kids
General
Special
Audience level: 0.26 (from 0.20 for Show me Go ... to 1.00 for Cosmic Bac ...)
Associated Subjects
Apologetics
Astrophysicists
Atoms
Bible and science
Big bang theory
Brigham Young Academy
Church of Jesus Christ of Latter-day Saints
Clemence, Gerald M.--(Gerald Maurice),
Cosmic background radiation
Cosmology
Creation
DeWitt, Bryce S.--(Bryce Seligman),
England
Estimation theory
Expanding universe
Fang, Lizhi
Geology--Data processing
Giddings, Steven B
Gravity--Research
Hawking, Stephen,
Hoffmann, Banesh,
Land grants
Layzer, David
Life on other planets
Marolf, Donald
Mather, John C
Missions
Mormons--Persecutions
Nobel Prizes
Parker, Leonard Emanuel,
Penrose, Roger
Physicists
Physics
Physics--Experiments
Politics and government
Provo (Utah)
Radiation--Measurement
Religion and science
Salpeter, Edwin E
Salt Lake City (Utah)
Sangamon County (Ill.)
Schramm, David N
Smoot, George
Solar system
Space and time
Stream measurements
Sturrock, Peter A.--(Peter Andrew)
United States
Weber, J.--(Joseph),
Woodruff, Wilford,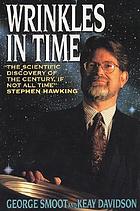 Alternative Names
George F. Smoot American astrophysicist and cosmologist

George Fitzgerald Smoot astrofisico e cosmologo statunitense

George Fitzgerald Smoot III.

George Fitzgerald Smoot US-amerikanischer Astrophysiker und Nobelpreisträger

George Smoot

George Smoot Amerikaans astronoom

Smoot, George F.

Smoot, George F. 1945-

Smoot, George Fitzerald 1945-

Smoot, George Fitzgerald 1945-

Джордж Смут

Смут, Джордж

Џорџ Смут

ג'ורג' סמוט

جارج ایف سموٹ

جارج سموٹ

جرج اسموت

جورج سموت

گەۆرگە سمۆۆت

जोर्ज एफ स्मूट

जॉर्ज एफ. स्मूट भौतिकशास्त्रातील नोबेल पारितोषिकविजेता शास्त्रज्ञ.

জর্জ এফ স্মুট

ஜியார்ஜ் ஸ்மூட்

จอร์จ สมูท

조지 스무트

ジョージ・スムート

スムート, ジョージ

乔治·斯穆特

Languages
Covers