Ibn Warraq
Most widely held works by Ibn Warraq
Why I am not a Muslim
by
Ibn Warraq
( Book )
31 editions published between
1995
and 2014 in 7 languages and held by 1,129 WorldCat member libraries worldwide
Warraq examines the life of Muhammad, the writing of the Koran and the spread of Islam. He also examines the dark side of Islam such as the Salman Rushdie affair, the oppression of women, and the suppression of basic human rights
The quest for the historical Muhammad
( Book )
11 editions published between
1995
and 2000 in
English
and held by 938 WorldCat member libraries worldwide
Scholars debate the accuracy of the Koran, quest to discover the biographical history of Muhammad, and debate the precepts of Islamic law
What the Koran really says : language, text, and commentary
( Book )
11 editions published between
2002
and 2007 in
English
and held by 761 WorldCat member libraries worldwide
Islam has worldwide influence, and even in the United States is experiencing a period of unprecedented growth. Its sacred book, the Koran, is the subject of voluminous commentary, yet it rarely receives the kind of objective critical scrutiny that has been applied to the texts of the Bible for over a century. To correct this neglect of objective scholarship, Ibn Warraq has assembled this excellent collection of critical commentaries on the Koran published by noted scholars from the beginning of the 20th century to recent times. These important studies, as well as his own lengthy introduction, show that little about the text of the Koran can be taken at face value. Among the fascinating topics discussed is evidence that early Muslims did not understand Muhammad's original revelation, that the ninth-century explosion of literary activity was designed to organize and make sense of an often incoherent text, and that much of the traditions surrounding Muhammad's life were fabricated long after his death in an attempt to give meaning to the Koran. Also of interest are suggestions that Coptic and other Christian sources heavily influenced much of the text and that some passages reflect even an Essenian background reaching back to the community of the Dead Sea Scrolls. This outstanding volume will be a welcome resource to interested lay readers and scholars alike. - Publisher
Leaving Islam : apostates speak out
( Book )
9 editions published between
2003
and 2008 in
English
and
Dutch
and held by 554 WorldCat member libraries worldwide
"In the West, those who abandon their religion (apostates) find it to be a difficult, emotional decision that sometimes carries with it social repercussions, such as physical and psychological isolation from family, friends, and colleagues. However, in culturally diverse societies with a mixture of ethnic groups and various philosophies of life, most people look upon such intellectual shifts in allegiance as a matter of personal choice and the right of the individual. In stark contrast, the socially restricted Muslim world still views apostasy as an unthinkable act, and orthodox Muslims consider it a crime punishable by death." "Defying the death penalty that all apostates potentially face in the Islamic world, the ex-Muslims represented here feel it is their duty to speak up against their former faith, to tell the truth about the fastest-growing religion in the world."--Jacket
Defending the West : a critique of Edward Said's Orientalism
by
Ibn Warraq
( Book )
11 editions published between
2007
and 2009 in
English
and held by 469 WorldCat member libraries worldwide
"This is the first systematic critique of Edward Said's influential work Orientalism, a book that for almost three decades has received wide acclaim in both the East and the West, voluminous commentary by scholars, and translation into more than fifteen languages." "In this thorough reconsideration of Said's famous work, Ibn Warraq argues that Said's case against the West is seriously flawed. Warraq accuses Said of not only willfully misinterpreting the work of many scholars but also of systematically misrepresenting Western civilization as a whole. With example afer example, Warraq shows that from the time of the ancient Greeks, Western civilization has always had a strain in its very makeup that accepted non-Westerners and has always been open to foreign ideas. Warraq also criticizes Said for inadequate methodology, incoherent arguments, and a faulty understanding of history. He points out not only Said's tendentious interpretations but also historical howlers that would make a sophomore blush."--Jacket
Virgins, what virgins? : and other essays
by
Ibn Warraq
( Book )
4 editions published in
2010
in
English
and held by 159 WorldCat member libraries worldwide
"In this wide-ranging collection of insightful, controversial, and often-witty essays, the renowned author of Why I Am Not a Muslim has created a representative selection of his best work on the Koran and various problems posed by the interaction of Islam with the West. The title of the collection comes from an article that originally appeared in the London Guardian on recent textual studies of the Koran. This research suggests that, contrary to a longstanding Muslim belief about the afterlife, a harem of beautiful virgins may not be waiting for the faithful male departed in heaven. For the many readers of his books who have wondered about his background, the author begins with a charming personal sketch about his upbringing in England and his unabashed Anglophilia. A section on Koranic criticism includes excerpts from two of his books, What the Koran Really Says and Which Koran? No stranger to controversy and polemics, the author devotes two sections to articles that consider the totalitarian nature of contemporary political Islam and explore the potential for an Islamic Reformation comparable to the Protestant Reformation in the West. The concluding section is composed of Ibn Warraq's journalism, including a critique of reputed Muslim reformer Tariq Ramadan, a defense of Western culture ("Why the West Is Best"), an article about the Danish cartoons that provoked widespread Muslim outrage, and even a commentary on heavy metal music in a Muslim setting. This thoughtful, engaging collection on diverse topics will interest both longtime readers of Ibn Warraq and those new to his work."--Publisher's description
Koranic allusions : the Biblical, Qumranian, and pre-Islamic background to the Koran
( Book )
4 editions published in
2013
in
English
and held by 129 WorldCat member libraries worldwide
"For anyone with an interest in the early history of Islam, this erudite anthology will prove to be informative and enlightening. Scholars have long known that the text of the Koran shows evidence of many influences from religious sources outside Islam. For example, stories in the Koran about Abraham, Moses, Jesus, and other characters from the Bible obviously come from the Jewish Torah and the Christian Gospels. But there is also evidence of borrowing in the Koran from more obscure literature. In this anthology, the acclaimed critic of Islam Ibn Warraq has assembled scholarly articles that delve into these unusual, little-known sources. The contributors examine the connections between pre-Islamic poetry and the text of the Koran; and they explore similarities between various Muslim doctrines and ideas found in the writings of the Ebionites, a Jewish Christian sect that existed from the second to the fourth centuries. Also considered is the influence of Coptic Christian literature on the writing of the traditional biography of Muhammad"--
Christmas in the Koran : Luxenberg, Syriac, and the Near Eastern and Judeo-Christian background of Islam
( Book )
4 editions published in
2014
in
English
and held by 112 WorldCat member libraries worldwide
"Centering on the pioneering work of Christoph Luxenberg, this anthology of scholarly yet accessible studies of the Koran makes a convincing case that Islam's holy book borrowed heavily from Christian texts in Syriac and other Near Eastern sources. In this important compilation, Ibn Warraq focuses on the pioneering work in Syriac and Arabic linguistics of Christoph Luxenberg, a native speaker of Arabic who lives in the West and writes under a pseudonym. Luxenberg's careful studies of the Koran are significant for many reasons. First, he has clarified numerous obscurities in the Koran by treating the confusing passages as poor translations into Arabic of original Syriac texts. He demonstrates that when one translates the difficult Arabic words back into Syriac, the meaning becomes clear. Beyond textual clarity, Luxenberg's scholarship provides ample evidence that the Koran developed from a Judeo-Christian background, since Syriac (a dialect of Aramaic) was the main language of both Jews and Christians in the Middle East before the advent of Islam. Ibn Warraq supplies English translations of key articles by Luxenberg that originally appeared in German and have never before been available to an English readership. This is followed by commentary by other scholars on Luxenberg's work. Also included are articles by earlier specialists who anticipated the later insights of Luxenberg, and more recent scholarship inspired by his methodology. Erudite but accessible, this groundbreaking collection is must reading for anyone with an interest in the origins of the Koran and the early history of Islam."
Why the West is best : a Muslim apostate's defense of liberal democracy
by
Ibn Warraq
( Book )
3 editions published in
2011
in
English
and held by 111 WorldCat member libraries worldwide
We, in the West in general, and the United States in particular, have witnessed over the last twenty years a slow erosion of our civilizational self-confidence. Under the influence of intellectuals and academics in Western universities, intellectuals such as Gore Vidal, Susan Sontag, Edward Said, and Noam Chomsky, and destructive intellectual fashions such as post-modernism, moral relativism, and mulitculturalism, the West has lost all self-confidence in its own values, and seems incapable and unwilling to defend those values. By contrast, resurgent Islam, in all its forms, is supremely confid
more
fewer
Audience Level
0

1
Kids
General
Special
Audience level: 0.37 (from 0.26 for Why the We ... to 0.99 for Nēnu musl ...)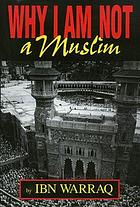 Alternative Names
Ibn Warrāq

Ibn Warrāq 1946-

Ibn Warraq Autor und Islamkritiker

Ibn Warraq écrivain pakistanais

Ibn Warraq escriptor pakistanès

Ibn Warraq escritor pakistaní

Ibn Warraq Indiaas schrijver

Ibn Warraq indisk författare

Ibn Warraq indisk skribent

Ibn Warraq scrittore indiano

Ibn Wirāq 1946-

Warraq 1946-

Warraq, Ibn.

Warraq, Ibn 1946-

Ибн Варрак

Ибн Уарак

ابن وراق

ابن وراق كاتب باكستاني

ابن وراق نویسنده هندی

ഇബ്ൻ വാറഖ്

イブン・ワラック

Languages
Covers