Leloudis, James L.
Most widely held works by James L Leloudis
Schooling the New South : pedagogy, self, and society in North Carolina, 1880-1920
by
James L Leloudis
( Book )
8 editions published between
1996
and 1999 in
English
and held by 803 WorldCat member libraries worldwide
Schooling the New South is a vivid account of the relationship between education and society during a time of sweeping social change. James Leloudis recreates North Carolina's classrooms as they existed at the turn of the century and explores the wide-ranging social and psychological implications of the transition from old-fashioned common schools to modern graded schools. He argues that this critical change in methods of instruction both reflected and guided the transformation of the American South
Like a family : the making of a Southern cotton mill world
by
Michael H Frisch
( )
5 editions published between
1987
and 2000 in
English
and held by 684 WorldCat member libraries worldwide
A classic study of labor history in the textile industry of the South during the 1920s and 30s. The authors drew from extensive interviews, letters, and newspaper articles to reconstruct the lives and struggles of factory workers and their families. This edition includes a new prologue and epilogue
Oral history interview with Carl and Mary Thompson, July 19, 1979 : interview H-0182, Southern Oral History Program Collection (#4007)
by
Carl Thompson
( )
1 edition published in
2007
in
English
and held by 15 WorldCat member libraries worldwide
Mill workers Carl and Mary Thompson describe their experiences as skilled employees and active members of their local communities in this 1979 interview. The first part of the interview is dominated by Mary's narrative. As a pattern maker, Mary's job moved her around the Southeast, but as was true for many highly skilled workers, improvements in technology eliminated her job opportunities after World War II. She sought employment in the mills because her parents had been mill workers, and she attributes her abilities in negotiating the factory system and in supporting herself as an independent working woman to her upbringing. Though her parents were strict and expected all family members to contribute to the household income, she remembers her childhood fondly. She married at fifteen, but her first husband left her just after their daughter was born. She describes how she found childcare and also the social censure she faced as a young divorcee. Carl enters the interview during this part of the conversation. He and Mary reflect on how Roosevelt's New Deal policies affected mill workers. They also talk about the power structure in the mills and discuss why the nearby townspeople looked down on the textile workers. When asked about the religious practices in the textile towns, Carl and Mary both emphasize the importance of church in community life, particularly the Pentecostal or Holiness meetings. They both also share their conversion stories. In the mill villages, the Thompsons remember that people looked out for each other, lending help, money or other assistance when another person needed it. The end of the interview focuses on Carl's story, and he describes how he came to work in the mills at an early age. As a skilled male worker, Carl was often asked to work more dangerous jobs such as running the carding machine. He chose to protect himself by refusing to do anything he believed was unsafe, and this caused him to lose several jobs. Unlike Mary, Carl had few responsibilities as a young man, which enabled him to quit jobs when he wanted, enabling him and some of his other friends to hitchhike around the country during the Depression, visiting other places and searching for jobs
Oral history interview with Alice P. Evitt, July 18, 1979 : interview H-0162, Southern Oral History Program Collection (#4007)
by
Alice P Evitt
( )
1 edition published in
2006
in
English
and held by 14 WorldCat member libraries worldwide
This interview provides a fascinating look at life in a southern mill town in the first half of the 20th century. Alice Evitt, born in 1898, discusses growing up and raising a family in rural North Carolina. She describes life in a mill town near Charlotte, including the atmosphere of the cotton mill where she worked, her daily routine, and recreational activities. She also briefly recalls her participation in an unsuccessful strike in the 1930s. While Evitt describes a difficult life, she does not seem to look back on her mill experiences with any regret or resentment. There is a great deal of anecdotal information about mill town life in this interview that was not excerpted. Researchers interested in a more complete picture may wish to read the entire interview
Oral history interview with Edna Y. Hargett, July 19, 1979 : interview H-0163, Southern Oral History Program Collection (#4007)
by
Edna Y Hargett
( )
1 edition published in
2007
in
English
and held by 14 WorldCat member libraries worldwide
Edna Yandell Hargett grew up in a working class family. Originally from Camden, South Carolina, Hargett's family lived for a time in Rock Hill and Burlington, North Carolina, as well as Charleston, South Carolina. By the early 1920s, they had settled in Charlotte, North Carolina, where they lived in the mill village, North Charlotte. Most children of mill workers, Hargett explains, left school in order to start working in the mills when they were sixteen. Hargett dropped out of school at around the age of 14; still too young to work in the mills, she was sent by her father to work in a local dime store. At that point, the family was living in Charleston, and Hargett took advantage of an opportunity to attend Hughes Business College, where she studied stenography. Her studies were halted when the family moved to North Charlotte, however, and she went to work in the textile mills. According to Hargett, because of mill traditions, parents would train their children, and she describes how her father taught her how to weave. Once she was trained, the mill hired her, and she worked in various Charlotte mills for the next several decades. Shortly after she became a skilled weaver and smash hand in the textile mills, Hargett married. Because she was only seventeen, she and her husband-to-be traveled to South Carolina, with her father as an escort, where they were married. Within a year, she had given birth to the first of her three sons. Hargett describes the effort of caring for her family while continuing to work at the mill. Like most of the other mill families, Hargett had the help of an African American nursemaid, which was particularly important following her divorce. She also received help from the close-knit mill community. Because they worked together and lived together, the inhabitants of the North Charlotte mill village were like "one big family," one she discusses throughout the interview
The first century of the first state university
( )
in
English
and held by 13 WorldCat member libraries worldwide
"The First Century of the First State University" presents materials that document the creation and growth of the University of North Carolina during the period 1776-1875. The collection is accompanied by essays from Professor James L. Leloudis and Botany Librarian William R. Burk that provide historical and contextual information for the documents
Black freedom and the University of North Carolina, 1793-1960
by John Kenyon Chapman
( )
2 editions published in
2006
in
English
and held by 8 WorldCat member libraries worldwide
Recent histories of the University of North Carolina trivialize the institution's support for white supremacy during slavery, Reconstruction, and Jim Crow, while denying that this unjust past affects the university today. The celebratory lens also filters out African American contributions to the university. In fact, most credit for UNC's increased diversity is due to the struggles of African Americans and other traditionally disenfranchised groups for equal rights. During both the 1860s and the1960s, black freedom movements promoted norms of democratic citizenship and institutional responsibility that challenged the university to become more honest, more inclusive, and more just. By censoring this historical viewpoint, previous scholarship has contributed to a culture of denial and racial historical amnesia that heralds UNC as the "University of the People," without seriously engaging questions of justice in the past or the present. This dissertation demonstrates that before 1865, the gentry used the university to promote the growth of slavery. Following Emancipation, university trustees led the white supremacy campaign to suppress black freedom and Radical Reconstruction. At the turn of the century, university leaders organized the movement for black disfranchisement and segregation that led to Jim Crow. Until the 1960s, the university enforced Jim Crow in its employment practices and its relations with the Town of Chapel Hill. Throughout its history, black workers were the main force challenging UNC's institutional racism on campus, in Chapel Hill, and throughout the state. An extended Epilogue examines how the university's institutional culture changed during the 1960s from an open defense of Jim Crow to acceptance of non-discrimination. Although the university accepted formal equality in admissions, employment, and its relations with the larger community, it did not acknowledge or attempt to dismantle the institutional structures of white supremacy that it had helped to create throughout its history. In this way, UNC established a paradigm of diversity without justice to replace Jim Crow, replacing the open celebration of white supremacy with new forms of subtle, "colorblind" institutional racism that persist today
more
fewer
Audience Level
0

1
Kids
General
Special
Audience level: 0.16 (from 0.09 for To right t ... to 0.80 for Campus lif ...)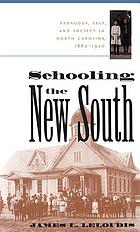 Covers
Alternative Names
Leloudis, James.

Leloudis, James L.

Leloudis, James Linwood.

Languages