Maschner, Herbert D. G.
Most widely held works by Herbert D. G Maschner
Peoples of the Northwest Coast : their archaeology and prehistory
by
Kenneth M Ames
( Book )
10 editions published between
1999
and 2000 in
English
and held by 495 WorldCat member libraries worldwide
America's Northwest Coast is one of the richest and most distinct cultural areas on earth, extending some 1,400 miles from Alaska to northern California. The region is famous for its magnificent art - masks, totem poles, woven blankets - produced by the world's most politically and economically complex hunters and gatherers. For well over a century the area has been the focus of intensive ethnographic and art historical research, yet a distorted picture has arisen of a static society, of a "people without history." Only now, thanks to recent archaeological fieldwork, are scholars rediscovering that history. As this pioneering account shows, the history of settlement on the Northwest Coast stretches back some 11,000 years. With the stabilization of sea levels and salmon runs after 4,000 BC, many of the region's s salient features began to emerge. Salmon fishing supported rapid population growth to a peak over 1,000 years ago. The spread of rainforest made available trees such as red ceder that could be turned into vast houses and seaworthy canoes. Large households and permanent villages emerged alongside slavery and a hereditary nobility. Warfare become endemic, initially hand to hand, but later characterized by the development of fortresses and the bow and arrow. Art evolved from simple carvings and geometric designs 5,000 years ago to a specialized crafts of the modern era. -- from back cover
Handbook of archaeological theories
by
Christopher Chippindale
( Book )
2 editions published between
2008
and 2009 in
English
and held by 442 WorldCat member libraries worldwide
This handbook, a companion to the authoritative Handbook of Archaeological Methods, gathers original, authoritative articles from leading archaeologists on all aspects of the latest thinking about archaeological theory. It is the definitive resource for understanding how to think about archaeology
Anthropology, space, and geographic information systems
by
Mark S Aldenderfer
( Book )
16 editions published in
1996
in
English
and held by 374 WorldCat member libraries worldwide
"Major advances in the use of geographic information systems have been made in both anthropology and archaeology. Yet there are few published discussions of these new applications and their use in solving complex problems. This book explores these techniques, showing how they have been successfully deployed to pursue research previously considered too difficult - or impossible - to undertake. Among the projects described here are studies of land degradation in the Peruvian Amazon, settlement patterns in the Pacific northwest, ethnic distribution within the Los Angeles garment industry, and prehistoric sociopolitical development among the Anasazi. Following an introduction that discusses the theory of geographic information systems in relation to anthropological inquiry, the book is divided into sections demonstrating actual applications in cultural anthropology, archaeology, opaleoanthropology, and physical anthropology. The work will be of much interest within all these communities."--Jacket
The Northern world, AD 900-1400
( Book )
4 editions published in
2009
in
English
and held by 261 WorldCat member libraries worldwide
"The region stretching across the Arctic from the Bering Straits to Greenland is one of the most critical for understating modern global climate change, especially as it affects keystone species and indigenous peoples. However, substantial changes in the arctic environment are not solely modern phenomena. The period between AD 900 and 1400 witnessed some of the most dynamic and variable arctic climates since the last Ice Age. Throughout the period from the Medieval Climatic Anomaly (an unusually warm period) to the Little Ice Age, this region also saw two of the greatest migrations in human history, an unprecedented level of warfare among hunters, the rise and fall of widespread cultures, hemispheric trade networks, and the beginnings of today's indigenous northern peoples [Native or Aboriginal peoples]. The Northern World presents the Arctic as a dynamic, interactive, and connected region of peoples and landscapes that has proven remarkably adaptable to changing climate and social systems."--Pub. desc
Time and change : archaeological and anthropological perspectives on the long-term in hunter-gatherer societies
( Book )
1 edition published in
2008
in
English
and held by 155 WorldCat member libraries worldwide
"This volume explores long-term behavioural patterns and processes of change in hunter-gatherer societies from the Lower Palaeolithic to the present. In doing so, this volume questions the disciplinary distinctions between the fine and coarse-grain understandings of hunter-gatherer societies in anthropology and archaeology and challenges the perception that these distinctions are inherent to the two disciplines. The volume brings together studies that specifically address long-term behavioural patterns in hunter-gatherer societies past and present. Some of the contributors also combine historical/archival data and archaeological evidence with anthropological work on contemporary hunter-gatherers. The papers are based on case studies that, taken together, cover a wide geographical and chronological range. They represent current research dynamics in anthropology and archaeology across the globe (North and South America, Europe and Australia), and a variety of theoretical perspectives. The papers range chronologically from the Lower Palaeolithic to the present, and encompass groups at various levels of complexity of social organisation and degrees of sedentism, interaction with farmers and 'pristine-ness'."--book jacket
more
fewer
Audience Level
0

1
Kids
General
Special
Audience level: 0.42 (from 0.03 for Ethnohisto ... to 1.00 for Reconstruc ...)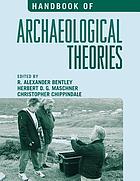 Alternative Names
Maschner, Herbert

Maschner, Herbert 1959-

Maschner, Herbert D.

Maschner, Herbert D. G.

Maschner, Herbert Donald Graham 1959-

Languages
Covers