Thomas, Gary (Gary Lee)
Most widely held works by Gary Thomas
Sacred marriage : what if God designed marriage to make us holy more than to make us happy?
by
Gary L Thomas
( Book )
23 editions published between
1996
and 2015 in 5 languages and held by 594 WorldCat member libraries worldwide
"'Sacred Marriage' doesn't tell how to build a better marriage -- it shows how your marriage can help you deepen your relationship with God. From the practice of forgiveness, to the ecstasy of lovingmaking, to the history you and your spouse create together, everything about your marriage is filled with the potential for discovering and revealing Christ's character. Now with discussion questions for couples and small groups, this book may very well alter your marriage profoundly. It will most certainly change your. Because whether it is delightful or difficult, your marriage can become a doorway to a closer walk with God"--Page 4 of cover
Authentic faith : the power of a fire-tested life : what if life isn't meant to be perfect but we are meant to trust the One who is?
by
Gary Thomas
( Book )
6 editions published between
2002
and 2009 in
English
and held by 376 WorldCat member libraries worldwide
Best selling author Gary Thomas helps us sharpen our spiritual vision and fortify our commitment by examining ten disciples God uses to forge a fire-tested faith. A biblical view of these disciples can safeguard us from disillusionment when-not if-difficulties surface in our lives. Sharing scriptural insights, the wisdom of Christians through the centuries, and cogent personal observations, Thomas explores the disciplines of selflessness, waiting, suffering, persecution, social mercy, forgiveness, mourning, contentment, sacrifice, hope and fear
Won by love : Norma McCorvey, Jane Roe of Roe v. Wade, speaks out for the unborn as she shares her new conviction for life
by
Norma McCorvey
( Book )
2 editions published in
1997
in
English
and held by 356 WorldCat member libraries worldwide
In Roe v. Wade, perhaps the most controversial United States Supreme Court decision, Norma McCorvey fought for and won the right to secure an abortion. Though she never had an abortion, under the pseudonym "Jane Roe," Norma reluctantly became the poster child for the pro-choice movement. Over the next two decades, Norma experienced the grief and despair of millions of women who chose to abort their babies; she witnessed the destruction of thousands of human lives in abortion clinics where she worked; and the "champion: of the pro-choice movement was soon being crushed by the weight of so much death, and so many ill-considered "choices." Finally, she began to break. She found out that the real choice she had been burdened with was not about abortion but about eternal life. It was a choice that would shock the world and change Norma's life forever
Sacred pathways : discover your soul's path to God
by
Gary Thomas
( Book )
10 editions published between
1996
and 2015 in 3 languages and held by 348 WorldCat member libraries worldwide
Some Christians effortlessly spend hours in contemplative prayer. Just being around them makes you wish you were that way. Or maybe you are that way, but others are far better at showing God's love in practical ways or courageously standing up for God's kingdom. Why can't you be like them? Maybe you weren't designed to be. In this revised and updated edition of Sacred Pathways, Gary Thomas strips away the frustration of a one-size-fits-all spirituality and guides you toward a path of worship that frees you to be you. Experienced spiritual directors recognize that all of us pray differently; if your devotional times have hit a snag, perhaps it is because you're trying to follow someone else's path. This book explodes the barriers that keep Christians locked into rigid methods of worship and praise. Sacred Pathways unfolds nine distinct spiritual temperaments—their traits, strengths, and pitfalls. Illustrated with examples from the Bible and from the author's life experience, each one suggests an approach to loving God through a distinctive journey of adoration. In one or more you will see yourself and the ways you most naturally express your relationship with Jesus Christ. You'll also discover other temperaments that are not necessarily "you" but that you may wish to explore for the way they can stretch and invigorate your spiritual life. Perhaps you are a Naturalist. Prayer and praise well up within you when you're walking a forest path or drinking in a mountain's jagged beauty. Or maybe you're an Activist. Taking a stand for God's ways is your meat and drink. Whatever temperament or blend of temperaments best describes you, rest assured it's not by accident. It's by the design of a Creator who knew what he was doing when he made you according to his own unique intentions. If your spiritual walk is not what you'd like it to be, you can change that, starting here. Sacred Pathways will show you the route you were made to travel, marked by growth and filled with the riches of a close walk with God.- back of book
Sacred parenting : how raising children shapes our souls
by
Gary Thomas
( Book )
8 editions published between
2004
and 2009 in 3 languages and held by 184 WorldCat member libraries worldwide
"Many books have been written about how to parent a child effectively, how to become a better parent, and how effective parenting produces better kids. But Sacred Parenting--the new book by Gary Thomas, author of Sacred Marriage--delves into an entirely different reality: how parenting affects the parent. It explores the spiritual dynamics of parenting, and why caring for children is such an effective discipline in shaping our souls and forming the character of Christ within us. Thomas doesn't tell parents how to handle a chronically sick or rebellious child, but he does help parents find spiritual meaning behind the almost heroic care such children require. Because Sacred Parenting is not a 'how to' book, it openly admits the difficulties, struggles, and failures that often accompany parenting. And it goes on to show how God uses those trying and discouraging times to build up the parents who experience them. Parents of all children will be encouraged by the examples of how other men and women have successfully handled the challenges and occasional defeats of parenting, and will be inspired by stories that reaffirm the spiritual value of being a parent"--Publisher description
Lessons from a father to his son
by
John D Ashcroft
( Book )
1 edition published in
1998
in
English
and held by 179 WorldCat member libraries worldwide
Senator Ashcroft has written an engaging book that invites the reader into a world where values, family, citizenship, and faith define life at its highest and best. With profound understanding and acute insight, Lessons from a Father to His Son will serve as a beacon of truth for this generation and generations to come
The beautiful fight : surrendering to the transforming presence of God every day of your life
by
Gary Thomas
( Book )
2 editions published in
2007
in
English
and held by 157 WorldCat member libraries worldwide
In groundbreaking book that rethinks spirtual formation, Gary Thomas argues that the contemporary church is in danger of accepting Christianity as a historical reality but not as a present power. Is the grace that pardons powerful enough to transform? Answering with a resounding yes, Thomas presents a compelling picture of what it means to be a "God oasis" in a God-forgetting world
On my honor : the beliefs that shape my life
by
John D Ashcroft
( Book )
2 editions published in
2001
in
English
and held by 128 WorldCat member libraries worldwide
On the first day of his Senate confirmation hearings, John Ashcroft raised his right hand and vowed, "I swear to unhold the laws of the United States of America, so help me God." People who knew him intimately knew they could count on this. And so will others as they read On My Honor, a book that reveals Ashcroft's personal beliefs on racism, abortion, capital punishment, our judicial system, his faith in God, and more. These beliefs were not designed to answer his critics in the Senate. They are beliefs he has held for years, written when he still expected to serve a second term in the Senate. Here is an opportunity to judge this extraordinary man from his own words and deeds. As Ashcroft says, "The verdict of history is inconsequential; the verdict of eternity is what counts." On My Honor was previously published as Lessons From a Father to His Son, ISBN 07852-75401
Cherish : the one word that changes everything for your marriage
by
Gary Thomas
( Book )
5 editions published in
2017
in
English
and held by 125 WorldCat member libraries worldwide
"Thomas [believes] that although there are a countless number of marriages consisting of two people just going through the motions, there are real ways this pattern can be reversed: when husbands and wives learn to cherish one another in proven, loving, and everyday actions and words"--Amazon.com
more
fewer
Audience Level
0

1
Kids
General
Special
Audience level: 0.24 (from 0.16 for Jeff Gordo ... to 0.41 for Devotions ...)
Associated Subjects
Ashcroft, J. Robert
Ashcroft, John D.,
Attorneys general
Automobile racing drivers
Christian biography
Christian life
Evangelistic work
Families
Fathers
Friendship--Religious aspects--Christianity
God (Christianity)--Worship and love
Gordon, Jeff,
Legislators
Marriage
Marriage--Religious aspects--Christianity
Married people
McCorvey, Norma,
Parenting--Religious aspects--Christianity
Parents--Religious life
Philosophy
Pleasure--Religious aspects--Christianity
Pro-life movement
Religion
Roe, Jane,
Smith, Michael W.--(Michael Whitaker),
Spirituality
Spiritual life--Christianity
Spouses--Religious life
Temperament--Religious aspects--Christianity
United States
United States.--Congress.--Senate
Youth--Religious life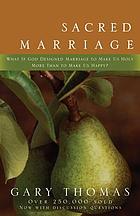 Alternative Names
Gary L. Thomas US-amerikanischer evangelischer Theologe, Pastor, Autor und Referent

Gary Thomas (author) Amerikaans motiverende spreker

Gary Thomas conférencier

Thomas, Gary 1961-

Thomas, Gary L.

Thomas, Gary L. (Gary Lee)

Thomas, Gary Lee

Thomas, Gary Lee 1961-

Гари Томас

گری توماس

Languages
Covers