Taleb, Nassim Nicholas 1960-
Most widely held works about Nassim Nicholas Taleb
Most widely held works by Nassim Nicholas Taleb
The black swan : the impact of the highly improbable
by
Nassim Nicholas Taleb
( Book )
153 editions published between
2007
and 2015 in 19 languages and held by 4,495 WorldCat member libraries worldwide
"A black swan is a highly improbable event with three principal characteristics: It is unpredictable; it carries a massive impact; and, after the fact, we concoct an explanation that makes it appear less random, and more predictable, than it was. The astonishing success of Google was a black swan; so was 9/11. For Nassim Nicholas Taleb, black swans underlie almost everything about our world, from the rise of religions to events in our own personal lives. Why do we not acknowledge the phenomenon of black swans until after they occur? Part of the answer, according to Taleb, is that humans are hardwired to learn specifics when they should be focused on generalities. We concentrate on things we already know and time and time again fail to take into consideration what we don't know. We are, therefore, unable to truly estimate opportunities, too vulnerable to the impulse to simplify, narrate, and categorize, and not open enough to rewarding those who can imagine the 'impossible.' For years, Taleb has studied how we fool ourselves into thinking we know more than we actually do. We restrict our thinking to the irrelevant and inconsequential, while large events continue to surprise us and shape our world. Now, in this revelatory book, Taleb explains everything we know about what we don't know. He offers surprisingly simple tricks for dealing with black swans and benefiting from them."--Jacket
Antifragile : things that gain from disorder
by
Nassim Nicholas Taleb
( Book )
32 editions published between
2012
and 2014 in 3 languages and held by 1,928 WorldCat member libraries worldwide
"The acclaimed author of the influential bestseller The Black Swan, Nicholas Nassim Taleb takes a next big step with a deceptively simple concept: the "antifragile." Like the Greek hydra that grows two heads for each one it loses, people, systems, and institutions that are antifragile not only withstand shocks, they benefit from them. In a modern world dominated by chaos and uncertainty, Antifragile is a revolutionary vision from one of the most subversive and important thinkers of our time. Praise for Nicholas Nassim Taleb "[This] is the lesson of Taleb. and also the lesson of our volatile times. There is more courage and heroism in defying the human impulse, in taking the purposeful and painful steps to prepare for the unimaginable."--Malcolm Gladwell, author of The Tipping Point "[Taleb writes] in a style that owes as much to Stephen Colbert as it does to Michel de Montaigne."--The Wall Street Journal "The most prophetic voice of all. [Taleb is] a genuinely significant philosopher. someone who is able to change the way we view the structure of the world through the strength, originality and veracity of his ideas alone."--GQ "Changed my view of how the world works."--Daniel Kahneman, Nobel laureate"--
The black swan : the impact of the highly improbable
by
Nassim Nicholas Taleb
( )
19 editions published between
2007
and 2015 in
English
and held by 1,116 WorldCat member libraries worldwide
Not all swans are white, and not all events--no matter what the experts think--are predictable. Taleb shows that black swans, like 9/11, cannot be foreseen and have an immeasurable impact on the world
The bed of Procrustes : philosophical and practical aphorisms
by
Nassim Nicholas Taleb
( Book )
29 editions published between
2010
and 2016 in 8 languages and held by 481 WorldCat member libraries worldwide
By the author of the modern classic The Black Swan, this collection of aphorisms and meditations expresses Taleb's view of modern civilization's hubristic side effects--modifying humans to satisfy technology, blaming reality for not fitting economic models, inventing diseases to sell drugs, defining intelligence as what can be tested in a classroom, and convincing people that employment is not slavery
Dynamic hedging : managing vanilla and exotic options
by
Nassim Nicholas Taleb
( Book )
14 editions published between
1995
and 2010 in
English
and
Spanish
and held by 325 WorldCat member libraries worldwide
"Dynamic Hedging is the definitive source on derivatives risk. It provides a real-world methodology for managing portfolios containing any nonlinear security. It presents risks from the vantage point of the option market maker and arbitrage operator. The only book about derivatives risk written by an experienced trader with theoretical training, it remolds option theory to fit the practitioner's environment. As a larger share of market exposure cannot be properly captured by mathematical models, noted option arbitrageur Nassim Taleb uniquely covers both on-model and off-model derivatives risks."--Jacket
Anti-fragile : how to live in a world we don't understand
by
Nassim Nicholas Taleb
( Book )
8 editions published in
2012
in
English
and held by 177 WorldCat member libraries worldwide
"The acclaimed author of the influential bestseller The Black Swan, Nicholas Nassim Taleb takes a next big step with a deceptively simple concept: the "antifragile." Like the Greek hydra that grows two heads for each one it loses, people, systems, and institutions that are antifragile not only withstand shocks, they benefit from them. In a modern world dominated by chaos and uncertainty, Antifragile is a revolutionary vision from one of the most subversive and important thinkers of our time
The bed of Procrustes : philosophical and practical aphorisms
by
Nassim Nicholas Taleb
( Recording )
8 editions published between
2010
and 2011 in
English
and held by 110 WorldCat member libraries worldwide
Presents the author's aphorism that touch on the ideas about the hubris of modern society presented in such earlier works as "The Black Swan" and "Fooled by Randomness."
<>
by
Nassim Nicholas Taleb
( Book )
20 editions published between
2013
and 2016 in 8 languages and held by 70 WorldCat member libraries worldwide
In seinem Weltbestseller "Der Schwarze Schwan" problematisierte Nassim Nicholas Taleb die zunehmende Unberechenbarkeit der Welt. Jetzt liegt sein wichtigstes Buch vor: In "Antifragilität" liefert Taleb die große, praktisch-philosophische Antwort auf die Herausforderungen unsicherer Zeiten. Nicht indem wir Zufälle und Ungewissheit um jeden Preis abzuwehren versuchen, gewinnen wir, sondern indem wir sie zu Stärken ummünzen. Bestand hat nur das Antifragile. Alles, was nicht antifragil ist, wird verschwinden. Antifragilität ist weit mehr als Robustheit oder Resilienz. Während das Widerstandsfähige im besten Fall einen Zustand beibehalten kann, wird das Antifragile besser und besser. Und es ist immun gegenüber falschen Vorhersagen. Warum kleine Strukturen besser sind als große, Stadtstaaten besser als Nationen, warum Schulden uns schaden und warum das, was wir als "effizient" bezeichnen, alles andere als effizient ist. Talebs Beispiele bedienen das ganze Spektrum von Finanzen und Wirtschaft, Politik, Wissenschaft und Privatleben. Multidisziplinär und mit großer Übersicht umreißt "Antifragilität" ein neues Denken für eine Welt, die bei allem Fortschritt niemals berechenbar sein wird
more
fewer
Audience Level
0

1
Kids
General
Special
Audience level: 0.32 (from 0.11 for A New Heur ... to 0.95 for Il cigno n ...)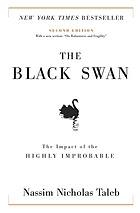 Alternative Names
Nassim Nicholas Taleb Amerikaans filosoof

Nassim Nicholas Taleb filosofo, saggista e matematico libanese

Nassim Nicholas Taleb US-amerikanischer Philosoph

Nassim Taleb

Taleb N. N. 1960-

Taleb, Nassim.

Taleb, Nassim 1960-

Taleb, Nassim N.

Taleb, Nassim N. 1960-

Taleb, Nassim Nicholas.

Taleb, Nassim Nicholas 1960-

Taleb, Nessim Nicholas 1960-

Taleb, Nissim Nicholas 1960-

Ṭalīb, Nasīm Nīqulla Naŷīb 1960-

Насим Талеб

Нассим Николас Талеб 1960-

Нассім Ніколас Талеб

Талеб, Нассим Николас 1960-

Талеб, Нассим Николя

Նասիմ Նիկոլաս Թալեբ

טאלב, נסים

טאלב, נסים ניקולס

טלב, נסים

טלב, נסים ניקולס

נאסים טאלב

نجيب, نسيم نيقولا 1960-

نسيم طالب، 1960-

نسيم نقولا طالب

نسیم طالب

نسیم نقولا طالب نویسنده لبنانی-آمریکایی

നസീം നിക്കോളാസ് താലിബ്

ნასიმ ნიკოლა ტალები

탈레브, 나심 니콜라스 1960-

탈렙, 나심 니콜라스 1960-

タレブ, ナシーム・ニコラス

ナシム・ニコラス・タレブ

納西姆·尼可拉斯·塔雷伯

Languages
Covers