Behe, Michael J. 1952-
Most widely held works about Michael J Behe
Most widely held works by Michael J Behe
Darwin's black box : the biochemical challenge to evolution
by
Michael J Behe
( Book )
73 editions published between
1996
and 2017 in 11 languages and held by 2,670 WorldCat member libraries worldwide
Virtually all serious scientists accept the truth of Darwin's theory of evolution. While the fight for its acceptance has been a long and difficult one, after a century of struggle among the cognoscenti the battle is over. Biologists are now confident that their remaining questions, such as how life on Earth began, or how the Cambrian explosion could have produced so many new species in such a short time, will be found to have Darwinian answers. They, like most of the rest of us, accept Darwin's theory to be true. But should we? What would happen if we found something that radically challenged the now-accepted wisdom? In Darwin's Black Box, Michael Behe argues that evidence of evolution's limits has been right under our noses -- but it is so small that we have only recently been able to see it. The field of biochemistry, begun when Watson and Crick discovered the double-helical shape of DNA, has unlocked the secrets of the cell. There, biochemists have unexpectedly discovered a world of Lilliputian complexity. As Behe engagingly demonstrates, using the examples of vision, bloodclotting, cellular transport, and more, the biochemical world comprises an arsenal of chemical machines, made up of finely calibrated, interdependent parts. For Darwinian evolution to be true, there must have been a series of mutations, each of which produced its own working machine, that led to the complexity we can now see. The more complex and interdependent each machine's parts are shown to be, the harder it is to envision Darwin's gradualistic paths, Behe surveys the professional science literature and shows that it is completely silent on the subject, stymied by the elegance of the foundation of life. Could it be that there is some greater force at work? Michael Behe is not a creationist. He believes in the scientific method, and he does not look to religious dogma for answers to these questions. But he argues persuasively that biochemical machines must have been designed -- either by God, or by some other higher intelligence. For decades science has been frustrated, trying to reconcile the astonishing discoveries of modern biochemistry to a nineteenth-century theory that cannot accommodate them. With the publication of Darwin's Black Box, it is time for scientists to allow themselves to consider exciting new possibilities, and for the rest of us to watch closely
The edge of evolution : the search for the limits of Darwinism
by
Michael J Behe
( Book )
19 editions published between
2007
and 2008 in
English
and held by 1,086 WorldCat member libraries worldwide
Draws on new findings in genetics to pose an argument for intelligent design that refutes Darwinian beliefs about evolution while offering alternative analyses of such factors as disease, random mutations, and the human struggle for survival
The edge of evolution : [the search for the limits of Darwinism]
by
Michael J Behe
( Recording )
12 editions published between
2007
and 2009 in
English
and held by 105 WorldCat member libraries worldwide
Draws on new findings in genetics to pose an argument for intelligent design that refutes Darwinian beliefs about evolution while offering alternative analyses of such factors as disease, random mutations, and the human struggle for survival
Kansas vs Darwin
by
Jeff Tamblyn
( Visual )
1 edition published in
2017
in
English
and held by 79 WorldCat member libraries worldwide
Character driven story of the politics and motivations behind the school board decision to challenge the teaching of evolution in Kansas public schools
Irreducible complexity : the biochemical challenge to Darwinian theory
by
Michael J Behe
( Visual )
3 editions published between
1997
and 2003 in
English
and held by 19 WorldCat member libraries worldwide
In a public lecture at Princeton University, Dr. Michael Behe addresses a number of questions related to the origin of biological systems: How does the existence of irreducibly complex biochemical systems falsify neo-Darwinian theory? Are there more plausible explanations for the complexity of life? Are we ultimately the result of undirected materialistic processes or the result of intelligent design? Are there other areas of science that point to intelligent design?
The biochemical challenge to evolution
by
Michael J Behe
( Book )
1 edition published in
2006
in
English
and held by 9 WorldCat member libraries worldwide
To the 19th century scientist, the cell was a complete mystery - a black box. Modern biochemists have unlocked the contents of the cell and discovered chemical machines of such beauty and complexity that, Behe argues, cannot have evolved by chance. Previous ed.: New York: Free, 1996
more
fewer
Audience Level
0

1
Kids
General
Special
Audience level: 0.27 (from 0.04 for Intelligen ... to 0.99 for Darwin fek ...)
Associated Subjects
Apologetics
Behe, Michael J.,
Cell interaction
Christianity and atheism
Christianity--Essence, genius, nature
Cosmology
Creation
Creation--Biblical teaching
Creationism
Creationism--Study and teaching--Law and legislation
Darwin, Charles,
Dembski, William A.,
Education and state
Evolution
Evolution (Biology)
Evolution (Biology)--Philosophy
Evolution (Biology)--Public opinion
Evolution (Biology)--Religious aspects
Evolution (Biology)--Religious aspects--Christianity
Evolution (Biology)--Study and teaching--Law and legislation
Evolution--Religious aspects--Christianity
Faith and reason
Genetics
Genomics
God--Proof, Teleological
Human body--Composition
Human evolution
Human evolution--Philosophy
Hume, David,
Intelligent design (Teleology)
Kansas
Kansas.--State Board of Education
Life--Origin
Molecular evolution
Molecular genetics
Mutation (Biology)
Naturalism
Paley, William,
Probabilities
Religion and science
School boards--Law and legislation
Science and law
Science--Philosophy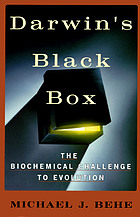 Covers
Alternative Names
Behe, Michael.

Michael Behe Amerikaans biochemicus

Michael Behe amerikai biokémikus

Michael Behe biochimico statunitense

Michael J. Behe

Michael J. Behe US-amerikanischer Biochemiker

Бихи, Майкл

Майкл Біхі

مايكل بيهي

مایکل بهی

마이클 베히

베히, 마이클 1952-

ベーエ, マイケル・J

マイケル・ベーエ

麥可·貝希

Languages