Gould, William 1973-
Most widely held works about William Gould
Most widely held works by William Gould
Hindu nationalism and the language of politics in late colonial India
by
William Gould
( )
16 editions published between
2004
and 2011 in
English
and held by 735 WorldCat member libraries worldwide
"William Gould explores what is arguably one of the most important and controversial themes in twentieth-century Indian history and politics: the nature of Hindu nationalism as an ideology and political language. Rather than concentrating on the main institutions of the Hindu right in India as other studies have done, the author uses a variety of historical sources to analyse how Hindu nationalism affected the supposedly secularist Congress in the key state of Uttar Pradesh. In this way, the author offers an alternative assessment of how these languages and ideologies transformed the relationship between Congress and north Indian Muslisms. The book makes a major contribution to historical analyses of the last two critical decades before Partition and Independence in 1947, which will be of value to scholars interested in historical and contemporary Hindu nationalism, and to students researching the final stages of colonial power of India."--Jacket
Religion and conflict in modern South Asia
by
William Gould
( )
13 editions published between
2011
and 2012 in
English
and held by 595 WorldCat member libraries worldwide
"This is an incisive analysis of religious conflict in South Asia, which, the author contends, arises out of the weakness of political and state structures rather than the clash of civilizations"--Provided by publisher
Bureaucracy, community, and influence in India : society and the state, 1930s-1960s
by
William Gould
( )
10 editions published between
2010
and 2013 in
English
and held by 459 WorldCat member libraries worldwide
Offering a fresh approach to the issue of government and administrative corruption through 'everyday' citizen interactions with the state, this book explores changing discourses and practices of corruption in late colonial and early independent Uttar P
Writing the city in British Asian diasporas
by
Seán McLoughlin
( Book )
2 editions published in
2014
in
English
and held by 103 WorldCat member libraries worldwide
"In 1962, the Commonwealth Immigrants Act hastened the process of South Asian migration to postcolonial Britain. Half a decade later, now is an opportune moment to revisit the accumulated writing about the diasporas that have been formed through subsequent settlement, and to probe the ways in which the South Asian diaspora could be re-conceptualised. Writing the City in British Asian Diasporas takes a fresh look at South Asian diasporas in the postcolonial period and will have multi-disciplinary resonance worldwide. The meaning and importance of the local, multi-local and trans-local is explored through a comparison of five British-Asian cities: Bradford, the East End of London, Manchester, Leicester and Birmingham. Analysing the 'writing' of these differently configured cities since the 1960s, its main focus is the significant discrepancies in representation between differently-positioned texts reflecting both dominant institutional discourses and everyday lived experiences of a locality. Part I offers a complete, yet still highly contested, reading of each city's archives. Part II examines how the arts and humanities fields of history, religion, gender and literary/cultural studies have all written British Asian diasporas, and how their perspectives might complement the better-established agendas of the social sciences. Providing an innovative analysis of the growing South Asian communities and their multi-local identities in Britain today, this interdisciplinary book will be of interest to scholars of South Asian Studies, Migration, Ethnic and Diaspora Studies, Sociology, and Anthropology"--
Hindu nationalism and the language of politics in late colonial India
by
William Gould
( )
1 edition published in
2004
in
English
and held by 10 WorldCat member libraries worldwide
In this book William Gould explores what is arguably one of the most important and controversial themes in twentieth-century Indian history and politics: the nature of Hindu nationalism as an ideology and political language. Rather than concentrating on the main institutions of the Hindu Right in India as other studies have done, the author uses a variety of historical sources to analyse how Hindu nationalism affected the supposedly secularist Congress in the key state of Uttar Pradesh. In this way, the author offers an alternative assessment of how these languages and ideologies transformed the relationship between Congress and north Indian Muslims. The book makes a major contribution to historical analyses of the critical last two decades before Partition and Independence in 1947, which will be of value to scholars interested in historical and contemporary Hindu nationalism, and to students researching the final stages of colonial power in India
The Indian papers of the 4th Earl of Minto : including his service on the North West Frontier during the Afghan War of 1879 and as Viceroy, 1905-1910
by
Gilbert John Murray Kynynmond Elliot Minto
( )
1 edition published in
2012
in
English
and held by 9 WorldCat member libraries worldwide
"The papers of Gilbert John Elliot-Murray-Kynynmound, the 4th Earl of Minto, (1845-1914), Viceroy of India between 1905 and 1910, cover a period of dramatic and momentous change in the history of colonial India. The beginning of Minto's tenure in India was marked by unprecedented anti-colonial protests against the partition of Bengal, initiated by Minto's predecessor, Curzon. It ended with the crucial 'Morley-Minto reforms' contained in the Government of India Act and the Indian Councils Act, both of 1909. These two new laws established, among other things, the constitutional principle of separate electorates for India's Muslim communities. This rich, varied and complex collection of documents forms part of a larger archive now held at the National Library of Scotland, and which covers almost the entire Elliot family of Minto. The 4th Earl's great-grandfather was the first family member to build an official connection with the Indian subcontinent, assuming the office of Governor General in 1807. Almost a century later, the 4th Earl was confronted with the sensitive political situation surrounding the partition of Bengal and the rise of radical nationalism in that same province, as well as in Maharashtra and Punjab. A key part of this collection contains weekly reports on the 'political situation', which reflect not only specifically Indian preoccupations, but also their impact on British domestic politics. For example, the correspondence of March and April 1906, between Minto and John Morley, Secretary of State for India, document how the latter had interviewed a deputation of fifty textile workers who were calling for the institution of health and medical inspectors into the Bombay factory system, ostensibly protesting against the 'callous inhumanity to children' working in India, but with one eye on British employers' concerns about Indian competition. There is also material here for the researcher of Indian social and educational history including, for example, detailed discussions on the founding of Aligarh Muslim University and on educational reform. Other parts of the collection move beyond India, to India's empire in Afghanistan and the Persian Gulf, including for example, letters relating to Minto's early personal experience as an officer fighting on the North West Frontier in 1879, as well as correspondence with Cromer in relation to Egypt, Earl Grey in relation to wider colonial and imperial affairs and correspondence with governors of other imperial territories, for example Canada, around wider Indian migration. This collection therefore covers a period in which the confidence of high imperialism in India was facing some its first real challenges, and when the whole basis of British imperial power in its most important possession was being adjusted and reformed in response to changing imperial priorities. A notable inclusion in these documents which provides the context for this, is a full survey of the turn of the century administration of Lord Curzon - Minto's predecessor. Beyond this, the Minto collection offers to the research a unique insight into a formative period of radical Indian nationalism, Muslim separatism and Indian constitutional reform."
Birth 1871 : history, the state and the arts of de-notified tribes of India
( Visual )
1 edition published in
2014
in
English
and held by 4 WorldCat member libraries worldwide
In 1871 the colonial government in India officially defined 192 ethnic groups as "Criminal Tribes"--Communities considered to be hereditary criminals, and later reclassified as "Denotified Tribes" (DNTs) in 1952, following India's independence. These communities were subject to collective penal and rehabilitative measures that included increased surveillance, forced resettlement and employment that government deemed productive. The film explores processes of criminalization, how historical experience and memory has been used in community lobbying, and how groups within our communities have attempted to challenge social stigma through the performing arts. Includes excerpts from Budhan bolta hai performed by the Budhan Theatre. Budhan Theatre is known worldwide for performing plays on human rights and political issues of nomadic and denotified tribes issues
more
fewer
Audience Level
0

1
Kids
General
Special
Audience level: 0.38 (from 0.04 for Fishes of ... to 0.93 for The Indian ...)
Related Identities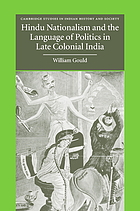 Covers
Alternative Names
Gould William R. 1973-....

Languages