Van Rossum, Guido
Most widely held works by Guido Van Rossum
Internet programming with Python
by
Aaron Watters
( Book )
4 editions published in
1996
in
English
and held by 82 WorldCat member libraries worldwide
Topics covered include basic and advanced features of the language, the generation of HTML documents using Python, CGI programming, the implementation of protocols using sockets, extending the interpreter with external interfaces and new functionality, and the embedding of the interpreter as a scripting/extension language in another application
Python reference manual
by
Guido van Rossum
( )
5 editions published between
1999
and 2000 in
English
and
Undetermined
and held by 34 WorldCat member libraries worldwide
Abstract: "Python is a simple, yet powerful, interpreted programming language that bridges the gap between C and shell programming, and is thus ideally suited for 'throw-away programming' and rapid prototyping. Its syntax is put together from constructs borrowed from a variety of other languages; most prominent are influences from ABC, C, Modula-3 and Icon. The Python interpreter is easily extended with new functions and data types implemented in C. Python is also suitable as an extension language for highly customizable C applications such as editors or window managers. Python is available for various operating systems, amongst which several flavors of UNIX (including Linux), the Apple Macintosh O.S., MS-DOS, MS-Windows 3.1, Windows NT, and OS/2. This reference manual describes the syntax and 'core semantics' of the language. It is terse, but attempts to be exact and complete. The semantics of non-essential built-in object types and of the built-in functions and modules are described in the Python Library Reference. For an informal introduction to the language, see the Python Tutorial."
Python language reference manual
by
Guido Van Rossum
( Book )
7 editions published between
2003
and 2011 in
English
and held by 14 WorldCat member libraries worldwide
The ABC structure editor : structure-based editing for the ABC programming environment
by
Lambert Meertens
( Book )
7 editions published in
1992
in
English
and held by 13 WorldCat member libraries worldwide
Abstract: "ABC is an interactive programming language where both ease of learning and ease of use stood high amongst its principle design aims. The language is embedded in a dedicated environment that includes a structure-based editor. To fit in with the design aims, the editor had to be easy to learn, demanding a small command set, and easy to use, demanding a powerful command set and strong support for the user in composing programs, without enforcing a computer-science understanding of issues of syntax and the like. Some novel design rules have led to an interesting editor, where the user may enter and edit text either structurally or non- structurally, without having to use different 'modes'."
An introduction to Python : for Python version 3.2
by
Guido Van Rossum
( Book )
4 editions published in
2011
in
English
and held by 12 WorldCat member libraries worldwide
"This manual is part of the official reference documentation for Python, an object-oriented programming language created by Guido van Rossum. Python is free software. The term "free software" refers to your freedom to run, copy, distribute, study, change and improve the software. With Python you have all these freedoms. You can support free software by becoming an associate member of the Free Software Foundation. The Free Software Foundation is a tax-exempt charity dedicated to promoting the right to use, study, copy, modify, and redistribute computer programs. It also helps to spread awareness of the ethical and political issues of freedom in the use of software. For more information visit the website www.fsf.org. The development of Python itself is supported by the Python Software Foundation. Companies using Python can invest in the language by becoming sponsoring members of this group. Donations can also be made online through the Python website. Further information is available at http://www.python.org/psf/."--Page 1
Structured multimedia authoring
by
L Hardman
( Book )
4 editions published in
1993
in
English
and held by 11 WorldCat member libraries worldwide
Abstract: "We present the user interface to the CMIF authoring environment for constructing and playing multimedia presentations. The CMIF authoring environment supports a rich hypermedia document model allowing structure-based composition of multimedia presentations and the specification of synchronization constraints between constituent media items. An author constructs a multimedia presentation in terms of its structure and additional synchronization constraints, from which the CMIF player derives the precise timing information for the presentation. We discuss the advantages of a structured approach to authoring multimedia, and describe the facilities in the CMIF authoring environment for supporting this approach. The authoring environment presents three main views of a multimedia presentation: the hierarchy view is used for manipulating and viewing a presentation's hierarchical structure; the channel view is used for managing logical resources and specifying and viewing precise timing constraints; and the player for playing the presentation. We present the authoring environment in terms of a short example: constructing a walking tour of Amsterdam."
Python library reference
by
Guido van Rossum
( Book )
3 editions published between
1995
and 2000 in
English
and held by 5 WorldCat member libraries worldwide
"Python Library Reference is a manual that documents Python's standard library, as well as many optional library modules, which may or may not be available, depending on whether the underlying platform supports them and on the configuration choices made at compile time. The reference also documents the standard types of the language and its built-in functions and exceptions, many of which are not or imcompletely documented in the Reference Manual."--Book cover
The Amsterdam hypermedia model : extending hypertext to support real multimedia
by
Lynda Hardman
( Book )
2 editions published in
1993
in
English
and held by 3 WorldCat member libraries worldwide
Abstract: "A model of hypermedia is presented that allows the combination of 'hyper-structured' information with dynamic multimedia information. The model is derived by extending the Dexter hypertext reference model and the CMIF multimedia model. The Amsterdam hypermedia model allows the following, in addition to the model provided by Dexter: the composition of multiple dynamic media, in order to specify a collection of time-based media making up a complete multimedia presentation; the definition of 'channels' for specifying default presentation information, allowing the specification of the presentation characteristics of nodes at a more general level than that for an individual node; the composition of existing presentations into larger presentations, taking into account possible clashes of resource usage; the inclusion of temporal relations while maintaining the separation of structure and presentation information, where time-based relationships are treated as presentation information; the specification of 'context' for anchors, in order to determine whether on following a link a part, or the whole, of the presentation is replaced by the information at the destination of the link. The Amsterdam hypermedia model enables the description of structured multimedia documents, incorporating time at a fundamental level, and extending the hypertext notion of links to time-based media and compositions of different media. The paper is organised as follows. The Dexter hypertext model and the CMIF multimedia model are summarised, and their limitations for use as a more general hypermedia model are discussed. The extensions included in the Amsterdam hypermedia model are described and a summary of the resulting model is given."
more
fewer
Audience Level
0

1
Kids
General
Special
Audience level: 0.68 (from 0.40 for Python ess ... to 0.95 for Using Pyth ...)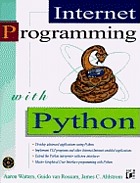 Covers
Alternative Names
Guido van Rossum científico de la computación, conocido por ser el autor del lenguaje de programación Python

Guido van Rossum développeur néerlandais

Guido van Rossum Dutch programmer and creator of Python

Guido van Rossum informatico olandese

Guido van Rossum informatyk holenderski

Guido van Rossum Nederlands informaticus

Guido van Rossum nederlandsk ingeniør og informatikar

Guido van Rossum nederlandsk ingeniør og informatiker

Guido van Rossum nederländsk ingenjör och datavetare

Guido van Rossum niederländischer Softwareentwickler

Guido van Rossum Pemrogram dari Belanda dan pembuat Python

Rossum, G. van 1956-

Rossum, Guido van

Van Rossum, Guido

Van Rossum, Guido 1956-

VanRossum, Guido 1956-

Гвидо ван Россум

Гвидо ван Росум

Гуидо ван Росум

Россум Гвидо ван

Ґвідо ван Россум

Գվիդո վան Ռոսում

גוידו ון רוסום

جايدو ڤان روسم

خودو فان روسوم دانشمند علوم کامپیوتر و مهندس هلندی

خیدۆ ڤان ڕۆسوم

ग्विडो भान रोस्सम

গুইডো ভ্যান রস্যিউম

গিডো ভান রসম ওলন্দাজ কম্পিউটার প্রোগ্রামলেখক ও পাইথন প্রোগ্রামিং ভাষার উদ্ভাবক

குய்டோ வான் ரொஸ்ஸும்

ഗൈഡോ വാൻ റോസ്സം

กีโด ฟาน รอสซัม

คีโด ฟัน โรสซึม

귀도 반 로섬

グイド・ヴァンロッサム

吉多·范罗苏姆

Languages