Stavroulakis, G. E. (Georgios E.)
Most widely held works by G. E Stavroulakis
Inverse and crack identification problems in engineering mechanics
by
G. E Stavroulakis
( Book )
11 editions published between
2001
and 2014 in
English
and held by 112 WorldCat member libraries worldwide
"The book provides all the required material for the mathematical and numerical modeling of crack identification testing procedures in statics and dynamics and includes several thoroughly discussed applications, for example, the impact-echo nondestructive evaluation technique." "Audience: The book will be of interest to structural and mechanical engineers involved in nondestructive testing and quality control projects as well as to research engineers and applied mathematicians who study and solve related inverse problems. People working on applied optimization and soft computing will find interesting problems to apply to their methods and all required materials to continue the research in this field."--Jacket
Nonconvex optimization in mechanics : algorithms, heuristics, and engineering applications by the F.E.M.
by
E. S Mistakidis
( Book )
11 editions published in
1998
in
English
and
Italian
and held by 108 WorldCat member libraries worldwide
The book will be of interest to researchers in mechanics, civil, mechanical and aeronautical engineers, as well as applied mathematicians. It is suitable for advanced undergraduate and graduate courses in computational mechanics, focusing on nonlinear and nonsmooth applications, and as a source of examples for courses in applied optimization
Parameter identification of materials and structures
by
Zenon Mróz
( Book )
13 editions published in
2005
in
English
and held by 92 WorldCat member libraries worldwide
The nature and the human creations are full of complex phenomena, which sometimes can be observed but rarely follow our hypotheses. The best we can do is to build a parametric model and then try to adjust the unknown parameters based on the available observations. This topic, called parameter identification, is discussed in this book for materials and structures. The present volume of lecture notes follows a very successful advanced school, which we had the honor to coordinate in Udine, October 6-10, 2003. The authors of this volume present a wide spectrum of theories, methods and applications related to inverse and parameter identification problems. We thank the invited lecturers and the authors of this book for their contributions, the participants of the course for their active participation and the interesting discussions as well as the people of CISMfor their hospitality and their well-known professional help. Zenon Mroz Georgios E. Stavroulakis CONTENTS Preface An overview of enhanced modal identification by L. Bolognini 1 The reciprocity gap functional for identifying defects and cracks by H.D. Bui, A. Constantinescu and H. Maigre 17 Some innovative industrial prospects centered on inverse analyses by G. Maier, M. Bocciarelli andR. Fedele 55 Identification of damage in beam and plate structures using parameter dependent modal changes and thermographic methods by Z. Mroz andK. Dems 95 Crack and flaw identification in statics and dynamics, using filter algorithms and soft computing by G. E, Stavroulakis, M. Engelhardt andH
Nonsmooth/nonconvex mechanics : modeling, analysis, and numerical methods
by ASME Mechanics and Materials Conference
( Book )
9 editions published in
2001
in
English
and held by 91 WorldCat member libraries worldwide
Nonsmooth and nonconvex models arise in several important applications of mechanics and engineering. The interest in this field is growing from both mathematicians and engineers. The study of numerous industrial applications, including contact phenomena in statics and dynamics or delamination effects in composites, require the consideration of nonsmoothness and nonconvexity. The mathematical topics discussed in this book include variational and hemivariational inequalities, duality, complementarity, variational principles, sensitivity analysis, eigenvalue and resonance problems, and minimax problems. Applications are considered in the following areas among others: nonsmooth statics and dynamics, stability of quasi- static evolution processes, friction problems, adhesive contact and debonding, inverse problems, pseudoelastic modeling of phase transitions, chaotic behavior in nonlinear beams, and nonholonomic mechanical systems. This volume contains 22 chapters written by various leading researchers and presents a cohesive and authoritative overview of recent results and applications in the area of nonsmooth and nonconvex mechanics. Audience: Faculty, graduate students, and researchers in applied mathematics, optimization, control and engineering
Nonsmooth mechanics of solids
by
J Haslinger
( Book )
8 editions published in
2006
in
English
and held by 69 WorldCat member libraries worldwide
Mechanics have played an important role in mathematics, from infinitesimal calculus, calculus of variations, partial differential equations and numerical methods (finite elements). Originally, mechanics treated smooth objects. Technological progress has evoked the necessity to model and solve more complicated problems, like unilateral contact and friction, plasticity, delamination and adhesion, advanced materials, etc. The new tools include convex analysis, differential calculus for convex functions, and subgradients of convex functions and extensions for nonconvex problems. Nonsmooth mechanics is a relatively complex field, and requires a good knowledge of mechanics and a good background in some parts of modern mathematics. The present volume of lecture notes follows a very successful advanced school, with the aim to cover as much as possible all these aspects. Therefore the contributions cover mechanical aspects as well as the mathematical and numerical treatment
Topics on mathematics for smart systems : proceedings of the European Conference, Rome, Italy, 26-28 October 2006
by
Bernadette Miara
( Book )
10 editions published in
2007
in
English
and held by 50 WorldCat member libraries worldwide
This volume gathers articles presented at a prominent European conference on smart systems and summarizes the activities carried out by a research and training network supported by the European community. The contributions aim to exhibit new research topics in the areas of materials science, advanced mathematical tools, and elements of control and numerical algorithms relevant to the design and optimization of smart systems
Recent Advances in Contact Mechanics Papers Collected at the 5th Contact Mechanics International Symposium (CMIS2009), April 28-30, 2009, Chania, Greece
by
G. E Stavroulakis
( Book )
13 editions published between
2012
and 2013 in
English
and held by 17 WorldCat member libraries worldwide
Contact mechanics is an active research area with deep theoretical and numerical roots. The links between nonsmooth analysis and optimization with mechanics have been investigated intensively during the last decades, especially in Europe. The study of complementarity problems, variational -, quasivariational- and hemivariational inequalities arising in contact mechanics and beyond is a hot topic for interdisciplinary research and cooperation. The needs of industry for robust solution algorithms suitable for large scale applications and the regular updates of the respective elements in major commercial computational mechanics codes, demonstrate that this interaction is not restricted to the academic environment. The contributions of this book have been selected from the participants of the CMIS 2009 international conference which took place in Crete and continued a successful series of specialized contact mechanics conferences
more
fewer
Audience Level
0

1
Kids
General
Special
Audience level: 0.58 (from 0.02 for Topics on ... to 0.99 for Models of ...)
Related Identities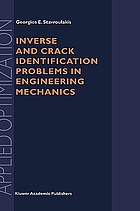 Alternative Names
Staurulakēs, G. ca. 20./21. Jh

Staurulakēs, G. E. ca. 20./21. Jh

Staurulakēs, Geōrgios ca. 20./21. Jh

Stavroulakis, G. ca. 20./21. Jh.

Stavroulakis, G. E. ca. 20./21. Jh.

Stavroulakis, Georgios ca. 20./21. Jh.

Stavroulakis, Georgios E.

Stavroulakis, Georgios E. ca. 20./21. Jh.

Languages
Covers