United States Department of Energy Environmental Management Science Program
Overview
| | |
| --- | --- |
| Works: | 1,643 works in 1,675 publications in 1 language and 11,304 library holdings |
| Roles: | Researcher, Sponsor |
Most widely held works about United States
more
fewer
Most widely held works by United States
A RESOLUTION ANALYSIS OF TWO GEOPHYSICAL IMAGING METHODS FOR CHARACTERIZING AND MONITORING HYDROLOGIC CONDITIONS IN THE VADOSE ZONE
( )
1 edition published in
2003
in
English
and held by 0 WorldCat member libraries worldwide
The objective of this study is to characterize and analyze in-situ flow and transport within the vadose zone during a mid-scale hydrologic infiltration experiment. This project has employed numerical and experimental tools developed under a previously funded EMSP proposal (project number 55332) to provide 3-D unsaturated hydrologic property distributions. In the present project, geophysical imaging techniques have been employed to track analogue contaminant plumes. The results are providing a better understanding of transport modes including the influence of natural heterogeneities and man-made structures within the vadose zone at DOE sites. In addition the data is providing checks against which numerical flow and transport simulations can be compared
Integrated Field, Laboratory, and Modeling Studies to Determine the Effects of Linked Microbial and Physical Spatial Heterogeneity on Engineered Vadose Zone Bioremediation
( )
1 edition published in
2003
in
English
and held by 0 WorldCat member libraries worldwide
The objective of the project at large was to experiment with new methods for bioremediation of carbon tetrachloride plumes in the soils at the Hanford Site in Richland, WA. Traditionally, biostimulation occurs via pumping of liquid nutrient solution into the vadose zone, however an alternate methodology utilizes the introduction of gaseous nutrients, specifically nitrogen, phosphorus and carbon sources. The movement of liquid through the vadose zone tends to disperse contaminant plumes, and/or cause biofouling (excessive microbial growth) in the vicinity of injection wells. Alternatively, gas-phase nutrient introduction yields greater dispersion of molecules and little to no displacement of target plumes. Once vapor-phase molecules solubilize into soil water, they become bioavailable and should thus encourage colonization and degradation. The feasibility of this method of nutrient delivery was studied in an experimental laboratory system, the goal of which was to observe, in situ, microbial colonization in response to gaseous nutrient injection. It was hoped that these observations would aid in predictive modeling of microbial behavior in field scale bioremediation
On-Line Derivatization Gas Chromatography Ion Trap Mass Spectrometry for Determination of Endocrine Disruptors in Surface Water
( )
1 edition published in
2004
in
English
and held by 0 WorldCat member libraries worldwide
A method has been developed for the determination of endocrine disruptors (EDs) (containing hydroxyl groups) in surface water from different sources. The surface water samples from different sites including school and local dormitory sewage effluents, lake water and river water were collected and analyzed. In this method, the pretreated sample is directly analyzed by GC-MS using on-line derivatization, where tetramethylammonium hydroxide (TMA-OH) was used as the derivatizing agent. Use of large-volume direct sample introduction (DSI) and co-injection of the sample and TMAOH avoids external contaminations as observed in conventional derivatization protocols. Additionally, the use of chemical ionization (CI) and CI-MS/MS could enable detection of EDs at lower concentrations and reduce the matrices' interference thereby enhancing detection sensitivity of EDs for quantification. In this work, the use of dichloromethane as CI reagent for EDs is reported for the first time and could detect EDs to concentrations as low as 0.5 pg/mL. The recovery ranged from 74 to 112 % and the relative standard derivations for replicate analyses ranged from 5 to 17 %. We hope that this method will be applicable for routine analysis of EDs with hydroxyl functional groups
Final Report for Environmental Management Science Program - Strategic Design and Optimization of Inorganic Sorbents for Cesium, Strontium and Actinides : Activities at the University of Notre Dame
( )
1 edition published in
2005
in
English
and held by 0 WorldCat member libraries worldwide
The basic science goal in this project identifies structure/affinity relationships for selected radionuclides and existing sorbents. The task will apply this knowledge to the design and synthesis of new sorbents that will exhibit increased cesium, strontium and actinide removal. The target problem focuses on the treatment of high-level nuclear wastes. The general approach can likewise be applied to non-radioactive separations. The project involves a collaboration among four organizations, with each focused on a different aspect of the problem. This document is the final report on the three years of activities conducted at the University of Notre Dame, where the research focus was on the use of molecular modeling to understand ion exchange selectivity in titanosilicates and polyoxoniobate materials
A fundamental study of laser-induced breakdown spectroscopy using fiber optics for remote measurements of trace metals. 1998 annual progress report
( )
2 editions published between
1997
and 1998 in
English
and held by 0 WorldCat member libraries worldwide
"The long-term goal of this project is to develop a system to measure the elemental composition of unprepared samples using laser-induced breakdown spectroscopy, LIBS, with a fiber-optic probe. From images shown in this report it is evident that the temporal and spatial behavior of laser-induced plasmas IS a complex process. However, through the use of spectral imaging, optimal conditions can be determined for collecting the atomic emission signal in these plasmas. By tailoring signal collection to the regions of the plasma that contain the highest emission signal with the least amount of background interference both the detection limits and the precision of LIBS measurements could be improved. The optimal regions for both gated and possibly non-gated LIBS measurements have been shown to correspond to the inner regions and outer regions, respectively, in an axial plasma. By using this data fiber-optic LIBS probe designs can be optimized for collecting plasma emission at the optimal regions for improved detection limits and precision in a LIBS measurement."
Quantifying and Predicting Reactive Transport of Uranium in Waste Plumes
( )
1 edition published in
2005
in
English
and held by 0 WorldCat member libraries worldwide
The Hanford Site is the DOE's largest legacy waste site, with uranium (U) from plutonium processing being a major contaminant in its subsurface. Accident release of highly concentrated high level wastes (e.g. 0.5 lb U(VI)/gal) left large quantities of U in the vadose zone under tank farms (e.g. 7-8 tons U(VI) under tank BX-102 (Jones et al., 2001)). The U contamination has been found in groundwater in both 300 and 200 Areas of Hanford, indicating U(VI) was/is mobile. Because excavation costs are enormous, this U will likely be left in-ground for the foreseeable future. Therefore, understanding the contamination processes and the resulting U spatial and temporary distributions and mobility in the heavily contaminated Hanford site is needed in order to forecast its future transport. The overall objective of this research is to develop an experimentally supported conceptual model of U reactive transport, during and after the tank leakage, at heavily U-contaminated areas of the Hanford vadose zone. The conceptual model will incorporate key geochemical and physical controls on the contamination process, explain the current distribution of U in the vadose zone, and guide predictions of its future mobility under the influence of natural recharge. We do not seek to predict the complex flow geometry of any specific waste plume. Instead, our work is trying to identify the hierarchy of processes relevant along U waste plume paths
High Temperature Condensed Phase Mass Spectrometric Analysis
( )
2 editions published between
1999
and 2000 in
English
and held by 0 WorldCat member libraries worldwide
This program (in the 20th month as of this writing) was initiated with the goal of designing, constructing and operating a materials analysis instrument capable of obtaining a wide variety of chemical measurements on a material at high temperature. This instrument is being built around a quadrupole mass spectrometer. There are three main modes of obtaining spectra from the high temperature condensed phase material; surface ionization from the condensed phase, secondary ion mass spectrometry (SIMS, both static and dynamic modes) of the condensed phase, and electron impact ionization of vapor phase neutral species. The combination of the data from these three modes will allow the gleaning of chemical information concerning the nature of the chemical species present in both the condensed phase (solid or molten) and the vapor phase. The intended application is the identification of the chemical species present in materials at high temperatures
Reactive Membrane Barriers for Containment of Subsurface Contamination
( )
2 editions published between
2005
and 2006 in
English
and held by 0 WorldCat member libraries worldwide
This report focuses on progress made in the last 12 months, with prior results briefly summarized. We emphasize that the key to our work is an increase in barrier properties. Thus, much of our work has focused on poor, thin barriers composed of PVA. WE have done so because experiments are then able to be conducted over reasonable times. At the same time, we have developed and experimentally verified theories showing how our short experiments can be extrapolated to real situations
more
fewer
Audience Level
0

1
Kids
General
Special
Audience level: 0.44 (from 0.03 for Research n ... to 0.83 for Influences ...)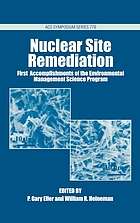 Alternative Names
United States. Department of Energy
E.M.S.P.

EMSP

United States. Dept. of Energy. Environmental Management Science Program

Languages
Covers