Mahbubani, Kishore
Overview
| | |
| --- | --- |
| Works: | 85 works in 261 publications in 10 languages and 7,872 library holdings |
| Roles: | Author, Editor, Other |
Most widely held works about Kishore Mahbubani
Most widely held works by Kishore Mahbubani
The new Asian hemisphere : the irresistible shift of global power to the East
by
Kishore Mahbubani
( )
37 editions published between
2008
and 2013 in 5 languages and held by 1,891 WorldCat member libraries worldwide
"For two centuries the Asians - from Tehran to Tokyo, from Mumbai to Shanghai - have been bystanders in world history, reacting defenselessly to the surges of Western commerce, thought, and power. That era is over. Asia is returning to the center stage it occupied for eighteen centuries before the rise of the West. Asians have absorbed and understood Western best practices in many areas, from free-market economics to the embrace of innovative science and technology, meritocracy, and the rule of law. And they have become innovative in their own way, creating new patterns of cooperation not seen in the West. Their rise is unstoppable - by 2050, three of the world's largest economies will be Asian: China, India, and Japan." "Will the West resist the rise of Asia? This scenario will be disastrous. Asia wants to replicate, not dominate, the West. But the West must gracefully share power with Asia, by giving up its automatic domination of global institutions from the IMF to the World Bank, from the G-7 to the UN Security Council. If the West accepts the rise of Asia and shares power, the new Asian powers will reciprocate by becoming responsible stakeholders in a stable world order. They will lift some global burdens off Western shoulders. But such positive outcomes are not inevitable. History teaches us that the rise of new powers almost always leads to tension and conflict. This book explains how the worst case scenarios can be avoided. It also explains why Westerners need to step outside their "comfort zone" and prepare new mental maps to understand the rise of Asia. In short, it is an indispensable guide to understanding the forces that are shaping the emerging Asian century."--Jacket
Lee Kuan Yew School of Public Policy : building a global policy school in Asia
by
Kishore Mahbubani
( )
14 editions published between
2012
and 2013 in
English
and held by 1,519 WorldCat member libraries worldwide
In an industry of higher education that measures the longevity of its leading institutions in decades and centuries, the establishment and rapid growth of the eight-year-old Lee Kuan Yew School of Public Policy (LKY School), National University of Singapore, is a remarkable story that deserves to be told. The five co-authors, all of whom were involved in guiding the School during its formative years, provide unique perspectives of key events and the thinking behind major decisions that helped place the School on its current trajectory. They also provide insights into the challenges faced along
In the middle of China's future : Tom Plate on Asia : what two decades of worldwide newspaper columns prefigure about the future of the China-U.S. relationship
by
Tom Plate
( )
4 editions published in
2014
in
English
and held by 944 WorldCat member libraries worldwide
The best journalism tackles the really tough questions! Was the U.S. asleep when China was waking up? Or was its engagement too timid? Will Washington find conflict with Beijing unavoidable? Or has the U.S. policy of engagement and accommodation been the best way to go? Award-winning journalist and syndicated columnist Tom Plate reviews his own two-decade record of newspaper commentary on China in a searching re-evaluation of where he was right and where he went wrong - and where the U.S.-China rivalry and relationship may be headed
Beyond the age of innocence : a worldly view of America
by
Kishore Mahbubani
( Book )
17 editions published between
2005
and 2009 in
English
and held by 747 WorldCat member libraries worldwide
"Many Americans know in their heart of hearts that something has gone wrong in America's relations with the world. But they don't quite know why. Or what triggered this. Beyond the Age of Innocence explains the complex story of America and the world, and the seismic shifts that have taken place, unnoticed by many Americans." "Kishore Mahbubani is an old friend of America. Growing up in Singapore, on the other side of the world, his life has been powerfully influenced by the American era. In this book, he sets out to explain both the global enchantment and disenchantment with America and what America can still do to save the situation."--Jacket
The great convergence : Asia, the West, and the logic of one world
by
Kishore Mahbubani
( Book )
27 editions published between
2013
and 2015 in 5 languages and held by 669 WorldCat member libraries worldwide
"Before the current international economic crisis, Asian policymakers deferred to their Western counterparts. The enormous blunders since committed by the US and Europe mean deference has been replaced by disquiet. Asia's concern is that the world will soon come to grief if both the US and Europe fail to make fundamental readjustments. An America and EU that takes serious economic measures will cause the rest of the world pain, as Western consumption and imports diminish. But there is no painless solution: only when the West gets its house in order can Asia hope for a more sustainable future"--
Pueden pensar los asiáticos?
by
Kishore Mahbubani
( )
6 editions published in
2002
in
Spanish
and held by 627 WorldCat member libraries worldwide
Con un territorio que se extiende de Japón e Indonesia al mundo árabe, Asia, el continente más grande del mundo, es también el centro espiritual de religiones tan importantes como el islamismo, el budismo, el confucianismo y el hinduismo y hogar de casi el 60% de la población de la Tierra. Aunque su economía está llamada a superar en cincuenta años a las de Europa y América del Norte, los occidentales hemos hecho muy poco por modificar nuestras actitudes a la luz de las actuales circunstancias. Mahbubani está convencido de que el "choque de las civilizaciones" sólo podrá evitarse si todos los involucrados procedemos a una honda reflexión. Su análisis del pasado y prefiguraciones del futuro constituyen un llamado de alerta para asiáticos y occidentales por igual
Can Asians think? : understanding the divide between East and West
by
Kishore Mahbubani
( Book )
37 editions published between
1998
and 2011 in
English
and
Undetermined
and held by 617 WorldCat member libraries worldwide
Poses questions about the relationship between Eastern and Western cultures, the future of Asian societies, and the effects of globalization
The ASEAN miracle : a catalyst for peace
by
Kishore Mahbubani
( )
7 editions published in
2017
in
English
and
Malay
and held by 202 WorldCat member libraries worldwide
The Association of Southeast Asian Nations is a miracle. Why?In an era of growing cultural pessimism, many thoughtful individuals believe that different civilisations-especially Islam and the West-cannot live together in peace. The ten countries of ASEAN provide a thriving counter-example of civilizational co-existence. Here 625m people live together in peace. This miracle was delivered by ASEAN. In an era of growing economic pessimism, where many young people believe that their lives will get worse in coming decades, Southeast Asia bubbles with optimism. In an era where many thinkers predict rising geopolitical competition and tension, ASEAN regularly brings together all the world's great powers. Stories of peace are told less frequently than stories of conflict and war. ASEAN's imperfections make better headlines than its achievements. But in the hands of thinker and writer Kishore Mahbubani, the good news story is also a provocation and a challenge to the rest of the world
more
fewer
Audience Level
0

1
Kids
General
Special
Audience level: 0.20 (from 0.00 for Pueden pen ... to 0.95 for Can Asians ...)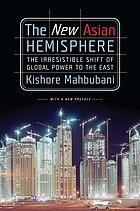 Covers
Alternative Names
Kishore Mahbubani.

Kishore Mahbubani, 1948-

Kishore Mahbubani diplomate singapourien

Kishore Mahbubani diplomático singapurense

Kishore Mahbubani schrijver uit Singapore

Kishore Mahbubani scrittore singaporiano

Kishore Mahbubani singaporsk författare

Kishore Mahbubani singaporsk skribent

Kishore Mahbubani singapurischer Politikwissenschaftler und Diplomat

Mahbubani, K.

Makaisho.

Makaishuo

קישורה מבובני דיפולמט סינגפורי

كيشور محبوباني

كيشور محبوباني دبلوماسي سنغافوري

किशोर महबूबानी

마흐부바니, 키쇼어 1948-

マブバニ, キショール

マブバニ, キショール 1948-

马凯硕

Languages