Butler, Judith 1956-
Overview
| | |
| --- | --- |
| Works: | 352 works in 1,287 publications in 17 languages and 36,746 library holdings |
| Genres: | History Criticism, interpretation, etc Interviews |
| Roles: | Author, Interviewee, Editor, Author of introduction, Creator, Honoree, Contributor, Author of afterword, colophon, etc., Performer, Dedicatee, 001, ed |
| Classifications: | HQ1154, 305.3 |
Most widely held works about Judith Butler
more
fewer
Most widely held works by Judith Butler
Gender trouble feminism and the subversion of identity
by
Judith Butler
( Book )
146 editions published between
1989
and 2014 in 15 languages and held by 4,470 WorldCat member libraries worldwide
One of the key works of contemporary feminist theory, essential for anyone interested in the study of gender, queer theory, or the politics of sexuality in culture
Bodies that matter : on the discursive limits of "sex"
by
Judith Butler
( Book )
58 editions published between
1993
and 2014 in 7 languages and held by 1,876 WorldCat member libraries worldwide
In Bodies That Matter, renowned theorist and philosopher Judith Butler argues that theories of gender need to return to the most "material" dimension of sex and sexuality: the body. Butler offers a brilliant reworking of the body, examining how the power of heterosexual hegemony forms the "matter" of bodies, sex, and gender
Antigone's claim kinship between life and death
by
Judith Butler
( )
28 editions published between
2000
and 2010 in 7 languages and held by 1,792 WorldCat member libraries worldwide
"Antigone, the renowned insurgent from Sophocle's Oedipus, has long been a feminist icon of defiance. But what has remained unclear is whether she escapes from the forms of power that she opposes. Antigone proves to be a more ambivalent figure for feminism than has been acknowledged, since the form of defiance she exemplifies also leads to her death. Butler argues that Antigone represents a form of feminist and sexual agency that is fraught with risk. Moreover, Antignone shows how the constraints of normative kinship unfairly decide what will and will not be a liveable life."--Jacket
What's left of theory? new work on the politics of literary theory
by
Judith Butler
( )
20 editions published in
2000
in
English
and held by 1,725 WorldCat member libraries worldwide
"For several years," write the editors ofWhat's Left of Theory, "a debate on the politics of theory has been conducted energetically within literary studies. The terms of the debate, however, are far from clear. What is meant by politics? What is meant by theory?" What's Left of Theoryis a vigorous engagement with that thorniest of critical questions: how today are theory and progressive thought connected? Michael Warner, activist and critic, examines 'zones of privacy and zones of theory' while law professor Janet Halley considers theory and its applicability to sex harassment. Jeff Nunokawa examines Oscar Wilde, Marjorie Levinson reads Elizabeth Bishop alongsideNational Geographic; John Brenkman considers 'extreme criticism', Michael Berube the 'future of contingency'; William Connolly addresses the matter of secularism, Gayatri Spivak explores what she calls 'theory-remains', and Jonathan Culler demonstrates once again his gift for explaining the complex in an essay thatidentifies 'the literary in theory'. Editors Butler, Guillory, and Thomas have brought together not only outstanding questioners, but outstanding questions. As their introduction puts it, "Are there ways of pursuing a politically reflective literary analysis that have definitively left theory behind, and must 'theory' be left behind for left literary analysis to emerge? Has the study of literature passed beyond its encounter with theory? If so, in passing beyond theory, has it remained unchanged? Does the recent cry for a 'return to literature' signal the surpassing of theory, the fact that literature remains after theory? Does literature remain (the same) after theory?" For students of literature and the humanities in general, these questions are not only left: they endure
Undoing gender
by
Judith Butler
( Book )
33 editions published between
2004
and 2012 in 7 languages and held by 1,491 WorldCat member libraries worldwide
Butler addresses the regulation of sexuality and gender that takes place in psychology, aesthetics, and social policy. These essays deepen her treatment of issues introduced by earlier work on the relationship between power and the body, the meaning & purpose of the incest taboo, and the problems of kinship
The power of religion in the public sphere
by
Judith Butler
( )
14 editions published between
2011
and 2014 in
English
and
Dutch
and held by 1,351 WorldCat member libraries worldwide
The Power of Religion in the Public Sphere represents a rare opportunity to experience a diverse group of preeminent philosophers confronting one pervasive contemporary concern: what role does--or should--religion play in our public lives? Reflecting on her recent work concerning state violence in Israel-Palestine, Judith Butler explores the potential of religious perspectives for renewing cultural and political criticism, while Jürgen Habermas, best known for his seminal conception of the public sphere, thinks through the ambiguous legacy of the concept of "the political" in contemporary theory. Charles Taylor argues for a radical redefinition of secularism, and Cornel West defends civil disobedience and emancipatory theology. Eduardo Mendieta and Jonathan VanAntwerpen detail the immense contribution of these philosophers to contemporary social and political theory, and an afterword by Craig Calhoun places these attempts to reconceive the significance of both religion and the secular in the context of contemporary national and international politics
Giving an account of oneself
by
Judith Butler
( )
15 editions published between
2005
and 2008 in
English
and held by 1,346 WorldCat member libraries worldwide
"What does it mean to lead a moral life? In her first extended study of moral philosophy, Judith Butler offers a provocative outline for a new ethical practice -- one responsive to the need for critical autonomy and grounded in a new sense of the human subject. Butler takes as her starting point one's ability to answer the questions: "What have I done?" and "What ought I to do?" She shows that these question can be answered only by asking a prior question, "Who is this "I" who is under an obligation to give an account of itself and to act in certain ways?" Because I find that I cannot give an account of myself without accounting for the social conditions under which I emerge, ethical reflection requires a turn to social theory. In three powerfully crafted and lucidly written chapters, Butler demonstrates how difficult it is to give an account of oneself, and how this lack of self-transparency and narratibility is crucial to an ethical understanding of the human. In brilliant dialogue with Adorno, Levinas, Foucault, and other thinkers, she eloquently argues the limits, possibilities, and dangers of contemporary ethical thought. Butler offers a critique of the moral self, arguing that the transparent, rational, and continuous ethical subject is an impossible construct that seeks to deny the specificity of what it is to be human. We can know ourselves only incompletely, and only in relation to a broader social world that has always preceded us and already shaped us in ways we cannot grasp. If inevitably we are partially opaque to ourselves, how can giving an account of ourselves define the ethical act? And doesn't an ethical system that holds us impossibly accountable for full self-knowledge and self-consistency inflict a kind of psychic violence, leading to a culture of self-beratement and cruelty? How does the turn to social theory offer us a chance to understand the specifically social character of our own unknowingness about ourselves? In this invaluable book, by recasting ethics as a project in which being ethical means becoming critical of norms under which we are asked to act, but which we can never fully choose, Butler illuminates what it means for us as fallible creatures to create and share an ethics of vulnerability, humility, and ethical responsiveness."--Provided by publisher
Subjects of desire Hegelian reflections in twentieth-century France
by
Judith Butler
( Book )
40 editions published between
1987
and 2012 in 3 languages and held by 1,226 WorldCat member libraries worldwide
This classic work by one of the most important philosophers and critics of our time charts the genesis and trajectory of the desiring subject from Hegel's formulation in Phenomenology of Spirit to its appropriation by Kojève, Hyppolite, Sartre, Lacan, Deleuze, and Foucault. Judith Butler plots the French reception of Hegel and the successive challenges waged against his metaphysics and view of the subject, all while revealing ambiguities within his position. The result is a sophisticated reconsideration of the post-Hegelian tradition that has predominated in modern French thought.>
The question of gender Joan W. Scott's critical feminism
by
Judith Butler
( )
9 editions published in
2011
in
English
and held by 1,212 WorldCat member libraries worldwide
"How has the study of gender independently or in conjunction with other axes of difference - such as race, class, and sexuality - inflected existing fields of study and created new ones? To what extent has this concept modified or been modified by related paradigms such as women's and queer studies? With what discursive politics does the term engage, and with what effects? In what settings, and through what kinds of operations and transformations, can gender remain a useful category in the twenty-first century?"--Back cover
Excitable speech : a politics of the performative
by
Judith Butler
( Book )
57 editions published between
1996
and 2013 in 7 languages and held by 1,186 WorldCat member libraries worldwide
Excitable Speech examines the issue of the threatening action of words. Negotiating the work of Austin, Derrida and Bourdieu, Butler offers a theory of the political performativity of language and illuminates the efficacy of injurious language
more
fewer
Audience Level
0

1
Kids
General
Special
Audience level: 0.56 (from 0.28 for Examined l ... to 0.89 for Butler on ...)
Related Identities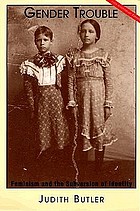 Alternative Names
Batler, Džudit

Butler, J. 1956-

Butler, J. P. 1956-

Butler, Judith.

Butler Judith 1956-.....

Butler, Judith P.

Butler Judith P. 1956-....

バトラー, ジュディス

Languages
Covers