Danielewski, Mark Z.
Most widely held works about Mark Z Danielewski
more
fewer
Most widely held works by Mark Z Danielewski
Mark Z. Danielewski's House of leaves
by
Mark Z Danielewski
( Book )
34 editions published between
2000
and 2016 in 4 languages and held by 1,862 WorldCat member libraries worldwide
A young family that moves into a small home on Ash Tree Lane where they discover something is terribly wrong: their house is bigger on the inside than it is on the outside. Of course, neither Pulitzer Prize-winning photojournalist Will Navidson nor his companion Karen Green was prepared to face the consequences of that impossibility--until the day their two little children wandered off and their voices eerily began to return another story: one of creature darkness, of an ever-growing abyss behind a closet door, and of that unholy growl which soon enough would tear through their walls and consume all their dreams. House of Leaves influenced, and was influenced by, the music of POE, Mark Z. Danielewski's sister. Her album Haunted includes many songs inspired by House of Leaves
The familiar
by
Mark Z Danielewski
( Book )
in
English
and held by 679 WorldCat member libraries worldwide
From the universally acclaimed, genre-busting author of House of Leaves comes a new book as dazzling as it is riveting ... A page-turner from start to finish, ranging from Southeast Asia to Mexico to Venice, Italy, and Venice, California, with characters as diverse as a therapist-in-training whose daughters prove far more complex than her patients, an ambitious East-L.A. gang member hired for violence, two scientists on the run in Marfa, Texas, a recovering addict in Singapore summoned by a powerful but desperate billionaire, a programmer near Silicon Beach whose game engine just might augur far more than he suspects, and at the very heart a 12-year-old girl who one rainy day in May sets out from Echo Park to get a dog only to find something else ... something that will not only alter her life but threaten the world we all think we know and the future we take for granted
The familiar
by
Mark Z Danielewski
( Book )
3 editions published in
2016
in
English
and held by 304 WorldCat member libraries worldwide
Released for the summer from the perils of school, Xanther and her nameless cat are settling into a comfortable routine at home. However, the rest of the Ibrahim family is growing more and more unsettled
The familiar
by
Mark Z Danielewski
( Book )
1 edition published in
2017
in
English
and held by 250 WorldCat member libraries worldwide
When a viral video puts twelve-year-old Xanther under a spotlight of scrutiny at school, her little white cat—still slumbering, still unnamed—offers the only escape, though it comes at a price. Not even Xanther's parents can deny the strange currents now shuddering around their eldest, touching off inexplicable happenings. Entities troubling the dreams of the twins seem to have singled out Freya. Despite invitations to a gala at The Met, Anwar fears the solution to their financial difficulties might expose more than just his family to dangerous consequences. Something greater is at hand, something terrible is at stake. And all the while, faces unfamiliar to the Ibrahims draw closer and closer: Jingjing, in Singapore, clutching charms, boards a plane for Los Angeles; Cas and Bobby, with visions of Xanther in Mefisto's Orb, must elude attacks from the sky. Strangers collide . . . though will those intersections lead to alliances or war? And does the dance at the center of Volume 4 augur the liberation of our better angels or the release of a creature set to feast on the wings of hope?
La maison des feuilles
by
Mark Z Danielewski
( Book )
30 editions published between
2000
and 2017 in 6 languages and held by 147 WorldCat member libraries worldwide
Years ago, when House of Leaves was first being passed around, it was nothing more than a badly bundled heap of paper, parts of which would occasionally surface on the Internet. No one could have anticipated the small but devoted following this terrifying story would soon command. Starting with an odd assortment of marginalized youth--musicians, tattoo artists, programmers, strippers, environmentalists, and adrenaline junkies--the book eventually made its way into the hands of older generations, who not only found themselves in those strangely arranged pages but also discovered a way back into the lives of their estranged children. Now, for the first time, this astonishing novel is made available in book form, complete with the original colored words, vertical footnotes, and newly added second and third appendices. The story remains unchanged, focusing on a young family that moves into a small home on Ash Tree Lane where they discover something is terribly wrong: their house is bigger on the inside than it is on the outside. Of course, neither Pulitzer Prize-winning photojournalist Will Navidson nor his companion Karen Green was prepared to face the consequences of that impossibility, until the day their two little children wandered off and their voices eerily began to return another story--of creature darkness, of an ever-growing abyss behind a closet door, and of that unholy growl which soon enough would tear through their walls and consume all their dreams
Mark Z. Danielewski's The whalestoe letters
by
Mark Z Danielewski
( Book )
6 editions published in
2000
in
English
and held by 146 WorldCat member libraries worldwide
"Between 1982 and 1989, Pelafina H. Lièvre sent her son, Johnny Truant, a series of letters from The Three Attic Whalestoe Institute, a psychiatric facility in Ohio where she spent the final years of her life. Beautiful, heartfelt, and tragic, this correspondence reveals the powerful and deeply moving relationship between a brilliant though mentally ill mother and the precocious, gifted young son she never ceases to love."--Publisher's description
Mark Z. Danielewski's The fifty year sword
by
Mark Z Danielewski
( Book )
7 editions published between
2005
and 2014 in
English
and held by 85 WorldCat member libraries worldwide
"The nationally best-selling author of House of Leaves and Only Revolutions has crafted a powerfully chilling novella--a ghost story for grownup readers. Late one evening at a party at an East Texas ranch house, five orphans gather to hear a story about a quest for a terrible weapon. Before them lies a long black box with five latches. As the owner of the box settles into a curious tale of revenge, the children grow more and more captivated, even as we grow more and more afraid that a new crime may await them all, especially as clocks in Upshur County approach midnight"--
The familiar : one rainy day in May
by
Mark Z Danielewski
( Book )
2 editions published in
2015
in
English
and held by 57 WorldCat member libraries worldwide
From the universally acclaimed, genre-busting author of House of Leaves comes a new book as dazzling as it is riveting ... A page-turner from start to finish, ranging from Southeast Asia to Mexico to Venice, Italy, and Venice, California, with characters as diverse as a therapist-in-training whose daughters prove far more complex than her patients, an ambitious East-L.A. gang member hired for violence, two scientists on the run in Marfa, Texas, a recovering addict in Singapore summoned by a powerful but desperate billionaire, a programmer near Silicon Beach whose game engine just might augur far more than he suspects, and at the very heart a 12-year-old girl who one rainy day in May sets out from Echo Park to get a dog only to find something else ... something that will not only alter her life but threaten the world we all think we know and the future we take for granted
The familiar
by
Mark Z Danielewski
( Book )
7 editions published in
2015
in
English
and held by 55 WorldCat member libraries worldwide
From the universally acclaimed, genre-busting author of House of Leaves comes a new book as dazzling as it is riveting ... A page-turner from start to finish, ranging from Southeast Asia to Mexico to Venice, Italy, and Venice, California, with characters as diverse as a therapist-in-training whose daughters prove far more complex than her patients, an ambitious East-L.A. gang member hired for violence, two scientists on the run in Marfa, Texas, a recovering addict in Singapore summoned by a powerful but desperate billionaire, a programmer near Silicon Beach whose game engine just might augur far more than he suspects, and at the very heart a 12-year-old girl who one rainy day in May sets out from Echo Park to get a dog only to find something else ... something that will not only alter her life but threaten the world we all think we know and the future we take for granted
The familiar: Redwood
by
Mark Z Danielewski
( Book )
1 edition published in
2017
in
English
and held by 51 WorldCat member libraries worldwide
"The astonishing series about a young girl who befriends a cat hunting humanity continues with Volume 5, and the Season One finale, in which the consequences of how we encounter one another come into poignant and terrifying relief{u2014}especially on one September night, when an unexpected phone call demanding the return of the little white cat challenges everything the Ibrahims hold dear. They are not alone. Jingjing must contend with a rival he could never have anticipated, while Xanther must relinquish all she thought she knew as a far greater responsibility is set before her. Light wavers and pomegranates reveal their price as the effects of a great transition start to reverberate around everyone, Shnorhk{u2019}s efforts to resume playing music cannot escape history{u2019}s ghosts. Cas, in upstate New York, comes face-to-face with her lifelong nemesis in a candlelit rendezvous that presages the international crisis soon to come. As more lines tangle, Özgür and Luther brawl with a future that may have chosen them long ago, and Isandòrno crosses a line that will force him over the border into a country he has until now steadfastly refused. All the while, a terrible power roaming the world continues to grow..."--Amazon.com
more
fewer
Audience Level
0

1
Kids
General
Special
Audience level: 0.29 (from 0.05 for Revolution ... to 0.93 for Das fünfz ...)
Related Identities
Associated Subjects
Amazing adventures of Kavalier and Clay (Chabon, Michael)
American fiction
American literature
Ashbery, John,
Authenticity (Philosophy) in literature
Authors, American
California
California--Los Angeles
Cats
Children
Danielewski, Mark Z
DeLillo, Don
Dwellings
English fiction
English literature
Experimental fiction
Experimental fiction, American
Experimental fiction, English
Fantasy fiction
Fathers and daughters
Hejinian, Lyn
Holes
Horror tales
House of leaves (Danielewski, Mark Z.)
Identity (Philosophical concept) in literature
Interpersonal relations
Labyrinths
Literature, Modern
Manuscripts
Mentally ill women
Mexico
Mothers and sons
Ohio
Paranormal fiction
Perception
Postmodernism (Literature)
Post-postmodernism (Literature)
Preteen girls
Psychiatric hospital patients
Recognitions (Gaddis, William)
Revenge
Singaporean fiction
Spirituality in literature
Technological innovations--Religious aspects
Technology in literature
Texas
Texas, East
Theology in literature
Timequake (Vonnegut, Kurt)
Underworld (DeLillo, Don)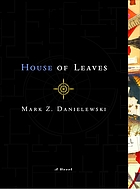 Alternative Names
Truant, Johnny
Zampanò
Danielewski, Mark Z., 1966-

Johnny Truant 1966-

Mark Danielewski scrittore statunitense

Mark Z. Danielewski Amerikaans schrijver

Mark Z. Danielewski amerikansk författare

Mark Z. Danielewski amerikansk skribent

Mark Z. Danielewski écrivain américain

Mark Z. Danielewski US-amerikanischer Schriftsteller

Truant, Johnny

Truant, Johnny 1966-

Zampanò

Zampanò 1966-

Данилевский, Марк

Марк З. Данилевський

Марк З. Данијелевски

مارک زاده دانیلوسکی

마크 Z. 대니얼레프스키 미국의 소설가

ダニエレブスキー, マーク・Z

ダニエレブスキーマーク Z

マーク・Z・ダニエレブスキー

马克·Z.丹尼勒夫斯基

Languages
Covers