Al-Khalili, Jim 1962-
Most widely held works about Jim Al-Khalili
Most widely held works by Jim Al-Khalili
The house of wisdom : how Arabic science saved ancient knowledge and gave us the Renaissance
by
Jim Al-Khalili
( Book )
9 editions published between
2011
and 2012 in
English
and
Spanish
and held by 1,359 WorldCat member libraries worldwide
"A myth-shattering view of the medieval Islamic world's myriad scientific innovations, which preceded-and enabled-the European Renaissance. The Arabic legacy of science and philosophy has long been hidden from the West. British-Iraqi physicist Jim Al-Khalili unveils that legacy to fascinating effect by returning to its roots in the hubs of Arab innovation that would advance science and jump-start the European Renaissance. Inspired by the Koranic injunction to study closely all of God's works, rulers throughout the Islamic world funded armies of scholars who gathered and translated Persian, Sanskrit, and Greek texts. From the ninth through the fourteenth centuries, these scholars built upon those foundations a scientific revolution that bridged the one-thousand-year gap between the ancient Greeks and the European Renaissance. Many of the innovations that we think of as hallmarks of Western science were actually the result of Arab ingenuity: Astronomers laid the foundations for the heliocentric model of the solar system long before Copernicus; physicians accurately described blood circulation and the inner workings of the eye ages before Europeans solved those mysteries; physicists made discoveries that laid the foundation for Newton's theories of optics. But the most significant legacy of Middle Eastern science was its evidence-based approach-the lack of which kept Europeans in the dark throughout the Dark Ages. The father of this experimental approach to science-what we call the scientific method-was an Iraqi physicist who applied it centuries before Europeans first dabbled in it. Al-Khalili details not only how discoveries like these were made, but also how they changed European minds and how they were ultimately obscured by later Western versions of the same principles. With transporting detail, Al-Khalili places the reader in the intellectual and cultural hothouses of the Arab Enlightenment: the House of Wisdom in Baghdad, one of the world's greatest academies, the holy city of Isfahan, the melting pots of Damascus and Cairo, and the embattled Islamic outposts of Spain. Al-Khalili tackles two tantalizing questions: Why did the Arab world enter its own Dark Age after such a dazzling enlightenment? And how much did Arabic learning contribute to making the Western world as we know it? Given his singular combination of expertise in both the Western and Middle Eastern scientific traditions, Al-Khalili is uniquely qualified to solve those riddles"--Provided by publisher
Black holes, wormholes & time machines
by
Jim Al-Khalili
( Book )
35 editions published between
1999
and 2012 in
English
and
Greek, Modern
and held by 1,269 WorldCat member libraries worldwide
"Theoretical physicist Jim Al-Khalili finally lays science fiction to rest as he opens up Einstein's Universe. Leading us gently and light-heartedly through the dizzying world of our space and time". -- Back cover
Life on the edge : the coming of age of quantum biology
by
Johnjoe McFadden
( Book )
20 editions published between
2014
and 2016 in
English
and held by 1,007 WorldCat member libraries worldwide
Life is the most extraordinary phenomenon in the known universe; but how does it work? Even in this age of cloning and synthetic biology, the remarkable truth remains: nobody has ever made anything living entirely out of dead material. Life remains the only way to make life. Are we missing a vital ingredient in its creation? Like Richard Dawkins' The Selfish Gene, which provided a new perspective on how evolution works, Life on the Edge alters our understanding of life's dynamics. Bringing together first-hand experience of science at the cutting edge with unparalleled gifts of exposition and explanation, Jim Al-Khalili and Johnjoe Macfadden reveal the hitherto missing ingredient to be quantum mechanics and the strange phenomena that lie at the heart of this most mysterious of sciences. Drawing on recent ground-breaking experiments around the world, they show how photosynthesis relies on subatomic particles existing in many places at once, while inside enzymes, those workhorses of life that make every molecule within our cells, particles vanish from one point in space and instantly materialize in another. Each chapter in Life on the Edge opens with an engaging example that illustrates one of life's puzzles - How do migrating birds know where to go? How do we really smell the scent of a rose? How do our genes manage to copy themselves with such precision? and then reveals how quantum mechanics delivers its answer. Guiding the reader through the maze of rapidly unfolding discovery, Al-Khalili and McFadden communicate vividly the excitement of this explosive new field of quantum biology, with its potentially revolutionary applications, and also offer insights into the biggest puzzle of all: what is life? As they brilliantly demonstrate here, life lives on the quantum edge
Quantum
by
Jim Al-Khalili
( Book )
33 editions published between
2002
and 2016 in 8 languages and held by 964 WorldCat member libraries worldwide
In this lively look at quantum science, a physicist takes you on an entertaining and enlightening journey through the basics of subatomic physics. Along the way he examines the paradox of quantum mechanics--beautifully mathematical in theory but confoundingly unpredictable in the real world. Marvel at the Dual Slit experiment as a tiny atom passes through 2 separate openings at the same time. Ponder the peculiar communication of quantum particles, which can remain in touch no matter how far apart. Join the genius jewel thief as he carries out a quantum measurement on a diamond without ever touching the object in question. With its clean, colorful layout and conversational tone, this text will hook you into the conundrum that is quantum mechanics.--From publisher description
Paradox : the nine greatest enigmas in physics
by
Jim Al-Khalili
( Book )
6 editions published between
2012
and 2013 in
English
and held by 663 WorldCat member libraries worldwide
How can a cat be both dead and alive at the same time? Why will Achilles never beat a tortoise in a race, no matter how fast he runs? And how can a person be ten years older than their twin? Throughout history, scientists have been coming up with theories and ideas that just do not seem to make sense. In this book, the author, a quantum physicist, examines nine notable scientific paradoxes and presents possible solutions for them
Pathfinders : the golden age of Arabic science
by
Jim Al-Khalili
( Book )
15 editions published between
2010
and 2013 in 3 languages and held by 348 WorldCat member libraries worldwide
For over 700 years the international language of science was Arabic. In this book Jim Al-Khalili celebrates the forgotten, inspiring pioneers who helped shape our understanding of the world
Paradox : the nine greatest enigmas in physics
by
Jim Al-Khalili
( Book )
9 editions published between
2012
and 2014 in 3 languages and held by 159 WorldCat member libraries worldwide
How can a cat be both dead and alive at the same time? Why will Achilles never beat a tortoise in a race, no matter how fast he runs? And how can a person be ten years older than their twin? Throughout history, scientists have been coming up with theories and ideas that just do not seem to make sense
Let There Be Life
( Visual )
1 edition published in
2015
in
English
and held by 149 WorldCat member libraries worldwide
Physicist Jim Al-Khalili routinely deals quantum physics, the perplexing theory of sub-atomic particles. But now he's turning his attention to the world of nature. Can quantum mechanics explain the greatest mysteries in biology? His first encounter is with the robin. This familiar little bird navigates using one quantum entanglement, a process which seems to defy common sense. Even Albert Einstein himself could not believe it. Jim finds that even the most personal of human experiences-our sense of smell-is touched by ethereal quantum vibrations. According to the latest experiments, it seems that our quantum noses are listening to smells. Jim then discovers that the most famous law of quantum physics, the uncertainty principle, is obeyed by plants and trees as they capture sunlight during the vital process of photosynthesis. Finally, Jim asks if quantum physics might play a role in evolution. Could the strange laws of the sub-atomic world, which allow objects to tunnel through impassable barriers, affect the mechanism by which living species evolve?
Genius of Britain the scientists who changed the world
( Visual )
1 edition published in
2011
in
English
and held by 125 WorldCat member libraries worldwide
Charismatic men of action and reclusive eccentrics. Eureka moments and serendipitous strokes of luck. Discoveries born of crisis and insatiable curiosity. The history of scientific progress in Britain offers an astonishing breadth of personalities and has had an awe-inspiring effect on civilization. Each episode brings an era of scientific thought to life, with modern-day geniuses examining the legacies of their heroes
more
fewer
Audience Level
0

1
Kids
General
Special
Audience level: 0.30 (from 0.16 for Black hole ... to 0.91 for Im Haus de ...)
Related Identities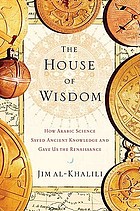 Alternative Names
Al-Khalili, J.

Al-Khalili, J. 1962-

Al-Khalili, J. S.

Al-Khalili, J.S. 1962-

al*Khalili , Jim

al-Khalili, Jim al- 1962-

Iacobus Al-Khalili

Jim Al-Khalili britischer Kernphysiker, Professor, Autor und Rundfunksprecher

Jim Al-Khalili Brits natuurkundige

Jim Al-Khalili fisico e divulgatore scientifico inglese

Khalili, Jim Al-

Khalili Jim al- 1962-....

Аль-Халили, Джим

Джим Аль-Халілі

Џим ел-Халили ирачко-бриански теоретски физичар и научнопопуларен деец

جيم الخليلي

جیم الخلیلی فیزیک‌دان، نویسنده، و دانشمند بریتانیایی

알카릴리, 짐 1962-

알칼릴리, 짐 1962-

アル・カリーリ, ジム

ジム・アルカリーリ

Languages
Covers