Fox, Susan
Most widely held works by Susan Fox
A marriage worth waiting for
by
Susan Fox
( Book )
25 editions published between
2004
and 2017 in 8 languages and held by 263 WorldCat member libraries worldwide
Volvía a casa... ¿para convertirse en su esposa?Cuando Selena Keith resultó herida en aquel accidente de coche, no esperaba que Morgan Conroe le ofreciera irse a vivir con él. Selena no había visto a Morgan desde hacía dos largos años, aunque su amor por él no había desaparecido... Él siempre había sido un tipo tranquilo y controlado, pero al cuidar a Selena se dio cuenta de lo que había dejado escapar la última vez... algo que no estaba dispuesto a perder de nuevo
The prodigal wife
by
Susan Fox
( Book )
19 editions published between
2002
and 2014 in 5 languages and held by 238 WorldCat member libraries worldwide
The last time Lainey saw Gabe Patton was five years ago'as they were exchanging their marriage vows! It had been a dream wedding ... until Lainey discovered that Gabe had only married her for convenience. She was left with no choice but to run away. Now Lainey has uncovered a secret, and she's shocked to realize that she might have misjudged her husband. She still loves Gabe, and hopes they might pick up where they left off'on their wedding night! But how will Gabe react when his prodigal wife returns'
A husband to belong to
by
Susan Fox
( Book )
20 editions published between
2003
and 2016 in 4 languages and held by 225 WorldCat member libraries worldwide
Adopted at birth, Marla is overwhelmed to discover she has a long-lost sister ... but a tragic event means she has to keep her true identity a secret. One man stands in the way of her new-found happiness - her sister's adopted brother, Jake Craddock
Bride of convenience
by
Susan Fox
( Book )
19 editions published between
2003
and 2016 in 5 languages and held by 223 WorldCat member libraries worldwide
Ruggedly sexy Oren McClain knows that Stacey Amhearst has no choice but to go ahead with their marriage of convenience. But Stacey is secretly in love with McClain and is determined to make their marriage work. Will she ever be more to McClain that his wife in name only?
The bridal contract
by
Susan Fox
( Book )
16 editions published between
2007
and 2017 in 5 languages and held by 219 WorldCat member libraries worldwide
Fay Sheridan is facing the bleakest moment of her life. As a fierce storm surges around her, one man plucks her from despair and into safety: Chase Rafferty. Rugged rancher Chase knows there is a fun-loving young woman hiding inside Fay, and he'll do anything to see her start living again-- even propose! Fay thinks Chase is joking-- a convenient business marriage would never work. But as the idea sinks in, the sparks slowly begin to ignite inside her. Maybe now is the time to embrace life and say yes!
His hired bride
by
Susan Fox
( Book )
17 editions published between
2005
and 2014 in 4 languages and held by 217 WorldCat member libraries worldwide
Eadie's business is slowly but surely going under, and she relies on the extra cash she earns working for Hoyt Donovan. Only she has a secret: she's madly in love with him! Then one day everything changes. Hoyt narrowly escapes death in an accident - and he reassesses his whole life. He wants a wife ... some heirs ... and he knows the perfect woman! Now his plan is to ask Eadie to plan a big white wedding for him
The bride prize
by
Susan Fox
( Book )
20 editions published between
2004
and 2017 in 4 languages and held by 216 WorldCat member libraries worldwide
Six years ago, Nick Merrick made Corrie Davis promise not to pursue his brother Shane. Now Shane is back in her life after several years on the rodeo circuit, and Nick is concerned about a romance forming between his brother and a woman far below their station. He invites Corrie over for dinner to question her about her relationship with Shane, but this only succeeds in igniting Corrie's long-simmering love for Nick. With the brothers fighting about how to protect and grow their family business as well as who deserves Corrie's affections, what's a poor Texas girl to do?
The marriage command
by
Susan Fox
( Book )
21 editions published between
2003
and 2015 in 5 languages and held by 209 WorldCat member libraries worldwide
After Logan Pierce gains custody of Claire's orphaned baby nephew, he proposes marriage to her so the child can have a two-parent family. Logan also wants lots more children'with Claire as their mother'but insists love won't be part of the bargain! Claire doesn't want to marry such a tough, cynical man, but soon discovers Logan's kisses are addictive. Can the man who claims he'll never love a woman be persuaded that his new bride is the exception to the rule''
Marriage on demand
by
Susan Fox
( Book )
19 editions published between
2001
and 2014 in 4 languages and held by 209 WorldCat member libraries worldwide
In just four days, Rena will marry Ford Harlow. Just imagining the ceremony fills her with intense excitement'and trepidation! It won't be an ordinary wedding. Their union is a marriage deal: Ford wants her property; Rena will do anything to keep it' But if Rena is expecting a marriage of convenience'sharing their lives but never a bed'she has a shock in store. Ford has long been intrigued by his shy bride, and he fully intends to be a husband in every sense of the word!
Her forbidden bridegroom
by
Susan Fox
( Book )
19 editions published between
2002
and 2014 in 4 languages and held by 207 WorldCat member libraries worldwide
When Lorna Farrell finds herself caught up in a pretend engagement with handsome oil tycoon Mitch Ellery, she knows she's playing with fire. Mitch is the key to Lorna being reunited with her real family. He's also the only man she's ever loved'and the one man she can't have! Mitch must never guess Lorna's true feelings, but pretending to be in love leads to complications. If Lorna walks away, she loses everything. But as the attraction between them intensifies, should she take a risk and confess her secrets'
more
fewer
Audience Level
0

1
Kids
General
Special
Audience level: 0.50 (from 0.40 for The wife h ... to 0.65 for A Wedding ...)
Related Identities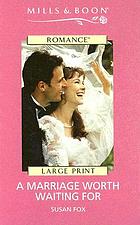 Covers
Alternative Names
Fox, Susan 1952 Apr. 22-

Fox, Susan 1952 July 31-

Сьюзан Фокс

Сюзън Фокс

سوزان فوكس

フォックス, スーザン

Languages