Mariani, Scott
Most widely held works by Scott Mariani
The Mozart conspiracy
by
Scott Mariani
( Book )
50 editions published between
2008
and 2014 in 10 languages and held by 1,304 WorldCat member libraries worldwide
Enlisted by beautiful opera star Leigh Llewell to investigate her brother Oliver's mysterious death, SAS operative Ben Hope finds himself caught up in a centuries-old puzzle. The official line states that Oliver died while investigating Mozart's death, but the facts don't add up
The hope vendetta
by
Scott Mariani
( Book )
8 editions published between
2012
and 2015 in
English
and held by 527 WorldCat member libraries worldwide
Former SAS operative Ben Hope reluctantly joins the search for a friend's missing archaeologist daughter on the Greek island of Corfu, where he learns that the missing woman had just made a discovery with links to the Book of Revelation
The alchemist's secret
by
Scott Mariani
( Book )
31 editions published between
2007
and 2012 in 9 languages and held by 436 WorldCat member libraries worldwide
Where there's Hope there's trouble! Ben Hope lives on the edge. A former elite member of the SAS, Ben is tortured by a tragedy from his past and now devotes his life to finding kidnapped children. But when Ben is recruited to locate an ancient manuscript which could save a dying child, he embarks on the deadliest quest of his life. The document is alleged to contain the formula for the elixir of life, discovered by the brilliant alchemist Fulcanelli decades before. But it soon becomes apparent that others are hunting this most precious of treasures - for far more evil ends. When the secrets of alchemy hidden within the pages remain impenetrable, Ben teams up with beautiful American scientist Dr Roberta Ryder to crack the code. It seems that everyone - from the Nazis during WW2 and powerful Catholic organisation Gladius Domini - wants to unearth the secrets of immortality. The trail leads Ben and Roberta from Paris to the ancient Cathar strongholds of the Languedoc, where an astonishing secret has lain hidden for centuries!
The heretic's treasure
by
Scott Mariani
( Book )
24 editions published between
2009
and 2016 in 7 languages and held by 429 WorldCat member libraries worldwide
Ex-SAS operative Ben Hope is living a peaceful life in rural France -- until a phone call from an old comrade turns his world upside down. Eminent Egyptologist Morgan Paxton has been brutally murdered in Cairo, and Colonel Harry Paxton wants Ben to find his son's killer. His mission leads him to an ancient fortune which has lain hidden for thousands of years, one so powerful that men will kill to protect it
The Armada legacy
by
Scott Mariani
( Book )
12 editions published between
2013
and 2016 in
English
and
French
and held by 339 WorldCat member libraries worldwide
For Ben Hope, the battle is only just beginning...When the ship Santa Teresa was sunk during the Spanish Armada's attack on England, it took to a watery grave a cask of documents that held explosive secrets of espionage and treason. Now, more than 400 years later, those documents have been recovered and a major drugs baron from South America wants them at any cost. Ex-SAS officer Ben Hope gets pulled into a hostage recovery situation more vital than any he's worked on before - the woman caught up in the drug baron's theft of those papers is Brooke Marcel, Ben's ex. Taking in Ireland, Spain and the rainforests of Peru, The Armada Legacy is Scott Mariani's biggest and boldest novel to date: life-or-death action on an epic scale
The shadow project
by
Scott Mariani
( Book )
18 editions published between
2010
and 2014 in 5 languages and held by 328 WorldCat member libraries worldwide
Ex-SAS soldier Ben Hope is enjoying life at Le Val, the facility in Northern France where he trains others in the dangerous art of hostage rescue, until a chance incident forces him to take on the role of bodyguard to the Swiss billionaire Maximilian Steiner
The nemesis program
by
Scott Mariani
( Book )
13 editions published between
2014
and 2017 in
English
and
French
and held by 323 WorldCat member libraries worldwide
"While secretly researching the bizarre discoveries of Serbian scientist Nikola Tesla many years earlier, physicist Claudine Pommier becomes the victim of a remorseless and cruel murderer who breaks into her Parisian apartment. Is he just a serial killer, or is there more to her death than the Paris cops believe? Maverick American biologist Dr Roberta Ryder receives a mysterious letter from her friend Claudine and travels to Paris to see her, only to learn of her shocking death. Before she knows it, Roberta becomes the target of ruthless men with a deadly agenda that only the letter can unmask. She's alone and vulnerable. But she knows someone -- the only someone -- who can help her. Ben Hope, ex-SAS soldier and Roberta's old flame, now trying to retire to a life of peace with his fianče Brooke, suddenly finds his life turned upside down by Roberta's sudden arrival in England. She needs his help; he can't turn her down. In a frantic race to Paris and halfway around the world, Ben and Roberta battle to uncover the mystery of Claudine's research, with the killers just half a step behind. In the process they uncover a global conspiracy that will claim the lives of millions of people ... unless Ben can stop it."--Amazon.com
The Doomsday prophecy
by
Scott Mariani
( Book )
26 editions published between
2008
and 2016 in 7 languages and held by 292 WorldCat member libraries worldwide
When ex-SAS operative Ben Hope decided to give up rescuing kidnap victims in favour of the theology studies he abandoned years before, he should have known that fate would decide differently. Searching for missing biblical archaeologist Zoe Bradbury, Ben finds himself embroiled in his riskiest mission yet. What is the ancient secret that Zoe uncovered? And just who is willing to do anything to protect it? The investigation leads Ben from Greece to the American Deep South and the holy city of Jerusalem, and he soon discovers that it's not just his and Zoe's lives on the line, but those of millions, threatened by a fundamentalist plot to gain ultimate power. The stakes are terrifyingly high as Ben races to prevent a disaster that could kick-start apocalyptic events as foretold by the Book of Revelation
The lost relic
by
Scott Mariani
( Book )
16 editions published between
2011
and 2016 in 4 languages and held by 289 WorldCat member libraries worldwide
Whilst visiting a former SAS comrade in Italy, a distracted Ben nearly runs over a young boy--and unwittingly walks into his deadliest mission yet. Ben's involvement with the boy's family runs deeper as he witnesses their brutal murder at a gallery robbery. A seemingly worthless Goya sketch was the principal target in the bloodbath heist. Now it's up to Ben to find out the truth behind the elusive painting. Wrongly accused of murder and forced to go on the run, he must get to the heart of the conspiracy while he still has the chance
The sacred sword
by
Scott Mariani
( Book )
16 editions published between
2012
and 2017 in 3 languages and held by 276 WorldCat member libraries worldwide
In the seventh Ben Hope conspiracy thriller, the action shoots back in time to the days of Jesus Christ -- and a buried secret that has staggering implications for the world as we know it! It was a routine trip to the UK for Ben Hope - until a chance meeting with two figures from his past changes everything. Simeon and Michaela were once Ben's fellow Theology students at Christ Church - now they are The Reverend and Mrs Arundel. Spending time with them at the vicarage, Ben becomes concerned that Simeon seems troubled - but before he can confide in Ben, they are caught up in a massive road crash. Ben avoids injury, but Simeon is killed and Michaela critically injured. Increasingly suspicious that it was no accident, Ben sets out on a trail of clues that lead him into conflict with a sinister clandestine society, intent on world domination. The discovery that Simeon and his now-scattered group of colleagues were planning to reveal to the world is a huge threat to these agents of the New World Order, and they will stop at nothing to suppress it. The intrigue takes Ben across the world, from the UK to southern France, the Holy Land and the USA - and in the course of these events, he will discover an incredible secret, not just about the history of Christianity but concerning his own past!
more
fewer
Audience Level
0

1
Kids
General
Special
Audience level: 0.58 (from 0.16 for The hope v ... to 0.77 for The hereti ...)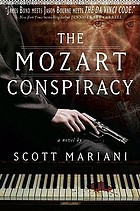 Covers
Alternative Names
McCabe, Sean
Mariani, Scott G. 1968-

McCabe, Sean 1968-

Scott Mariani British writer

Scott Mariani Brits schrijver

Scott Mariani escritor británico

Scott Mariani schottischer Musiker, Journalist und Schriftsteller

마리아니, 스코트

マリアーニ, スコット

Languages