Johnson, Robert 1967-
Most widely held works about Robert Johnson
Most widely held works by Robert Johnson
Carbon nation : fossil fuels in the making of American culture
by
Robert Johnson
( Book )
1 edition published in
2014
in
English
and held by 515 WorldCat member libraries worldwide
"A close look at our nation's conflicted love affair with fossil fuels (including coal, oil, and natural gas) and their pervasive impact on American life and culture. While carbon has literally fueled a relentless technological progress and provided the highest standard of living the world has ever seen, it's also been the engine for environmental and human degradation, a blithe consumerism unaware of its carbon dependency, and dangerously large concentrations of wealth and power. Focusing on this longstanding contradiction, Johnson argues that our embrace and celebration of carbon has been enabled by distancing ourselves from its costs"
British imperialism
by
Robert Johnson
( Book )
18 editions published between
2002
and 2004 in
English
and held by 456 WorldCat member libraries worldwide
Robert Johnson's introduction to British imperialism from its early days to its decline offers students both a chronological framework and a guide to the lively debates surrounding this theme
A region in turmoil : South Asian conflicts since 1947
by
Robert Johnson
( Book )
9 editions published between
2005
and 2006 in
English
and
Undetermined
and held by 379 WorldCat member libraries worldwide
"Since the Second World War, the states of South Asia have been engulfed in a variety of conflicts. These include the Tamil Tigers' struggles in Sri Lanka, the unrest in Myanmar (Burma), Maoist insurgency in Nepal, the Bangladeshi war of independence, the gruelling conflicts in Kashmir and Afghanistan, and the 'War on Terror'." "To date, few attempts have been made to examine these conflicts in their regional and global context. Rob Johnson fills in the gaps, and explains and evaluates the historic and political roots of these wars in a systematic and thematic way. The subject is vitally important, not least because the two leading states, India and Pakistan, are nuclear powers that have resorted to war with each other on a number of occasions since independence. In addition, the insurgencies of the last 50 years continue to destabilize the region, and now they seriously affect the rest of the world. Highly topical, A Region in Turmoil provides an invaluable analysis of South Asia and its complex history. It is essential reading not only for historians and policymakers, but for anyone who follows current affairs."--Jacket
Oil, Islam and conflict : Central Asia since 1945
by
Robert Johnson
( Book )
8 editions published in
2007
in
English
and
Undetermined
and held by 360 WorldCat member libraries worldwide
"Oil, Islam Conflict is a timely regional perspective that gathers together and analyzes a range of issues, including terrorism, counter-insurgency and energy security. It covers the civil Wars in Afghanistan and Tajikstan, the conflicts in Chechnya and the Caucasus, and terrorism across the region. Rob Johnson also examines the policies of Central Asian governments, including their attitudes to democratic reform, human rights, energy and economic development, and how these are related to civil violence. Further consideration is given to Islamist movements and their impact on the peoples of Central Asia, as well as the unrest in China's Xinjiang province." "Required reading for policy planners and researchers, oil and gas companies, military personnel and others involved in energy security and combating terrorism, Oil, Islam and Conflict will also attract general readers with an interest in this increasingly turbulent region."--Jacket
The Iran-Iraq War
by
Robert Johnson
( Book )
8 editions published between
2010
and 2011 in
English
and held by 323 WorldCat member libraries worldwide
"The recent conflicts of the Middle East can be traced directly to the Iran-Iraq War. Rob Johnson provides a sound and clear grasp of the major issues surrounding this war - an essential precursor to understanding the nature of both the Iraqi and Iranian regimes in the 1990s and their regional aspirations, and the ensuing Gulf Wars"--
The Afghan way of war : how and why they fight
by
Robert Johnson
( Book )
5 editions published between
2011
and 2012 in
English
and held by 241 WorldCat member libraries worldwide
"Focusing on key episodes in Afghanistan's long history of conflict with foreign forces ranging from the many nineteenth century to the present, this book sheds new light on the Afghan 'Way of War.' Robert Johnson shows that, contrary to the stereotypes of primitive warriors enflamed with religious fanaticism, Afghan warfare has been marked by constant change as Afghani methods evolved to face new threats. From the dynastic struggles and popular resistance movements of the nineteenth century to the ideological confrontations of recent decades, Afghans have long resisted political coercion, military intervention, and foreign influence. To do so, they have developed sophisticated strategic approaches to deal with both internal unrest and foreign intrusion, while at the tactical level outthinking and outfighting their opponents at every step. The final part of the book, which deals with how the Taliban has contested Western intervention by borrowing from traditions in Afghan history and culture, will be of considerable topical interest in light of the ongoing conflict in Afghanistan"--Publisher description
How to win on the battlefield : the 25 key tactics of all time
by
Robert Johnson
( Book )
7 editions published in
2010
in
English
and held by 190 WorldCat member libraries worldwide
"In this book we examine and then analyse, through a series of case studies, 25 of the most important tactics used in war on land, at sea and in the air. These are illustrated with examples from around the globe and from across history in order to demonstrate the enduring value of each one. While much of the current intellectual debate on war focuses on what is new, or even 'post-modern', we are eager to show that, despite obvious changes in weaponry, technology and mobility, certain key techniques and principles have been applied with equal success in the military encounters of the past and are still relevant today. Since so many works of military history focus narrowly on the West, we have selected examples from as wide a field as possible and we have tried to raise awareness of some less well-known battles. Our intention is to highlight the function of each tactical concept in its historical setting"--Preface
At the end of military intervention : historical, theoretical, and applied approaches to transition, handover and withdrawal
by
Robert Johnson
( Book )
13 editions published between
2014
and 2015 in
English
and held by 122 WorldCat member libraries worldwide
No modern intervention is intended to endure indefinitely; indeed some fashion of exit is always envisioned from the outset. This commitment to an exit is normally informed by an exit strategy. Whilst strategies of closure have been scrutinised recently, not least in light of charges of defective intentions and planning, the relations between the strategies, operations and tactics of exit have not been contextualised. Focus on the local, specific and bottom-up manifestations of transitions offers significant enhances to historical, theoretical and applied understandings. This book is an introduction not just to the issues of transition, handover and withdrawal, but to exit as a package of theoretical concepts and how these have been understood, shaped and employed in historic and contemporary perspective. Drawing on a wide range of post-1945 examples derived from a variety of regions and periods, this book provides researchers and practitioners with a source book on what forms a crucial and often overlooked element of past and present interventions
more
fewer
Audience Level
0

1
Kids
General
Special
Audience level: 0.44 (from 0.01 for The Britis ... to 0.99 for Johnson, R ...)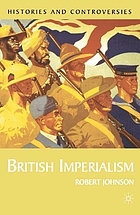 Alternative Names
Johnson, Bob 1967-

Johnson, Rob

Johnson Rob 1967-....

Johnson, Robert 1967-...

Johnson, Robert Andrew 1967-

Languages
Covers