Coile, Courtney
Overview
| | |
| --- | --- |
| Works: | 26 works in 168 publications in 1 language and 2,693 library holdings |
| Roles: | Author |
| Classifications: | HD6279, 331.3980973 |
Most widely held works by Courtney Coile
Reconsidering retirement : how losses and layoffs affect older workers
by
Courtney Coile
( Book )
10 editions published in
2010
in
English
and
Undetermined
and held by 303 WorldCat member libraries worldwide
"Examines effects of the 2008-09 financial downturn on all workers with particular attention to low-income older workers who stand to suffer the most, often retiring early because of lack of work; discusses the real effects of the stock market decline, falling house prices, and stagnant job market"--Provided by publisher
Delays in claiming Social Security benefits
by
Courtney Coile
( Book )
18 editions published between
1999
and 2000 in
English
and held by 81 WorldCat member libraries worldwide
Abstract: This paper focuses on Social Security benefit claiming behavior, a take-up decision that has been ignored in the previous literature. Using financial calculations and simulations based on an expected utility maximization model, we show that delaying benefit claim for a period of time after retirement is optimal in a wide variety of cases and that gains from delay may be significant. We find that approximately 10% of men retiring before their 62nd birthday delay claiming for at least one year after eligibility. We estimate hazard and probit models using data from the New Beneficiary Data System to test four cross-sectional predictions. While the data suggest that too few men delay, we find that the pattern of delays by early retirees is generally consistent with the hypotheses generated by our theoretical model
Social Security incentives for retirement
by
Courtney Coile
( Book )
13 editions published in
2000
in
English
and held by 72 WorldCat member libraries worldwide
We present a detailed analysis of the incentives that Social Security provides for continued work at older ages. We do so using information on older males from the Health and Retirement Study over the 1980-1997 period to calculate the changes in the present discounted value of Social Security entitlements from additional work at each age. We find that the median male worker faces a small tax on work at ages 55-61, a near zero tax at ages 62-64, and a large tax at ages 65-69. However, there is significant heterogeneity in tax rates. We also document significant non-monotonicities in the accrual of Social Security entitlements with additional work, and suggest a more appropriate measure of incentive effects that considers accruals over not just the next year but future years as well
Social security and retirement
by
Courtney Coile
( Book )
14 editions published in
2000
in
English
and held by 71 WorldCat member libraries worldwide
A critical question for Social Security policy is how program incentives affect retirement behavior. We use the wealth of new data available through the Health and Retirement Survey (HRS) to examine the impact of Social Security incentives on male retirement. We implement forward-looking models of retirement whereby individuals consider not just the incentives to work in the next year but in all future years as well. We find that such forward looking incentive measures for Social Security are significant determinants of retirement decisions. Our findings suggest that Social Security policies which increase the incentives to work at older ages can significantly reduce the exit rate of older workers from the labor force
Retirement incentives and couples' retirement decisions
by
Courtney Coile
( Book )
11 editions published in
2003
in
English
and held by 56 WorldCat member libraries worldwide
Abstract: The typical family in the US is now a dual-earner couple, yet relatively few studies examine the retirement decision in a household context. This paper explores how husbands' and wives' retirement behavior is influenced by their own financial incentives from Social Security and private pensions and by spillover effects' from their spouses' incentives. I find that men and women are similarly responsive to their own incentives. I further find that men are very responsive to their wives' incentives but that women are not responsive to their husbands' incentives and present evidence to suggest that this may be due to asymmetric complementarities of leisure. Policy simulations suggest that the omission of spillover effects will bias the estimated effect of changing Social Security policy on men's labor force participation
Health shocks and couples' labor supply decisions
by
Courtney Coile
( Book )
10 editions published in
2004
in
English
and held by 44 WorldCat member libraries worldwide
Unexpected health events such as a heart attack or new cancer diagnosis are very common for workers in their 50s and 60s. These health shocks can result in a significant loss in family income if the worker reduces labor supply, but the family can also protect itself against this loss if the worker's spouse increases labor supply, generating an "added worker effect." In this paper, I examine the effect of health shocks on the labor supply of both spouses using the Health and Retirement Study (HRS). I find that shocks lead the affected worker to reduce labor supply dramatically, particularly if the shock is accompanied by a loss of functioning. I also find that the added worker effect is small for men and that there is no such effect for women. There is some evidence to suggest that families respond to health shocks in predictable ways depending on characteristics such as access to retiree health insurance. The study concludes that health shocks result in real financial losses for families and are an important source of financial risk for older households
Bulls, bears, and retirement behavior
by
Courtney Coile
( Book )
11 editions published in
2004
in
English
and held by 41 WorldCat member libraries worldwide
The historic boom and bust in the stock market over the past decade had the potential to significantly alter the retirement behavior of older workers. Previous research examining the impact of wealth shocks on labor supply supports the plausibility of this hypothesis. In this paper, we examine the relationship between stock market performance and retirement behavior using the Health and Retirement Study (HRS), Current Population Survey (CPS), and Survey of Consumer Finances (SCF). We first present a descriptive analysis of the wealth holdings of older households and simulate the labor supply response among stockholders necessary to generate observed patterns in retirement. We show that few households have substantial stock holdings and that they would have to be extremely responsive to market fluctuations to explain observed labor force patterns. We then exploit the unique pattern of boom and bust along with variation in stock exposure to generate a double quasi-experiment, comparing the retirement and labor force re-entry patterns over time of those more and less exposed to the market. Any difference in behavior that emerged during the boom should have reversed itself during the bust. We find no evidence that changes in the stock market drive aggregate trends in labor supply
How household portfolios evolve after retirement : the effect of aging and health shocks
by
Courtney Coile
( Book )
10 editions published in
2006
in
English
and held by 28 WorldCat member libraries worldwide
In this paper, we study how the portfolios of elderly U.S. households evolve after retirement, using data from the Health and Retirement Study (HRS). In particular, we investigate the influence of aging and health shocks on a household's ownership of various assets and on the dollar value and share of total assets held in each asset class. We find that households decrease their ownership of most asset classes as they age, with the strongest evidence for principal residences and vehicles, while increasing the share of assets held in bank accounts and CDs. Consistent with prior studies, we find that the death of a spouse is a strong predictor of selling the principal residence. However, we find that widowhood also leads households to sell vehicles, businesses, and real estate and to put money into bank accounts and CDs, and further that other health shocks have very similar impacts. Finally, we explore why health shocks affect asset holdings and find that the effect of a shock is greatly magnified when households have physical or mental impairments. This suggests that factors other than standard risk and return considerations may weigh heavily in many older households' portfolio decisions
Labor market shocks and retirement : do government programs matter?
by
Courtney Coile
( Book )
9 editions published in
2006
in
English
and held by 27 WorldCat member libraries worldwide
This paper examines how unemployment affects retirement and whether the Unemployment Insurance (UI) system and Social Security (SS) system affect how older workers respond to labor market shocks. To do so, we use pooled cross-sectional data from the March Current Population Survey (CPS) as well as March CPS files matched between one year and the next and longitudinal data from the Health and Retirement Survey (HRS). We find that downturns in the labor market increase retirement transitions. The magnitude of this effect is comparable to that associated with moderate changes in financial incentives to retire and to the threat of a health shock to which older workers are exposed. Interestingly, retirements only increase in response to an economic downturn once workers become SS-eligible, suggesting that retirement benefits may help alleviate the income loss associated with a weak labor market. We also estimate the impact of UI generosity on retirement and find little consistent evidence of an effect. This suggests that in some ways SS may serve as a more effective form of unemployment insurance for older workers than UI
The effect of inheritance receipt on retirement
by
Jeffrey R Brown
( Book )
10 editions published in
2006
in
English
and held by 26 WorldCat member libraries worldwide
This paper uses the receipt of an inheritance to measure the effect of wealth shocks on retirement. Using the Health and Retirement Study (HRS), we first document that inheritance receipt is common among older workers - one in five households receives an inheritance over an eight-year period, with a median value of about $30,000. We find that inheritance receipt is associated with a significant increase in the probability of retirement. In particular, we find that receiving an inheritance increases the probability of retiring earlier than expected by 4.4 percentage points, or 12 percent relative to the baseline retirement rate, over an eight-year period. Importantly, this effect is stronger when the inheritance is unexpected and thus more likely to represent an exogenous shock to wealth
more
fewer
Audience Level
0

1
Kids
General
Special
Audience level: 0.46 (from 0.05 for Reconsider ... to 0.90 for Pensions a ...)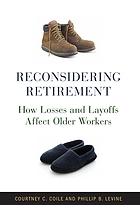 Alternative Names
Coile, Courtney.

Coile, Courtney C.

Coile, Courtney C. 19XX-

Languages
Covers